Why Major Landlords Still Believe in Midtown
---
---
While the rise of the shiny towers of the World Trade Center and Hudson Yards have turned a lot of heads, some of the top developers and real estate professionals who attended Commercial Observer's "Midtown Means Business" panel yesterday warned against counting the older Midtown out.
The event was at RXR Realty's redesigned 75 Rockefeller Plaza, where industry experts said Midtown's older stock of buildings needs to be modernized to compete with the towers in the rising other submarkets, but the demand for space is definitely there.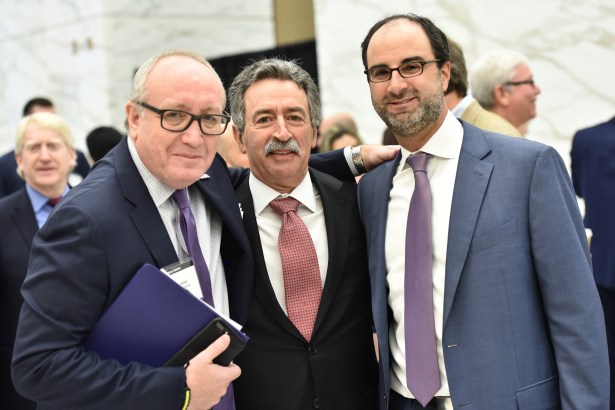 "Landlords who invest in this way will be winners in terms of the choices that tenants make," said Cushman & Wakefield Chairman of Global Brokerage Bruce Mosler, a member of the first panel "Marketing Midtown Real Estate for Today's Modern Tenant." "Tenants are looking for a number of things, but mostly what are drawing tenants are column-free, efficient floors, great location and access."
The first panel also included SL Green Realty Corp. President Andrew Mathias, UBS Managing Director Terry Goulard, RXR Chairman and Chief Executive Officer Scott Rechler and Fried, Frank, Harris, Shriver & Jacobson Real Estate Department Chairman Jonathan Mechanic, who moderated the panel (and plugged his own firm so many times Rechler described him as "shameless.")
To illustrate Mosler's point, Goulard explained that in 2010 UBS started to look at options as its 900,000-square-foot anchor lease at 1285 Avenue of the Americas between West 51st and West 52nd Streets, a building which RXR acquired with David Werner in 2016, was up for renewal.
"At the time [Rechler] stepped into the picture and sat down with us and said 'Terry what do I need to do to keep you in the building,' " Goulard said. "We had a very open and honest dialogue. I came up with two pages of things that I needed to stay."
Rechler said that Midtown will continue to be relevant if older buildings are redeveloped because of its centralized location and the iconic addresses that have an "irreplaceable" New York feeling, which younger workforces crave.
"[Millennials] appreciate authenticity and character," Rechler said. "One of the things about buildings like [75 Rockefeller] or the Helmsley Building is that you can't replace it. You can't replace the authenticity or the character of New York that comes with that. That is a very unique factor."
RXR completed the $150 million renovation of 75 Rockefeller in February, and signed a 185,343-square-foot lease with Bank of America and Merrill Lynch Wealth Management to anchor the office portion of the building. The landlord then signed a 40,000-square-foot lease with American Girl to anchor the retail part.
Few of the panelists could better discuss how new construction will fit into the Midtown constellation than Mathias, whose company is designing One Vanderbilt, a 1.7-million-square-foot, 1,400-foot tall office building that is under construction across from Grand Central Terminal. And to a certain extent, SL Green will have the market of new Midtown buildings to itself, at least until some definitive answer is offered on the city's proposed Midtown East rezoning.
"There is definitely a shortage of shovel-ready projects in Midtown," Mathias said. "How many projects you'll actually see get started right away under that rezoning it's hard to see, because Midtown is thriving right now and generally buildings are [fully leased]."
In the second panel, "Keeping Midtown Competitive: Renovations, Infrastructure Upgrades & Tenant Amenities," Fisher Brothers Partner Winston Fisher made the point that in order for Midtown to compete, it needs to do more than just focus on upgrading buildings.
"Midtown needs to reinvent itself with new restaurants, programming and bringing art into the streetscape," he said. "There are a whole series of things that could make Midtown more dynamic. Why is the center of Park Avenue a bunch of crappy plantings? At this point you'd think you could do something better with it."
Joining Fisher were Newmark Grubb Knight Frank New York Tri-State Region President David Falk, Take-Two Interactive Software Senior Director of Facilities Management Larry Charlip, Hines Senior Managing Director of New York Tommy Craig, Rockefeller Group Co-President and CEO Daniel Rashin and Zetlin & DeChiara Founder Michael Zetlin, who moderated the group.
The panelists agreed that transportation is the main reason why Midtown still thrives. However, Falk said that to increase its competitiveness the buildings there need better "first impressions."
"You just can't be good, you have to be great," Falk said. "I think [owners of] Midtown buildings just need to try harder to say 'what can we do better?' "
That's why Rashin said Rockefeller Group revamped its 1221 Avenue of the Americas between West 48th  and West 49th Streets when Société Générale and McGraw Hill recently moved out.
"We had a building that had some very, very tired aspects to it," Rashin said. "The experience of walking into a 1221 lobby was dreary [and] it was dark. We changed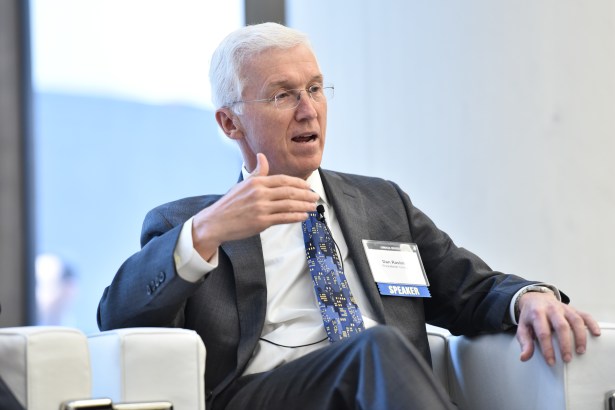 the lobby up, brightened it up, took non-structural columns out. It's a change you experience when you walk in."
In the case of the tenants themselves, Take-Two Interactive Software, which took a 61,383-square-foot lease at 1133 Avenue of the Americas last year, said that the key to its decision to relocate from Noho to Midtown (which was not necessarily the first choice of a tech company) was the centrality, large floor plates and nearness to Bryant Park. 
Charlip said that normal concessions like free rent are important but also, "Can my employees bring bikes into the building? Can my employees bring pets into the building?"
"One question I was asked over and over again when we announced to our employees that we are moving to Midtown was 'Do we have to change the way we dress for work,' " Charlip said to audience laughter. (He was wearing a suit without a tie.) "Honestly, I never go to work dressed like this. I wear jeans and sneakers everyday—so I'm dressed up today. And if I go to the office, people are going to ask me if I had a job interview."
1221 Avenue of the Americas
,
1285 Avenue of the Americas
,
75 Rockefeller Plaza
,
Andrew Mathias
,
Bank of America
,
Bruce Mosler
,
Bryant Park
,
Cushman & Wakefield
,
Daniel Rashin
,
David Falk
,
David Werner
,
Fisher Brothers
,
Frank
,
Fried
,
Grand Central Terminal
,
Harris
,
Hines
,
Jonathan Mechanic
,
Larry Charlip
,
McGraw-Hill
,
Merrill Lynch Wealth Management
,
Michael Zetlin
,
Newmark Knight Frank
,
One Vanderbilt
,
Rockefeller Group
,
RXR Realty
,
Shriver & Jacobson
,
SL Green Realty Corp.
,
Take-Two Interactive Software
,
Terry Goulard
,
Tommy Craig
,
UBS
,
Winston Fisher
,
Zetlin & DeChiara