TAMI Goes Downtown: How Lower Manhattan Became the City's Trendiest Office Market
---
---
It's been one of the more marked trends in the Manhattan office market over the past five years: the migration of tenants to the Downtown submarket. Since January 2012, 369 companies, taking up 9.4 million square feet of office space, have moved Downtown from Midtown and Midtown South, according to Cushman & Wakefield data; 2016 alone saw 67 office tenants representing roughly 1 million square feet of space make the move to the historical epicenter of Lower Manhattan.
But particularly interesting has been the types of companies driving this movement toward an office district that is historically home to the city's financial services behemoths: the vaunted technology, advertising, media and information, or TAMI, sector.
Media titans like Condé Nast and Time Inc. set the template with their moves to the Financial District in 2011 and 2014, respectively, and it is a trend that shows no sign of abating. TAMI tenants make up 37 percent of the square footage that relocated Downtown in 2016, according to the C&W data. Such tenants constituted more than 30 percent of the Downtown office market at the end of last year, up from 17 percent a decade earlier.
"I would say that as recently as 18 months ago, we would beseech TAMI tenants to come and look at the World Trade Center and we would hear, categorically, 'No, no, we want to be in Midtown South,' " said Mary Ann Tighe, the chief executive officer of CBRE's New York tri-state region, whose firm handles leasing at the office megacomplex. "Now what we're hearing is TAMI tenants will consider Midtown South and Downtown."
A confluence of factors has contributed to this recent established dynamic, including Downtown's robust transit offerings, record-low office availability in the fashionable Midtown South submarket and comparatively low asking rents that pose value for tenants that some would believe to be more interested in occupying loft-like, repositioned warehouse space than traditional Class A office stock.
Average direct asking rents in the Downtown office market were $60.17 per square foot at the end of last year, per C&W, making the area a more affordable alternative to pricier Manhattan submarkets farther uptown.
"Although asking rents have increased and the market has become more expensive, Downtown is still a value proposition compared to the $80-per-square-foot averages in Midtown and Midtown South," said Richard Persichetti, C&W's regional research director for the tri-state and northeast regions. The Downtown vacancy rate is currently around 9 percent, he added, representing a 28-month low for the area.
So far in 2017, Downtown has shown no signs of slowing down as far as its appeal to tech- and media-oriented firms like Spotify, which made waves last month with its massive, 378,243-square-foot lease at 4 World Trade Center. Tighe, whose team represented 4 WTC in the Spotify deal, noted that the music streaming provider's decision to make the move Downtown may well have been influenced by TAMI peers like digital media buying firm MediaMath, which took 106,000 square feet at the Silverstein Properties-owned tower in 2014.
"When Spotify toured 4 World Trade Center, you can bet they went to see the MediaMath space," Tighe said. "TAMI firms are considered the leaders in creating the 21st century vibe [for offices]. TAMI is a validator [for landlords] in a way. It establishes your cool credentials."
Major TAMI Office Relocations, Expansions and Renewals (since 2016, per CBRE data)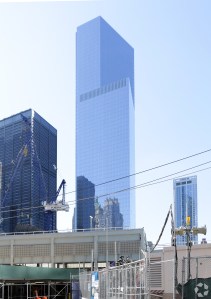 Spotify, 4 World Trade Center
378,243 square feet (Relocation from 620 Avenue of the Americas)
One of the city's largest office leases of the year is also the biggest example of the TAMI sector's drift toward Downtown. The online music streaming service will relocate next year from its current space in Chelsea, where the notoriously tight office market meant "there wasn't the room to grow," Horacio Gutierrez, Spotify's general counsel of U.S. operations, said at the Gov. Andrew Cuomo-led press conference announcing the deal. Asking rent for the space was around $85 per square foot.
Droga5, 120 Wall Street
106,000 square feet (Expansion)
The global advertising agency more than doubled its space at Silverstein Properties' 33-story Downtown office building in February 2016, tacking on an additional 106,000 square feet to the roughly 100,000 square feet it already had—and leasing up the 650,000-square-foot property to 100 percent occupancy at the time. Asking rent for the space was in the mid-$50s per square foot.
VOX Media, 85 Broad Street
85,733 square feet (Relocation from 104 West 40th Street)
The Washington, D.C.-based digital media company, whose publications include SB Nation, The Verge and Curbed, finalized its move to the MetLife– and Beacon Capital Partners-owned property in January 2016. The building is best known for housing Goldman Sachs' longtime headquarters; current tenants include coworking giant WeWork. Asking rents were reportedly in the $50s to $60s per square foot.
Paradigm, 140 Broadway
50,604 square feet (Relocation from 360 Park Avenue South and 55 Washington Street in Dumbo)
The Beverly Hills, Calif.-based talent agency signed on at the landmarked, Union Investment-owned office tower, also known as the Marine Midland Building, last June. Paradigm consolidated its two previous New York offices, having had space at both 360 Park Avenue South in NoMad and 55 Washington Street in Dumbo. Asking rent at the property, anchored by Brown Brothers Harriman & Co., was reportedly $65 per square foot.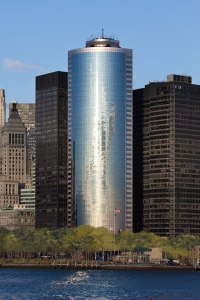 IPSoft, 17 State Street
42,000 square feet (Expansion)
Technology firm IPSoft recently expanded its footprint at RFR Realty's 42-story office tower, which it has occupied since 2003, adding roughly 42,000 square feet to its existing 98,000 square feet in January. IPSoft also signed a sub-sublease for 27,200 square feet at 7 World Trade Center from currency trading firm FXDD last summer.
Rocket Fuel and Abrams, 195 Broadway
41,982 square feet each (Relocations from 100 West 33rd Street and 115 West 18th Street, respectively)
L&L Holding Company succeeded in drawing two sizable full-floor TAMI tenants to its 29-story building in the Financial District: advertising technology firm Rocket Fuel, which took the 10th floor in January 2016, and book publisher Abrams, which took the ninth floor this past December. Both companies relocated from previous offices in Midtown South. Asking rents were in the high $50s per square foot for both deals.
True Entertainment, 180 Maiden Lane
40,000 square feet (Relocation from 601 West 26th Street)
The television production company agreed to relocate to the 41-story, MHP Real Estate Services– and Clarion Partners-owned building in September 2016. True Entertainment moved from RXR Realty's Starrett-Lehigh Building in Chelsea, with asking rent for its new space at 180 Maiden Lane in the mid-$50s per square foot.
100 West 33rd Street
,
104 West 40th Street
,
115 West 18th Street
,
120 wall street
,
140 Broadway
,
17 State Street
,
180 Maiden Lane
,
195 Broadway
,
360 Park Avenue South
,
4 World Trade Center
,
55 Washington Street
,
601 West 26th Street
,
620 Avenue of the Americas
,
7 world trade center
,
85 Broad Street
,
Abrams
,
Beacon Capital Partners
,
Conde Nast
,
Droga5
,
IPsoft
,
Marine Midland Building
,
Mary Ann Tighe
,
MediaMath
,
MetLife
,
MHP Real Estate Services
,
Paradigm
,
Richard Persichetti
,
Rocket Fuel
,
Starrett-Lehigh Building
,
Time Inc.
,
True Entertainment
,
Union Investment
,
Vox Media
,
CBRE
,
Clarion Partners
,
Cushman & Wakefield
,
L&L Holding Company
,
RFR
,
Silverstein Properties
,
Spotify