Meet the Real Estate Industry's In-House Lobbyists
---
---
Jordan Barowitz may be the most powerful person at the Durst Organization not named Durst: He's the company's in-house lobbyist.
From his perch at 1 Bryant Park, the former first deputy press secretary under Mayor Michael Bloomberg oversees Durst's government, community and media relations. It should also be noted that he helped Durst beat out five other companies in 2010 for a stake in 1 World Trade Center, where he manages the public and government affairs.
But Barowitz is hardly an anomaly.
In addition to hiring outside attorneys and joining the Real Estate Board of New York, the city's top real estate companies like RXR Realty, Related Companies and Silverstein Properties keep lobbying in-house with high-level staff like Barowitz, Durst's vice president of public affairs.
Lobbying in New York City and state has reached record levels, with real estate companies spending tens of millions of dollars on it every year. In-house lobbyists ranging from land use specialists to technical staff and principals of the firm handle part of the workload. (Of course, plenty of these companies also retain outside lobbyists, too. And one company even takes on other companies' lobbying as part of its business.)
"Real estate is an industry where there's a substantial interaction with the public and the private," said Seth Pinsky, an executive vice president at RXR Realty as well as the firm's lobbyist. "So you can't do development without interacting with the government."
The construction and real estate industries in New York State paid lobbyists nearly $32 million in 2015 for the second-highest total of any industry, according to the most recent annual report from the State Joint Commission on Public Ethics. And real estate and construction lobbyists directly employed by their clients received more than $1.7 million in compensation in 2015 and the first three quarters of 2016. (There are 39 different real estate and construction entities which had hundreds of in-house lobbyists in 2015-2016.)
Real estate companies make use of in-house lobbyists when they send direct employees to apply for land use permits, conduct logistical meetings with city and state agencies or seek public contracts or financing. Many companies' principals must register as lobbyists in order to comply with state and local laws.
"Now, almost any contact with a government official is considered lobbying," said George Arzt of George Arzt Communications. Artz represented Extell Development Company and several other real estate clients in lobbying efforts in 2015.
"It's a team. It's not, 'You do this, you do that.' The people who know the elected officials and who work with them and know community board members are generally government relations people," Arzt said. "There are some cases where the inside person might know the government person better."
Extell also listed its founder, Gary Barnett, and four other employees in state lobbying records, while Tishman Speyer registered Rob Speyer, the company president and chief executive officer, and nine other employees. Vornado Realty Trust listed 13 employees as lobbyists, including CEO Steven Roth.
Silverstein listed World Trade Center Properties President John "Janno" Lieber, while Related included Related Hudson Yards President Jay Cross, both of whom coordinate operations with multiple state and local agencies involved in the two firms' massive developments. Related registered 26 staff members in all, including senior adviser and 2013 campaign donation bundler Jay Kriegel.
Barowitz has excelled in gathering campaign funds. He bundled over $75,000 during the 2013 cycle and has arranged $24,750 in donations for City Comptroller Scott Stringer's 2017 campaign. (Artz has given $8,770 to various candidates directly since 2006 and also bundled $2,000 for Stringer's 2013 campaign fund, with nine out of 11 donations coming from Barnett and other Extell employees.)
In an interview with Commercial Observer, Barowitz declined to discuss campaign funds. He worked on the World Trade Center bid and managed the rezoning for Durst's VIA 57 West development at 625 West 57th Street, which was approved in 2013. The scope of every project determines whether Durst hires outside counsel or public relations, he said.
"There's a reason that you have help, and that's because you're interacting with government all the time," Barowitz said. "Lobbyists spend as much time explaining government to their clients as they do explaining their clients' position to government."
Pinsky, who also served in the Bloomberg administration, represented RXR at public meetings on the redevelopment of Pier 57 in Chelsea. He also helped the company secure $75 million in tax-exempt financing from the state last month for the company's first residential development in the five boroughs at 810 Fulton Street on the border of Fort Greene and Clinton Hill in Brooklyn.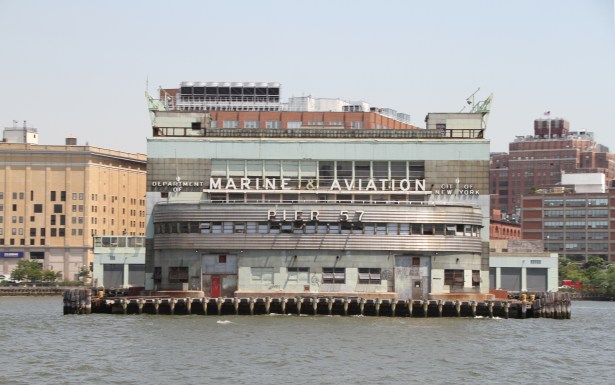 RXR broke ground in November 2016 on a 28-story residential and commercial building in downtown New Rochelle, N.Y. The company and partner Renaissance Downtowns worked with city officials to design and win approval for an 11-million-square-foot downtown master plan in 2015.
As Pinsky noted in his interview with CO, other RXR executives like Scott Rechler often play the role of public face for one project or another, but the New Rochelle project was a prime example of Pinsky's expert lobbying.
The process took 51 weeks and consisted of meetings in which Pinsky and other RXR staff explained their plans and then "spent most of the time listening to residents' feedback and their ideas for downtown," Pinsky said. "The key to that was this collaborative approach. That's not to say that everyone in New Rochelle loves this plan."
He added, "We viewed ourselves not as people who were going to come into the community, make a fast buck and leave but as people who were going to have a long-term impact on the community."
The government backgrounds of Pinsky and Lieber have given both of them an understanding of negotiations, which are "helpful in moving a project through the approval process," said Ross Moskowitz, a partner at law firm Stroock & Stroock & Lavan.
Land use demands a team effort between the company's in-house staff and independent attorneys, Moskowitz said.
"One size does not fit all," he said. "Successful projects are where there are clearly delineated lines of responsibility and communication between the in-house people and the outside counsel."
Real estate company Washington Square Partners received the most compensation from any one client in the city during 2015 as a result of its $1.2 million worth of lobbying before the New York City Economic Development Corporation on behalf of the partnership (including Washington Square Partners) developing City Point, the gigantic Downtown Brooklyn mixed-use development, records show.
Paul Travis, the company's founder and another former city official, declined to comment. Washington Square handles land use issues for developers, nonprofits and governments even though it is "neither a planning nor a law firm," according to its website.
Michael Sillerman, a partner for land use at law firm Kramer Levin Naftalis & Frankel, said his company had collaborated with Travis on the shopping center and residential project at City Point.
"Paul Travis is really a combination of qualities. He's both a developer, and he's been on the city side," Sillerman said. "He deeply understands the process, but he has still reached out to land use counsel [in certain cases]."
The City Point developers also tapped the city's top overall lobbyist, James Capalino of Capalino + Company, in 2015. Capalino's over 300 clients that year included Silverstein, Rudin Management Company and Jamestown. The mayor's office has cut off Capalino, though.
Mayor Bill de Blasio announced in August 2016 that he would no longer meet with Capalino, who bundled campaign funds for the mayor and a commissioner in the Koch administration. The condominium conversion of a nursing care facility, Rivington House on the Lower East Side, and investigations into de Blasio's shuttered campaign group prompted the mayor to freeze out all lobbyists.
Capalino's real estate work, which includes land use as well as traditional lobbying, has not subsided since de Blasio's pledge, according to Capalino's spokesman, James Yolles of Risa Heller Communications. He declined additional comment.
For its part, REBNY registered 16 lobbyists, including President John Banks, with the state. The board also hired outside counsel such as Sillerman and Moskowitz. And REBNY's campaign finance activities have influenced every recent state and local election.
Yet, the presence of top companies' in-house lobbyists reflects skepticism that outside attorneys or even REBNY have time to focus on one single company, according to one in-house real estate lobbyist and executive who requested anonymity.
"With complicated projects, the people who are running them are in some ways better positioned to explain or advocate," the source said.
Companies must grow to reach a "certain critical mass" before they need an in-house lobbyist, according to Barowitz. That's when it helps to have someone on staff that understands both government and real estate, he said.
"The art of the job is around the nuances and complexity affecting both these worlds and serving as a translator between them," Barowitz said.
1 World Trade Center
,
Durst Organization
,
Extell Development Company
,
Gary Barnett
,
George Arzt
,
John "Janno" Lieber
,
Jordan Barowitz
,
REBNY2017
,
Related Companies
,
Rob Speyer
,
RXR Realty
,
Scott Rechler
,
Scott Stringer
,
Seth Pinsky
,
Silverstein Properties
,
Steven Roth
,
Tishman Speyer
,
Vornado Realty Trust