Coney Baloney: Will Big Developers Ever Build Their Dreamlands in Coney Island?
---
---
On Monday, July 4, some 35,000 people poured into Coney Island to watch Joey "Jaws" Chestnut make history—he downed 70 frankfurters in 10 minutes at Nathan's Famous annual hot dog eating contest (it's Nathan's 100th consecutive one).
The sun was shining, and the atmosphere was festive. All-in-all, it was a great afternoon for Coney Island on its most popular day of its busy season (minus the animal rights activists who rushed the stage at the contest and sprayed fake blood on a few unlucky contestants).
What a change from the Coney Island of yesteryear…right?
Some, like former Borough President Marty Markowitz, will tell you the neighborhood's revitalization is already in full swing, starting when the Brooklyn Cyclones began playing there in 2001 at the new KeySpan Park (now MCU Park).
"In my opinion, it was the spark," Markowitz told Commercial Observer. "It certainly proved that you could attract people from the region to Coney Island again with the right attraction and if they felt comfortable."
Others will say that the revitalization happened later, when the area was rezoned in 2009 for an amusement district and further development, which led to Luna Park's reopening in 2010 when officials like Markowitz, former Mayor Michael Bloomberg and former Councilman Domenic Recchia were spotted on rides together as a big media spectacle.
Still others hope it really gets off the ground as a result of developer iStar's unveiled 5,000-seat Ford Amphitheater on June 29, as it brings a possible year-round venue on the beach in addition to the aquarium.
All these theories have merit, but the big projects—the ones intended to make Coney Island a 365-day entertainment zone, such as a luxury hotel, an indoor waterpark, a movie theater, a conference center and shiny high-rise condominiums—have been stuck in an endless holding pattern for years and probably won't break out any time soon.
Billionaire developer John Catsimatidis, for example, a former New York City mayoral candidate who grew up in Brooklyn, has decided to play the waiting game with his three blocks of Coney Island properties.
"We have got great plans, but I haven't decided to start yet, unless we get some reasonable treatment by the city," Catsimatidis, the founder and chief executive officer of Red Apple Group, told CO. "We could spend a $100 million in New York, or we could spend $100 million in Florida. And right now we are looking in Florida."
He continued, "We would love to have taller buildings that people can be proud of, but if we ask the city for more, then they are going to hit us with affordable housing. I want to make it look like Miami Beach, and what's wrong with that?"
Catsimatidis' plans for the site had included the erection of 500 residential units in a three-building complex. He told The New York Times in February 2014 that the tallest building, a 22-story property, would commence construction that September. It's now July 2016, and Catsimatidis' projects have not broken ground. (Catsimatidis declined to explain further how much taller he actually requires he can build before he commences construction.)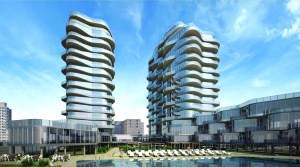 However, his waffling on commencing construction has not stopped Red Apple Group from expanding its holdings in the area. Catsimatidis is in contract to purchase the Federation Employment and Guidance Service building at 3312-30 Surf Avenue for $7.7 million and will (someday) incorporate it into a three-building project. When will he decide to move forward? Or what could change his mind? Catsimatidis wouldn't clarify but repeatedly said he's "going to Florida."
(A day following the interview on July 1, Catsimatidis sent this reporter an email with a link to a Tampa Bay Times article featuring himself buying a 2.3 acre site at 400 Central Avenue in downtown St. Petersburg, Fla., for a future development. It allows for an 800,000-square-foot as-of-right mixed-use development, which Red Apple Group is planning.)
Catsimatidis is not alone. Developer Joseph Sitt, the chief executive officer of Thor Equities, has owned large swaths of undeveloped beachfront property near Luna Park and Nathan's Famous for more than a dozen years.
Sitt once had plans for a Disneyland-esque development featuring a four-star hotel, an indoor waterpark and retail and entertainment spaces—ambitious ideas met with ridicule from many local residents and community leaders.   
Thor eventually sold about seven acres of land to the city for $95.7 million in 2009, according to various reports at the time, which were used for the redevelopment of Luna Park. (The original Luna Park, one of the world's great amusement parks when it opened more than 100 years ago, shuttered in 1946.)
However, he still does have plans for a roughly 55,000-square-foot lot he owns at 3050 Stillwell Avenue. For the second year in a row, Sitt co-hosted an art exhibition, involving the scrawling of street art on the façade of the site, which will remain there for the entire year. He has stated publicly that those are temporary plans, and he will eventually do more with the spaces.
"I would like to be able to build a really great stadium theater, a movie theater here [and] we'd like to build a great big hotel," Sitt told New York 1 in May. He explained to the news station that he required some zoning changes. (Sitt declined via a spokesman to comment for this article.)
Thor also owns a lot across from the art walls project at 3012 Stillwell Avenue, where he has a one-story retail development that features a Brooklyn Nets retail store in tandem with Adidas and a Wahlburgers restaurant by Hollywood brothers Mark and Donnie Wahlberg.
But while the big projects by Sitt and Catsimatidis are still in limbo, it's undeniable that others have decided to quit wasting time.
Luna Park was reopened by Central Amusement International through a public-private partnership in 2010, bringing a full amusement park back to the area, a void made when Astroland closed in 2008. Scream Zone was added in 2011.  
The Coney Island Parachute Jump, a landmarked 270-foot tall ride, was given new 8,000-colored LED lights (valued at $2 million) in 2013, which illuminates the area, almost like an Eiffel Tower (if it had been erected in Brooklyn). The following year the new version of the Thunderbolt Roller Coaster opened (the original closed in 1982 and was demolished in 2000).
The latest development is the Ford Amphitheater opening in the old Childs Building, which received about $60 million in funding from Markowitz's office and the City Council. The amphitheater will host major concerts throughout the summer, including Sting and Ziggy Marley, and events in the colder months in the indoor restaurant portion, which can hold 500 people. Also the New York Aquarium is completing a $157 million renovation for next year.
These entertainment projects have added to the cachet of the classics, such as the nearly 90-year-old Cyclone roller coaster and the 96-year-old, 15-story Deno's Wonder Wheel, which are independently owned and landmarked. And this has also brought back a large number of visitors to Coney Island, which suffered from a mix of urban deserting, the fiscal crisis of New York City in the 1970s and a failed promise to bring gambling to the area (see history article).
A 2014 study (the latest available) from the Alliance for Coney Island said that more than 5 million visitors annually come to Coney Island amusement park between Memorial Day and Labor Day. Additionally, the study found that 22 percent of those visitors hailed from other states or contries.
"Overall, I do believe that there is a sense of excitement. Coney Island is seeing its best days for some time now," said Johanna Zaki, the executive director of the Alliance for Coney Island. "Every year we have been able to announce some new developments to the area. That's all great for the local economy, great for jobs and spurring economic activity, so that is what people are excited about here."
She added, "The fact that we generate enough buzz to make that group of [foreign visitors] decide that there will take one day out of their limited stay, and make it a Coney Island day, was significant for us."
The study found that the overwhelmingly majority of visitors—38 percent—came from Brooklyn and just a combined 5 percent trekked from the Bronx and Staten Island.
That low Bronx and Staten Island number is pushing calls by the alliance for new transportation services, such as a ferry stop in Mayor Bill de Blasio's citywide ferry service plan and an express train to Coney Island.
A Coney Island ferry stop connecting to Staten Island was proposed in the citywide ferry initiative but still has not been approved by the city. The state's Metropolitan Transportation Authority has plans for an express F train in 2017, but there has been no word on a direct express train between Manhattan and Coney Island.
This activity has coaxed some Brooklyn developers to build more—although it's more of the same.
"Even developers who used to focus on Sheepshead Bay and Brighton [Beach], now they are looking at Coney Island, and they are seriously considering buying parcels to build," said Alex Svetlakou, a director at Cushman & Wakefield. "It wasn't like that a few years ago. It's becoming more and more real."
Most notable is Cammeby's International's projects at 532 Neptune Avenue and 626 Sheepshead Bay Road. Cammeby's already owns or manages more than 2,000 rental units in Coney Island and surrounding neighborhoods. The planned residential tower at 532 Neptune Avenue will rise 42 stories, becoming the tallest in Coney Island, and will have 576 market-rate rental apartments, according to a spokeswoman for the company. (The tower is an as-of-right project and therefore wouldn't be mandated to include affordable housing, like Catsimatidis' properties may for extra height.)
Cammeby's hopes to start constructing the tower, which will also include about 90,000 square feet of retail at its base, by the end of this year. The second building at 626 Sheepshead Bay Road will be an office and retail structure featuring 161,000 square feet of space across seven stories. Cammeby's is targeting medical offices and law firms for the office section and has already started building the property. Winick Realty Group will be handling leasing for retail and office at both buildings. The project also includes 800 parking spaces.
"While many other areas of Brooklyn have experienced a construction boom over the past several years, there has been little new development activity in Coney Island," the spokeswoman for Cammeby's said in an email. "With an increase in recent investment along the boardwalk meant to make Coney Island a year-round destination—including the new amphitheater—Cammeby's sees an opportunity to deliver a new high-quality mixed-use development that will complement the unique culture and character of Coney Island and address the demand for new commercial and housing options."
Coney Island-based PYE Properties filed plans in May to build a two-story building at 825 Surf Avenue, according to city records. The planned 14,517-square-foot commercial building will house an arcade.
PYE also purchased the shuttered Shore Theater at 1301 Surf Avenue, which was a Loews movie theater, in December 2015 for $14 million, and is considering renovating it for use it as an entertainment venue, according to local newspapers and blogs. Plans have yet to be filed with the New York City Department of Buildings for the future use of the 115,000-square-foot landmarked theater and a representative for PYE Properties did not return requests for comment.
The group behind Ford Amphitheater, iStar, also owns additional plots of land near the theater and is planning to build residential units there. So far, plans have been filed for a nine-story, 135-unit development at 2002 Surf Avenue, which will include nearly 8,000 square feet of commercial space, as The Real Deal reported in April. But the group ultimately wants to create about 1,000 units of housing, according to Martin Cottingham, a principal at Avison Young, who served as an adviser to the group for the amphitheater project.
The developer built the amphitheater, a 90,000-square-foot space it leases from the city, after a suggestion from Markowitz since its executives weren't sure what to do with the property.
"Early on there was some apprehension," Cottingham said. "They have realized that it is an anchor. It is creating retail buzz already. They have drawn many people to that end of Coney Island that don't usually go there."
While these projects are starting a great discussion, just about everyone agrees more needs to be done to make Coney Island a year-round neighborhood.
"We would love to see a major anchor hotel with conference and meeting space, recreation space—something that Coney Island could really be proud of," Brooklyn Chamber of Commerce President Carlo Scissura said. "Then it becomes a destination location.
"By the way," Scissura added, "I think when that happens, the Jersey Shore and the Hamptons will see a definite drop. We're ready for it; give us a few years."
Hotels are a thorny issue for Coney Island. There currently aren't any hotels in the area (and none are planned) with the closest being Sleep Inn Coney Island in Gravesend at 2586 Stillwell Avenue. And while some see the area as a place that could rival Miami Beach, others see it as a regular residential neighborhood—first and foremost, one that more than 50,000 people (many of whom are low-income families) call home.
"When the mayor talks about a tale of two cities, Coney Island is a tale of two places," said Timothy King, a managing partner at Brooklyn-based CPEX Real Estate. "When most people think about Coney Island, they conjure up an image of the amusement park. The neighborhood has been neglected for a very long, long time."
Community residents are fighting to protect it as such, and fighting for more infrastructure improvements like sewers and electrical systems. (The city's Department of Design and Construction is working on a five-year sewer infrastructure plan.) There are also concerns about security, with more people coming for the additional attractions, and a dearth of parking spaces.
Councilman Mark Treyger, for example, has placed getting new boilers for New York City Housing Authority buildings in Coney Island at the top of his wish list after finding more senior housing. (Coney Island's public housing is expected to get the necessary boilers as part of a $3 billion Federal Emergency Management Agency grant.) And even if a hotel were planned, he is pressing for some sort of partnership to get locals hired and maybe even operating it.
"My concern is what are the needs of the community today," Treyger said. "That has to be factored into the conversation. I understand that developers have their plans and their dreams. Does our infrastructure have the capacity to support it?"
He added, "I'm just not sure there is a market for a hotel there. If planned appropriately and planned right, I believe there are opportunities for the community for a win-win as well. If local residents can be employed and operate the hotel and be welcomed into the unions, that could be a pathway toward the middle class."
Markowitz, who is now a vice president of tourism at NYC & Company—the official marketing and tourism partnership organization for the city—is certainly amongst those rooting for Coney Island to get in on the hotel game.
"We will have indoor amusements and a hotel and convention center," Markowitz said. "There are so many things that are yet to come, and people will invest there if they know there is a market for it. Not everyone has a home in the Hamptons."
The only question that remains: When?
1301 Surf Avenue
,
532 Neptune Avenue
,
626 Sheepshead Bay Road
,
825 Surf Avenue
,
Brooklyn Nets
,
Cammeby's International
,
Carlo Scissura
,
CPEX Real Estate
,
Deno's Wonder Wheel
,
Domenic Recchia
,
Ford Amphitheater
,
John Catsimatidis
,
Joseph Sitt
,
KeySpan Park
,
Luna Park
,
Martin Cottingham
,
Marty Markowitz
,
MCU Park
,
Michael Bloomberg
,
Nathan's Famous
,
PYE Properties
,
Red Apple Group
,
Shore Theater
,
Timothy King
,
wahlburgers
,
Avison Young
,
Safehold
,
Thor Equities