The Second Life of Failed Malls
---
---
As 10 seconds or so spent on Google will demonstrate, there's no shortage of news stories harbingering the death of the American mall. Changing demographics, shifts in population centers, the rise of ecommerce—all are fingered as culprits in the institution's ongoing downfall.
Speaking last month at the International Council of Shopping Centers' annual RECon convention, however, DJ Busch, the senior analyst for real estate research firm Green Street Advisors, suggested that reports of the mall business' demise have been greatly exaggerated.
While the U.S. is "certainly over-retailed and over-malled, the vast majority of U.S. mall value lies in the top 300 to 400 centers," Busch noted. Those centers, he said, are not only stable but are actually expected to do "quite well over the next several years."
Although malls, taken as an overall business, look reasonably healthy, a large number of individual malls do not. In its 2016 mall outlook report, Green Street noted that more than 200 U.S. malls are considered "C" level or worse in quality and are at risk of closing within the next several years.
"Of the 1,200 or so malls in this country that have been enclosed at one time or another," Georgia Institute of Technology Professor Ellen Dunham-Jones, an expert on suburban redevelopment told Commercial Observer, "42 percent are dead or dying, a third are doing OK, and one-fourth are doing extremely well."
The question becomes what to do with the properties comprising that dying 42 percent. One popular option is repurposing.
Repurposing "is a very logical, productive activity at this point," said Kristin Mueller, the chief operating officer of retail at commercial real estate services firm JLL (JLL). "If you think about where we've come from over the last 10 years, we went into a recession, and that stopped all development activity. Then, in my view, the industry responded in a very smart way. Retailers and developers and owners and lenders looked around and said, 'OK, instead of building new space, why don't we take the space that exists and make it more productive?'"
In many cases, that has meant replacing existing mall space with different kinds of retail, for instance swapping out a traditional department store anchor for an outward facing power center like a Dick's Sporting Goods or Ross Dress for Less.
Mueller cited the example of Seritage Growth Properties, a real estate investment trust—for which JLL provides certain management and accounting services—launched last year to purchase and redeploy existing Sears stores, bringing in new retail along with dining, fitness and entertainment-related tenants.
The real estate investment trust, which counts Warren Buffet as an investor (he controls an 8 percent stake), owns 266 retail properties totaling more than 42 million square feet of leasable space, which it purchased from Sears Holding using proceeds from a $1.57 billion subscription rights offering last July.
At the end of fourth-quarter 2015, Seritage had completed seven of 15 redevelopment or retenanting projects upon its formation and launched five new ones with each of these projects, the company said, intended to repurpose the original "single tenant buildings into multi-tenant shopping centers at materially higher rents."
Then there are repurposing efforts that aim not to bring in new types of retail but rather to convert failing mall space to nonretail uses like offices, medical centers and educational facilities.
For instance, when Texas-based developer ATR Corinth Partners purchased Nashville's 100 Oaks Mall in 2006, it didn't seek out new retail tenants to replace those who had closed. Instead, it worked out a deal with Vanderbilt University to develop roughly 450,000 square feet of empty space on the mall's second and third floors as a medical center. The addition of the center led to a "tremendous increase in business" for the remaining stores, said ATR Corinth partner Frank Mihalopoulos, with occupancy rising from an initial 45 percent to 99 percent by the time the developer resold the property in 2012.
Apparently deciding such deals are good business. ATR Corinth recently purchased two additional malls with plans to repurpose them—Northlake Mall in suburban Atlanta and Forest Mall in Fond du Lac, Wis. The company picked up the pair last year from REIT WP Glimcher for $30 million and plans to convert them to mixed-use properties, potentially adding offices, housing, medical facilities and entertainment and restaurant space to the existing retail, Mihalopoulos said.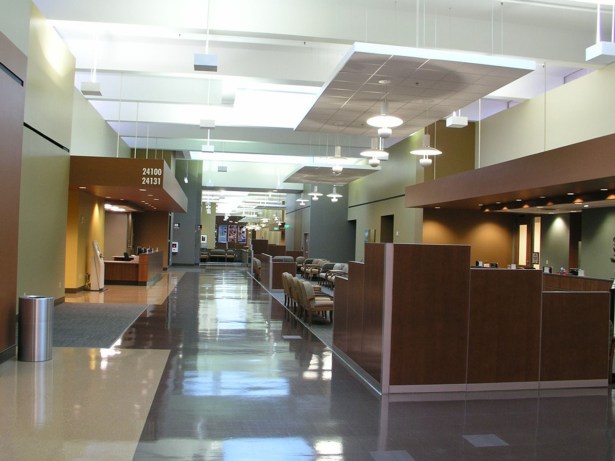 Repurposing comes with certain complications, however. Foremost among them is the fact that malls are typically owned by more than one party with agreements between them governing how their parcels can be used.
"The department stores own their own stores in a lot of cases, so you have to work with them, and you have to make sure you follow the REA [the reciprocal easement agreement, which governs the approved use of a property] or get their approval," Mihalopoulos said.
In the case of 100 Oaks, for instance, ATR Corinth had to convince the existing retailers that the Vanderbilt clinics would bring new business their way, he noted.
"For developers who are new to regional malls and may not understand all the legal dynamics, I would highly suggest getting somebody in there who understands how to deal with that piece of it," said Stacey Wipfler, a partner with law firm Husch Blackwell, which specializes in commercial real estate leasing.
She recalled a client's experience with a developer looking to repurpose a mall with new retail.
"I have one anchor owner who was telling me that a developer came into a regional mall and wanted to pull down half of it and build more of a power center, and they showed up with like a two-page amendment to the REA," she said. "She and I both started laughing because something like that is incredibly complicated from a legal perspective, and it was an incredibly inadequate attempt at trying to dramatically change the dynamics and nature of the tenant."
Owners have become more cooperative in recent years regarding adjustments to their REAs, Mueller said.
"What we are seeing is there is greater collaboration around improving properties," she said. "For instance, theaters used to be generally prohibited by a lot of department stores, and yet you see a lot of theaters going in because they recognize that it is good for the property."
Still, it's better, when possible, just to buy the whole thing, Mihalopoulos said. "The more [of the property] you can control, the better."
Traditional financing is available for such projects, but it can be somewhat harder to come by than for conventional retail deals, particularly for smaller, less established developers, said Maureen McAvey, a senior resident fellow at the Urban Land Institute and the former director of business development for Federal Realty Investment Trust.
"They can be hard to finance, because if the project failed, and especially if you have a creative new idea, people say, 'Show me. Where was this market before, what is the corollary, where are three or four other projects that have succeeded in locations like this?' " she said.
"Just by definition some of these repurposing projects are unproven, so that alone is going to require lenders to take a closer look," Mueller said. "But it gets down to the same thing, the confidence the lender has in the anchors, whatever they might be, and the confidence the lender has in the sponsor."
In many cases, local municipalities may offer tax and other incentives to developers looking to take on a failing property, Wipfler said. "Public-private partnerships are great tools for developers to use in repurposing a center."
"Governmental entities are oftentimes very interested in saving the sales tax revenue streams they are getting, so they may be willing to help with things like tax incremental financing or community investment districts," she said.
"You don't know if [government incentives] will be there or not, so you are trying to underwrite without them," Mihalopoulos said. "But to do it right you are going to need some kind of help. It could range from [something] minor like traffic lights to helping us create an outdoor plaza area with some TIF [tax increment financing] money."
Perhaps even more than conventional retail, repurposing projects is highly site specific, noted McAvey.
"If someone owns the land or is thinking about buying the land they are going to try to figure out where is there a demand opportunity, where the market is underserved, and you are seeing some special purposes emerge," she said. "We have seen a significant expansion in health care services as we have moved to more outpatient services. We have seen good growth in what you could call lifelong education, so colleges and universities. But, it really gets to a pretty customized market analysis to figure out where is there demand for something."
"This is great real estate in most cases," Mueller said. "It just shouldn't be the format that it has been."
ATR Corinth Partners
,
Dick's Sporting Goods
,
DJ Busch
,
Ellen Dunham-Jones
,
Forest Mall
,
Frank Mihalopoulos
,
Georgia Institute of Technology
,
Green Street Advisors
,
Husch Blackwell
,
International Council of Shopping Centers
,
Kristin Mueller
,
Northlake Mall
,
Ross Dress for Less
,
Seritage Growth Properties
,
Stacey Wipfler
,
warren buffet
,
WP Glimcher
,
JLL