Starbucks Opening 20K-SF Roasting Plant in NYC, First One Outside of Seattle
---
---
Starbucks Coffee, the world's largest coffee-shop operator, has something big brewing. The global coffee giant announced today it will be opening its first-ever roasting plant in New York City, in a 20,000-square-foot space on the ground and lower levels at 61 Ninth Avenue in the Meatpacking District. The roastery, which will be across the street from Chelsea Market, will house the company's largest store and will be similar to the existing one in Seattle.
Vornado Realty Trust and Aurora Capital are developing 61 Ninth Avenue between West 15th and West 16th Streets. They acquired the site, formerly home to Prince Lumber, via a 99-year $140 million ground lease in the spring of last year. The joint venture will be erecting a nine-story, 170,000-square-foot mixed-use Rafael Viñoly-designed building. The new Starbucks is slated to open in 2018, the company said.
"Our Seattle roastery experience created something that had never been done before, transforming a retail environment into something far beyond just a coffee shop and into the single-best retail experience of any kind," Howard Schultz, the chairman and chief executive officer of Starbucks, said in a release. "In New York, we want to take elements from what we originally created and build something even bigger and bolder, celebrating coffee and craft in a completely unique and differentiated way."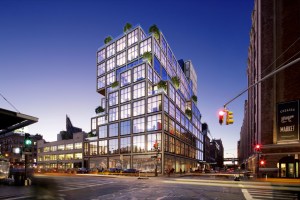 The existing Starbucks Reserve Roastery and Tasting Room opened in December 2014 in a 15,000-square-foot factory in Seattle. It is where all Starbucks "reserve" coffees are roasted and packaged. As Starbucks says in its press materials, the interactive roastery and coffee education center provides "an intimate look at the roasting process for our reserve coffees."
SCG Retail's David Firestein, Starbucks' Manhattan broker, declined to comment. Aurora's Jared Epstein and Vornado's Edward Hogan brokered the transaction. Mr. Epstein declined to comment as did Vornado via a spokeswoman.
The lease, signed in mid-March, is for 20 years, and the asking rent was $650 per square foot on the ground floor and $150 per foot on the lower level, a source with knowledge of the deal said. No other deals have been signed in the building.
There are more than 23,000 Starbucks retail stores in 70 countries including more than 200 locations in Manhattan alone.
Commercial Observer reported in January, that after about two years since Starbucks introduced Teavana tea cafés in New York City, all three would be shuttered and converted into Starbucks shops. The Teavana retail shops at 2261 Broadway at the corner of West 81st Street and 1291 Lexington Avenue close to East 87th Street were not to be affected.
1291 Lexington Avenue
,
2261 Broadway
,
61 Ninth Avenue
,
Aurora Capital Associates
,
Chelsea Market
,
David Firestein
,
Edward Hogan
,
Howard Schultz
,
jared epstein
,
Prince Lumber
,
Rafael Vinoly
,
SCG Retail
,
Starbucks Coffee
,
Teavana
,
Vornado Realty Trust