How JLL's Derek Trulson Brought Seattle's Nordstrom to New York City
---
---
When the housing bubble popped, Lehman Brothers declared bankruptcy, the United States economy tanked and most investors were hitting the panic button, JLL Vice Chairman Derek Trulson had an idea: Bring Nordstrom to New York.
He was friends with Peter Nordstrom—one of three co-presidents of the eponymous upscale fashion retailer with brothers Erik and Blake—who would be in the city for Fashion Week in 2009, so Mr. Trulson arranged a meeting. They came together on Sept. 21 for a Mediterranean lunch at Amaranth on East 62nd Street, a block away from rival department store Barneys New York at 660 Madison Avenue. And there, Mr. Trulson made his pitch for why a bleak economy could be a real asset for Nordstrom.
"I said this is perfect time to get back into the market and entertain some sites," Mr. Trulson said. The idea was that a big brand like Nordstrom could provide financing to real estate developers desperate for capital, and they could get a nice retail condo out of it. "And that's why we were able to talk to a lot of real serious real estate investors and owners in New York City because of the timing. You could argue if we were a year later or earlier, we couldn't have pulled it off."
In 2019—after nearly two decades of contemplating, inquiring, negotiating and searching—the Seattle-based store will have its first New York City location. (There is a discount Nordstrom Rack in Union Square.)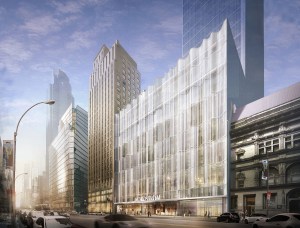 Nordstrom's Manhattan flagship store will be in a four-building, 363,000-square-foot campus on Broadway between West 57th and West 58th Streets, thanks to the efforts of the JLL team led by Mr. Trulson. (One of these buildings includes Extell Development Company's new Central Park Tower at 225 West 57th Street.)
Messrs. Nordstrom and Trulson's friendship is decades older than their professional relationship. It began when Mr. Trulson, 49, a native of Washington, met Mr. Nordstrom, 53, through a mutual friend in the early 1990s.
"I knew of them, they didn't know me, because they are the Nordstrom family," Mr. Trulson said. "I would have never guessed that I would have been able to create this relationship with Nordstrom on a professional level."
Both Messrs. Trulson and Nordstroms bonded over their alma mater (they both went to the University of Washington, graduating five years apart.)
After their lunch in 2009, Mr. Nordstrom agreed that Mr. Trulson could start looking for locations.
In a prior plan in the mid-2000s, Nordstrom was in negotiations with developer Harry Macklowe to control the base of a new development at 440 Park Avenue between East 56th and East 57th Streets where the Drake Hotel stood, Mr. Trulson said. That plan was quashed in 2007 when financing fell through. (CIM Group, which bought a controlling interest in the project, and Mr. Macklowe eventually decided to make the retail much smaller at the base of the residential condominium, which is known today as 432 Park Avenue.)
'You could argue if we were a year later or earlier, we couldn't have pulled it off.'—Derek Trulson
Messrs. Trulson and Nordstrom spent a year vetting potential spots for the store with two big considerations in mind. First, in order to keep the location protected from rising real estate rents long-term, Nordstrom wanted to own its location. Second, because of the need for wide-open floor plates, Nordstrom preferred a new building.
Mr. Trulson's team of Michael Shenot and Bill Peters saw about 40 sites before deciding on Extell's planned 88-story residential condo at 225 West 57th Street. In 2013, Nordstrom reportedly paid $102.5 million for the 292,000-square-foot retail unit at the tower, which will have two levels below grade and five floors above, as The New York Post reported. The building is under construction now, and Nordstrom will have entrances on Broadway as well as West 57th and West 58th Streets. The deal garnered so much attention that "the Nordstrom Building" became shorthand for Central Park Tower.
And the deal had something important going for it beyond ownership and the attendant publicity: Nordstrom had much of the nearby landscape to themselves.
"There has not been a department store [like this] on the West Side, everything is on Fifth Avenue," Mr. Trulson said. "Barneys, Bergdorf, Bloomingdales, Saks, Lord & Taylor—so Nordstrom said West Side! Imagine, we just created a department store anchor across the street from the only vertical mall in the history of Manhattan" at the Time Warner Center.
But after completing the deal for its New York flagship store, the Nordstrom team wanted more space and asked Mr. Trulson to find it.
"The family [inquired,] 'How do we make it bigger and better than what we have on the drawing board,' " Mr. Trulson said. "And ideally as close to their investment as it could be."
So Mr. Trulson and his team worked with John Dolson, Nordstrom's head of real estate, to get full control of Broadway between West 58th and West 57th Streets by leasing the first four floors and 20,000 square feet of 1776 Broadway at the corner of West 57th Street and then another 8,000 square feet on the ground floor of 1790 Broadway also known as 5 Columbus Circle. (The property at 1780 Broadway, which has a landmarked façade, will be incorporated into Extell's tower, and Nordstrom owns the retail space.) While they are separate buildings it will feel like one mall, because the interiors of 1776 Broadway, 5 Columbus Circle and the Central Park Tower will be connected.
Nordstrom still wasn't satisfied.
To stretch its reach even further, last summer Mr. Trulson's team found Nordstrom 43,000 square feet on the lower lever and first two floors at 3 Columbus Circle across the street in a lease with landlords SL Green Realty Corp. and The Moinian Group for its men's department, as CO previously reported. (The terms of the leases were not disclosed.)
"We feel really fortunate to be partnering with JLL on our Manhattan store project," Mr. Nordstrom, a co-president of the company, said in a prepared statement. "Working with a trusted partner like Derek Trulson has made what is a really ambitious and complicated project go much more smoothly. Derek has looked out for our interests and has been instrumental in helping us secure a location that we are really excited about."
Department stores of this size are rarely created ground-up in Manhattan anymore. And the development of the West Side's first big-box department store could have a great influence on the retail and offices rents around the neighborhood.
"I think the retail is going to improve," said RKF Chairman and Chief Executive Officer Robert Futterman, who represented Extell in the Central Park Tower deal. "I think you are going to start seeing more fashion tenants come to the neighborhood. I think the character of the neighborhood is going to change exponentially. It'll have a major effect on the office market too, because it'll make the neighborhood more vibrant."
But without Mr. Trulson, Nordstrom's exclusive New York City broker, it probably wouldn't have happened.
"The level of focus, professionalism and hard work—Derek was relentless in putting this deal together," Mr. Futterman said. "In my opinion it was one of the most creative deals that I have seen in the city in years."
Mr. Trulson began in real estate five years after he graduated with a bachelor's degree from the University of Washington's building construction program, as a broker with a local firm in the Evergreen State. He eventually opened The Staubach Company's Washington outpost in 1996 and then moved to New York City in 2002 to help grow the Dallas-based brokerage's office in the Empire State. Roger Staubach, the Hall of Fame quarterback and two-time superbowl champion who started The Staubach Company, sold the firm in 2008 to JLL for  nearly $660 million.
Mr. Trulson, who is married with two children (ages 17 and 19), has been doing big things since landing at JLL outside the realm of Nordstrom. In a massive deal that Mr. Trulson struck late last year, he represented financial firm KCG Holdings when it decided to move its headquarters from LeFrak Organization's 545 Washington Boulevard in New Jersey to the 169,000-square-foot office tower at 300 Vesey Street in Brookfield Place. As part of the deal, New York State Economic Development Corporation will give KCG $15 million in tax credits, as The Wall Street Journal reported. It will occupy part of the 12th floor and the entire 13th through 15th floors of the 15-story building by the end of the year.
The company is consolidating from its 260,000-square-foot space across the Hudson River, and in doing so it also freed up space for J.P. Morgan Chase to move in. The bank signed a lease for 400,000 square feet at 545 Washington Boulevard. J.P. Morgan plans to move 2,150 information-technology jobs into the building and received $19 million in tax credits from New Jersey, as The Journal reported.
But Nordstrom is never very far from his mind. Mr. Trulson is currently helping Nordstrom find more than a million square feet of space around the country for distribution and call centers. Those future deals could become complex but maybe not quite as challenging as the two-decade quest to open a New York City store.
"When they decided they were going [to come to New York], they were going to do it in a big way and do it in the best way possible," Mr. Trulson said. "And they are going to make this the best store that it possibly could be."
1776 Broadway
,
1780 Broadway
,
1790 Broadway
,
225 West 57th Street
,
3 Columbus Circle
,
300 Vesey Street
,
432 Park Avenue
,
5 Columbus Circle
,
545 Washington Boulevard
,
660 Madison Avenue
,
Barney's New York
,
Bill Peters
,
Brookfield Place
,
Central Park Tower
,
CIM Group
,
Derek Trulson
,
Extell Development Company
,
Harry Macklowe
,
J.P. Morgan Chase
,
JLL
,
John Dolson
,
KCG Holdings
,
Lehman Brothers
,
Michael Shenot
,
nordstrom
,
Peter Nordstrom
,
RKF
,
Robert Futterman
,
The Staubach Company
,
Time Warner Center
,
University of Washington