Climate Change: It's No Longer a Landlord's Market. Behold the Power of the Tenants!
---
---
Just how eager have some landlords become to get vacant space rented?
Consider this: One landlord is offering brokers the chance to win a Porsche if they bring a "qualified tenant" to look at office space at 707 11th Avenue.
So says a listing for 53,270 square feet across two floors in the building, which is between West 50th and West 51st Streets, according to the marketing flyer from Cushman & Wakefield. Kenneth Cole Productions nabbed the building in June 2006 for $24 million, according to property records.
Alternatively, a broker can pick up a $135 American Express gift card for bringing a "qualified" prospective tenant to view a 30,282-square-foot space at 135 West 50th Street between Avenue of the Americas and Seventh Avenue, courtesy of C&W. That's what a marketing flyer promises along with "100 percent commission paid on signing for creditworthy tenants." (UBS Realty Investors' affiliate TPF Operating REIT acquired the ground lease at 135 West 50th Street in August 2012 for $279 million.)
One broker commented, "See what the landlord is offering the brokerage community now to try and move the space. Nothing like the old days of pure desperation, but broker bonuses and tenant incentives may be forthcoming in a big way."
William Montana, a senior managing director at tenant-focused brokerage Savills Studley, said via email, "Lately there has been a deluge of marketing emails circulating with the subject lines 'Reduced Rent,' 'New Price' and etc. We created a file to archive them and the list is growing. We receive about 10 of them a day. That's in addition to the 250-plus ordinary available space flyer emails we receive daily."
Mr. Montana continued, "The other thing we've noticed recently is that whenever we show a building to a tenant, the agents call later the same day to follow up and ask if there's interest or what they can do to generate an offer. That doesn't happen in a strong market. All of this points to weakening demand for office space and that is creating leverage for informed tenants."
Such is the sentiment among many commercial real estate executives who say landlords are feeling the pinch due to unusual market volatility from the declining stock market to dropping oil prices (although oil prices have started ticking up) to a slowdown in China's economy to concern about interest rates. As a result, landlords are becoming more flexible with rent reductions for office and retail spaces and increasing concessions.
The Midtown office market will be particularly hard hit over the next five years with a great deal of office space oversaturating the market.
According to a January 2016 Newmark Grubb Knight Frank report, there were 50 blocks of 100,000-plus square feet on the market or set to become available within the next several years in Midtown in 2007 compared with 80 today. Further, there are "at least 12 previously built Class A office buildings that already are, or in the next five years will become, more than 75 percent vacant due to relocations west and south," the report indicates.
Jared Horowitz, an executive managing director at NGKF, said he fears "future deliverables will impact the strength of the Midtown market."
The NGKF report shows that inventory may increase by as much as 5.5 percent in the coming decade in Manhattan.
Despite the hoopla, developer Larry Silverstein of Silverstein Properties doesn't seem concerned about an oversupply of office space in Manhattan.
"First I can tell you, the only people building office buildings are ourselves, and Steve Ross [of Related Companies] at Hudson Yards and Brookfield (BN) [Property Partners with Manhattan West]," Mr. Silverstein said last Thursday at the Anchin Construction and Development forum. "Other than the three of us, there's no new creation of office space today to any quality or quantity."
But part of the excess inventory on the office side will come from corporate leave-behinds as companies, such as Time Warner, Coach, Skadden Arps and GroupM, relocate from Midtown to the Far West Side or Downtown over the next half a decade.
"There's no question that as the months tick by the market is becoming ever more favorable to the user," said Mitchell Steir, the chairman and chief executive officer of Savills Studley. "At this point, there simply aren't enough large users in the market to absorb the amount of available space.  Landlords will have to continue to adjust their pricing and concessions."
Jared Freede, a senior vice president at CBRE and on the tenant representation side, said in an email via a spokeswoman, "The uncertainty and volatility in the equity markets suggest that we are due for some type of correction. It appears that the TAMI [or technology, advertising, marketing and information services] sector is slowing, funding has declined, valuations are coming back down to earth and stock prices for the industry's largest companies have been hit, so it's not unreasonable to assume that in the near term we are likely to see somewhat of a market pullback. Another notable factor is that new leasing activity for the month of January was down 41 percent from the five-year monthly average. This does not include renewals which accounted for 900,000 square feet, a healthy amount."
SL Green Realty Corp. is expecting a slowdown in leasing velocity next quarter because of a forecasted drop in job growth, Marc Holliday, the company's chief executive officer, said on a Jan. 28 fourth-quarter earnings call.
"Whereas last year, 2015, there was about 87,000 or 88,000 private sector jobs created in New York City, about 30,000 of which were office-using, we would expect that number to still be significant, but probably be more in the order of 50,000 to 60,000 jobs created this year, and hence, 12,000 to 16,000 office-using jobs created in 2016," he said.
He further noted he anticipates office rents to stay flat, "at a minimum."
"You have incremental demand, incremental supply, so that should keep rents I think for at least 2016 at the levels they currently are," Mr. Holliday said.
Meanwhile, one broker said he was told that SL Green (SLG) has dropped asking rents $5 and $10 a pop at 10 East 53rd Street and 1080 Park Avenue.
Steven Durels, executive vice president, director of leasing and real property for SL Green, explained via email, "We continually adjust rents. We recently raised some and dropped others."
Inventory is also impacted by the fact that companies are doing more with less space for their employees and job growth is flattening.
"I think that large retail space is not as desirable as it once was and what is desirable is a smaller format," said John Brod, a partner at ABS Partners Real Estate whose clients are primarily tenants. "I'm seeing that all over. They don't need 25,000 square feet anymore."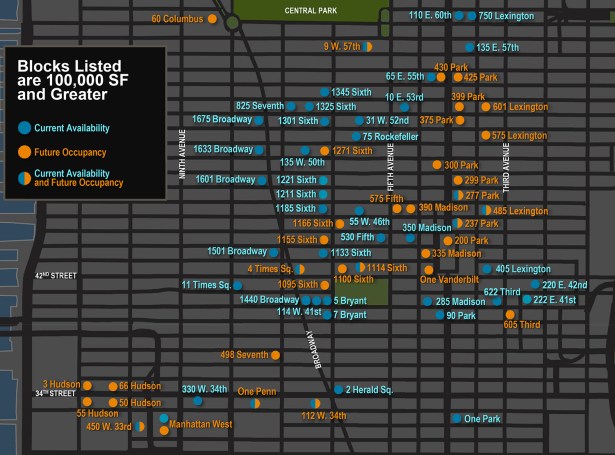 Retailers have been slower to do deals as consumer confidence is down.
"Retailers are cautious," said landlord Christopher Conlon, an executive vice president and chief operating officer at Acadia Realty Trust, which has retail space at addresses including 83 Spring Street, 15 Mercer Street, 5-7 East 17th Street and 27 East 61st Street. "That has yet to translate to lower rents where we're owning."
But, he has had to remind his acquisitions team to brace for longer leasing periods. Unlike the usual nine to 12 months allotted for completing a lease, "we're doubling that" now, he said.
Concessions like free rent and greater tenant improvement allowances appear to be on the rise.
Among signed leases of over 10,000 square feet in Class A buildings last year, the average initial taking rent was $80.40, down from $83.10 a year prior, according to information compiled by Keith DeCoster, the director of U.S. real estate analytics at Savills Studley. The average tenant improvement allowance was $72.54, up from $69.47, and free months' rent was at 9.99 months, up from 9.85 in 2014.
It's not just incentives that are being offered to get deals done.
"In many cases, rents have already started to come down a bit," Mr. Steir said.
Of course, rent concessions and giveaways to get brokers in the door have long been a staple of the industry. When asked whether the marketing flyer offering a Porsche was a sign of things to come, C&W's spokesman said in an email, "Brokers hold events like these all the time to attract others to view the space their marketing." He further said that Manhattan is actually in a landlord's market because of the 8.6 percent vacancy rate for office space.
But the prominent buildings offering rent slashings tell a different story. Reductions have been seen at the following office buildings, Mr. DeCoster's research shows, at properties including 1114 Avenue of the Americas, to $82 a square foot from $88 and on the upper floors to $86 a foot from $88; at 501 West 30th Street, to $85 from $90; and at 1133 Avenue of the Americas, to $73 a foot from $74.50.
This is occurring on the retail side, too.
"No deals are being done without landlords taking a very proactive and aggressive approach to doing deals," Mr. Brod said. Declining to cite specifics, he added, "I'm seeing opportunities where a landlord wanted to make a $500-a-square-foot deal for 10 years but is doing a deal for $300 a foot for three years. That is happening."
Some people sound more optimistic—at least in the short term.
Broker James Buslik, a principal of Adams & Co., said he is "not panicking," and "the sky's not falling." Grant Greenspan, a principal at The Kaufman Organization, said he hasn't tweaked rents or concessions. "Concessions are pretty much holding," Mr. Greenspan said. "I really haven't had to change my pattern yet."
Michael Cohen, the president of the tri-state region at Colliers International, said the idea of a tenant's market is overblown and premature.
"Calling it a tenant's market might be a bit of an exaggeration," he said. "Certainly it's a good time in the cycle."
He said that talking about space hitting the market in five or 10 years isn't relevant for tenants with leases coming due in the next couple of years.
"If your lease is up in 2020 or 2021 or even 2019 then be mindful of the trends," Mr. Cohen said.
With additional reporting provided by Danielle Balbi and Terence Cullen.
135 West 50th Street
,
15 Mercer Street
,
27 East 61st Street
,
5-7 East 17th Street
,
707 11th Avenue
,
83 Spring Street
,
Acadia Realty Trust
,
Adams & Co.
,
Christopher Conlon
,
coach
,
Grant Greenspan
,
GroupM
,
James Buslik
,
Jared Freede
,
Jared Horowitz
,
John Brod
,
Keith DeCoster
,
Kenneth Cole Productions
,
Larry Silverstein
,
Manhattan West
,
Marc Holliday
,
Michael Cohen
,
Mitchell Steir
,
Skadden Arps
,
Stephen Ross
,
Steven Durels
,
Time Warner
,
TPF Operating REIT
,
William Montana
,
ABS Partners Real Estate
,
Brookfield
,
CBRE
,
Colliers
,
Cushman & Wakefield
,
Kaufman Organization
,
Newmark
,
Related Companies
,
Savills
,
Silverstein Properties
,
SL Green
,
UBS