Talking Rezoning, Affordable Housing and Gardening With REBNY's John Banks and Rob Speyer
---
---
Pinning down an interview with either John Banks, the president of the Real Estate Board of New York, or Robert Speyer, the chairman of the industry's lobbying arm, is a time-consuming task—especially with the press shy Mr. Speyer, who last fall took over as the lone chief executive officer of the family-owned Tishman Speyer.
But in December, Commercial Observer got a rare sit-down with both men in Mr. Banks' corner office at REBNY's headquarters at 570 Lexington Avenue between East 50th and East 51st Streets. Mr. Banks, a lobbyist for Consolidated Edison for 15 years, is now six months into his full-time role as REBNY president, replacing Steven Spinola, who retired from the post last July after leading the powerful trade group for 30 years.
Mr. Banks, 54, has attacked the job with gusto, entertaining ideas in the middle of 421a talks like a prevailing wage—as well as getting in the thick of labor negotiations, like the one between REBNY and 32BJ, the union representing building porters (they reached a tentative labor agreement in December).
For the 46-year-old Mr. Speyer, on the other hand, his time is winding down. He has entered his final year as the top industry executive on the board. Mr. Speyer, the journalist-turned-real estate scion, became the youngest REBNY chair in 2013, and the first third-generation family member to serve in the role (his grandfather, Robert Tishman, chaired REBNY from 1973 to 1975, and his father, Jerry Speyer, served as chair from 1986 to 1988). Since taking over that role, REBNY officials pointed out that membership has jumped to 17,000 in 2015 from 13,500 in 2012.
Growing that membership to cover the entire industry was one of several topics the duo discussed while sitting at a round table in Mr. Banks' office, which has as its centerpiece a glass United States Senate ashtray that's filled with fresh fruit. While they've only worked in tandem for a short amount of time, the two came off like they were old buddies—tossing the other a compliment here; returning the serve there—with Mr. Speyer crediting the selection of Mr. Banks as president as a legacy item for him as REBNY chair. 
Commercial Observer's interview was conducted just shy of a month before the deadline for the group to agree with organized labor on a prevailing construction wage, on which 421a's continuation hung (see our story). While it was too soon to discuss anything about the lucrative tax abatement, Messrs. Banks and Speyer were willing to delve into the continued rezoning of Midtown East (REBNY was a member of the steering committee that released recommendations for the commercial-heavy neighborhood last fall), the city's ever-present affordable housing crisis and a little about how they spend their down time.
John, you're about six months in now. What has your experience been so far?
Mr. Banks: It's everything that I thought it was going to be. It's been challenging. I've had to learn a lot, which is really what I wanted to do. It's an entirely new industry for me. So that's been fun and exciting. The staff here is top-notch. Steve left me a great organization with a rock-solid foundation. And I'm just looking to build on that and try to take the organization to the next level, whatever that might be.
Do you still communicate with Mr. Spinola on certain things?
Mr. Banks: We talk a couple of times a week. Sometimes more, sometimes less. But he's always been available to me. Transitions can be very, very difficult, but [because of] who Steve Spinola was and his reputation and his acumen, the transition just could not have gone better. It just was a wonderful opportunity for me coming into an organization that's been headed by someone for 30 years, to work alongside him for that period of time, allowed the transition to be as smooth as it has been.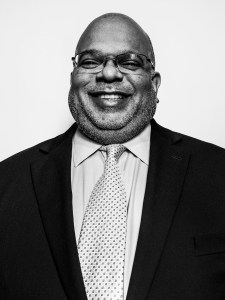 You're the first African-American president of REBNY. That's big. What's your perception of the diversity of the organization?
Mr. Banks: I get a sense that everyone is keenly focused on being able to provide opportunity for people of all walks of life in New York City. It's something that we have focused on in our conversations with elected officials: How do we enhance the local hiring component of what happens within the construction industry? And we're working very, very hard to get that message out.
Personally here, I can tell you I've been welcomed with open arms. People have been very willing to offer me guidance or a kind word here or there, or a slap on the back in support when things are difficult. It's been a dream transition and a dream opportunity. I look forward to the industry growing and providing as many opportunities for New Yorkers of all walks of life.
You're dealing with 17,000 members and with these issues on a day-to-day basis. How do you unwind or cool down?
Mr. Banks: I go home and try to do fifth-grade math with my 11-year-old. I don't know if that helps you unwind, but it certainly gives me perspective. I'm a simple person. When the weather is right I like to garden a little bit. I enjoy watching baseball. I'm a rabid Yankees fan.
I'm sorry for this year.
Mr. Banks: If there's anything about me, I'm reasonable. We had 20 years of good baseball as Yankee fans. I'm not going to start crying because the last three or four have not been as focused and significant as the past.
Rob, you've taken over as the lone CEO of your company. How has the REBNY position prepared you for that?
Mr. Speyer: One of the wonderful things about this organization is the collegial relationships that form its foundation. We sit in a room as colleagues that are competitors, but we are friendly competitors who understand that our interests are largely aligned. You can sit around a table with a group of people who you are competing with most of the day, but you realize that we need to stand up with one another and for one another. Working with the likes of Bruce Beal [of Related Companies] or Jed Walentas [of Two Trees Management Company] or Burt Resnick [of Jack Resnick & Sons] to advance our common interests and make the city and state a better place has been a wonderful experience.
We understand that you were at the Observer as an intern.
Mr. Speyer: Yes! Not as an intern—I was a reporter at the Observer. You go back and check the files.
For what years should we go and look?
Mr. Speyer: I joined in the fall of '92 and then I got hired away by the Daily News in June of '93. (Mr. Speyer left journalism for Tishman Speyer in 1995.)
'We sit in a room as colleagues that are competitors, but we are friendly competitors who understand our interests are largely aligned.'—Rob Speyer
That also would have been about the time [veteran Daily News reporter and rewrite guy] Corky Siemaszko started.
Mr. Speyer: Corky was probably my closest friend at the paper. He just left [for NBC News]. Corky set me up with his sister. That's how much Corky liked me: he trusted me with his sister, Nina! He's a great guy. (Mr. Speyer has been married to Anne-Cecilie Engell since 2008.)
Were you on the streets or on the rewrite desk?
Mr. Speyer: I was general assignment.
How does real estate compare to the Daily News?
Mr. Speyer: The Daily News was still at its peak circulation and it was a wonderful place to work and I found myself in the middle of a lot of adventures. It was wonderful.
What made you decide to go into real estate instead?
Mr. Speyer: Obviously, it was a family business. And I was itching for a new challenge. Tishman Speyer was in the process of buying into Rockefeller Center [in 1995]. Probably [it was] hearing at the time my father's vision for Rock Center—it was the first time that the industry really came alive for me. I just found it so exciting and his excitement so infectious.
Was there ever a conversation about it?
Mr. Speyer: It was over the course of several months. I was restless.
For me personally leaving the paper, I just couldn't do the streets anymore.
Mr. Speyer: I did that for a very intense three and a half years and got myself into all sorts of… misadventures. One way or the other, pivoting out of that and into something else was a good idea for my longevity.
When Mort Zuckerman put the paper up for sale last year, did you consider a bid?
Mr. Speyer: No.
Are there still issues to be worked out for the Midtown East rezoning?
Mr. Banks: There are a lot of issues that still need to be worked out. They're just beginning [Uniform Land Use Review Procedure]. The collaborative Midtown East task force was a good first opportunity to get issues on the table that we're going to confront the City Planning Commission with and, ultimately, the City Council. So the way I look at it is we're still at the beginning phases of a final deal on that.
What impact will projects like the Second Avenue subway and East Side Access have on the real estate industry?
Mr. Banks: We have to be creative about how that happens because it's going to be unlikely that we're going to build another subway line out to sections of Queens or Brooklyn or something. We have to think about how we get people who live outside of the central business district into the central business district through an efficient, fast and cost-effective way. Those things have to be on the forefront of what goes on in order for us to survive.
Mr. Speyer: It is the central issue for the future of this city, not just our city. East Side Access, Second Avenue subway and the 7 line extension are terrific, but we can't rest on our laurels. I spend a lot of my time abroad, and I've had the pleasure of taking the Shanghai to Beijing high-speed rail. I see how infrastructure investment literally transforms countries. We need more than a city strategy; we need a regional strategy. There must be a tunnel between New York and New Jersey.
'We have to think about how we get people who live outside of the central business district into the central business district through an efficient, fast and cost-effective way. Those things have to be on the forefront of what goes on in order for us to survive.'—John Banks
Since the $5.45 billion Stuyvesant Town-Peter Cooper Village sale closed on Dec. 18, would either of you be interested in commenting on that or SL Green Realty Corp.'s threatened lawsuit to stop the sale?
Mr. Banks: I have no interest in that whatsoever.
[Mr. Speyer stays silent.]
Rob, you're entering your final year as REBNY chair. What's your priority in 2016?
Mr. Speyer: By far, my proudest accomplishment was leading the process that led to John Banks agreeing to join us. John has an exceptional and well-earned reputation from his time in the public sector [as a board member of the Metropolitan Transportation Authority] and the private sector.
Second, that the membership has expanded by nearly 30 percent over the last three years. I think the numbers are 13,500 to 17,000. That represents not just owners, but brokers, lawyers—people that run the entire gamut of the industry. One of the things that was so compelling when John interviewed for the job was the strategy of having a much more intense, grass-roots effort to engage the entire membership so that we can bring 17,000 members to bear on any problem, activate them to influence the public sector to issues that are important to the industry. So literally increasing the numbers of our membership is critical to that strategy.
And then, last, bringing some of the new generation of leadership in the industry—people like MaryAnne Gilmartin [of Forest City Ratner Companies], Ric Clark [of Brookfield Property Partners], Marc Holliday [of SL Green Realty Corp.]—into the executive committee so that they can play a big role and have a strong voice in the future of REBNY was an important accomplishment.
Is there something definitive on the policy side you can point to that you've pressed for?
Mr. Speyer: Sure, on the city side, in 2015 more affordable housing was developed than any year since 1978. By far the vast degree of credit ought to go to the mayor. But at REBNY, we have done everything in our power to back that up, to help him both formulate policy as well as literally build the bricks and mortar that provide the affordable housing.
On the state side, we have worked closely with Gov. [Andrew] Cuomo to bring New York's fiscal house into order. Helping him formulate both on the revenue side as well as the cost side a strategy for attacking that and closing [a $10 billion deficit] gap, I think it was a big win not just for REBNY but every citizen in this state.
John, what's your relationship like with Mayor Bill de Blasio?
Mr. Banks: I've known the mayor for more than 20 years.
Mr. Speyer: That's actually how I met John.
Mr. Banks: He's a friend. He's committed to the city, he's thoughtful, he understands that what he's trying to do is difficult and that it will take time and energy and he's completely committed to it. His administration is always available to us at REBNY and in my prior life.
How do you transition from a strong relationship with the Bloomberg administration to the de Blasio administration, which had different ideas on how to govern?
Mr. Banks: I think it's a testament to the commitment of all of those particular people [Mr. Bloomberg, Mayor de Blasio and REBNY] to the City of New York. Everybody wants the city to do well, and there's that commonality that I think transcends whatever the fringe problems are that might exist here and there.
Mr. Speyer: And it's our job to work with whoever the mayor and the governor are, because REBNY is an institution that thinks about the world in terms of decades, not administrations. We try to forge a constructive relationship with whoever the governor and the mayor are.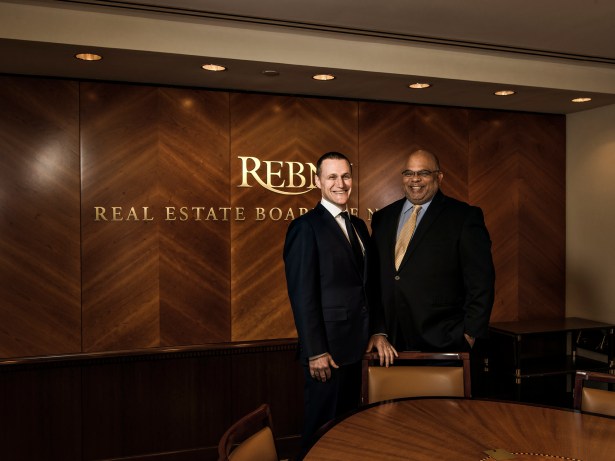 There were five single-asset sales over $1 billion last year. It looks like we're at a peak market right now. What is the plan if the market starts to go down?
Mr. Speyer: New York is the ultimate magnet. It's the magnet for young people graduating from school when they decide where they want to live. It's a magnet for institutional and individual investors from literally all over the globe. It's a magnet for technology companies, health care companies and life science companies. I think that's at the core of New York's strength: The fact that it is attracting people and capital and industries from all over the world. There will be economic cycles, but as long as we can keep the quality of life in this city at the level that it's at now, New York is on a very sustainable path toward the future.
Mr. Banks: If you look at the recession of 2008 and what people were predicting especially for large urban centers at that point, New York not only weathered that storm, but came out of it in a much, much, much stronger fashion than many other places in the country and that's because of the leadership both at the city and state levels. Like Rob said, people want to come to New York. It's really our job as stewards of our particular areas to help promote and let people know what's wonderful about New York. That's a role that REBNY has traditionally played and will continue to play—to just stand there at the top of the hill and yell: "New York is a great place. You are crazy if you do not come here."
Do you have any more thoughts on the last year and what we can expect for this year?
Mr. Banks: I'm just very happy to have had the opportunity to work with Rob and get to know him as chairman. It's really been a blessing to have someone of his experience and his acumen both in the public sector, his commitment to the City of New York and to the industry, helping guide me through this first year of involvement and transition.
And you, Rob?
Mr. Speyer: I'm hoping to unlock this riddle of an affordable housing program that can actually produce affordable housing. That would be a wonderful accomplishment—not just for REBNY, but for the city. If it doesn't happen in 2016, it's going to have to happen very soon.
Mr. Banks: That's right.
Mr. Speyer: Because it's absolutely necessary to sustain our city's future.
Mr. Banks: Everybody recognizes the need. Like Rob said, we have a great start. We had nearly 50,000 units last year that got underway or are in various stages. This is what seems to be an intractable problem of affordable housing in New York; maybe we'll be able to get some headway against it.
Affordable Housing
,
Andrew Cuomo
,
Bill de Blasio
,
bruce beal
,
Burton Resnick
,
Consolidated Edison
,
East Side Access
,
Jed Walentas
,
Jerry Speyer
,
John Banks
,
MaryAnne Gilmartin
,
Midtown East Rezoning
,
New York Daily News
,
Real Estate Board of New York
,
REBNY 2016
,
Rob Speyer
,
Robert Tishman
,
second avenue subway
,
Steven Spinola