The past year was busy, to say the very least.
From iconic properties changing hands to the city's newest subway station, and from corruption cases to murder trials, it feels like 2015 has seen it all.
The saga of Stuyvesant Town-Peter Cooper Village came to an end, with Blackstone Group's and Ivanhoe Cambridge's $5.3 billion buy. (The acquisition closed on Dec. 18.) Related Companies and Oxford Property Group's Hudson Yards development is well under way, especially with the new 7 extension opening its doors to riders in September. Sheldon Silver and Dean Skelos were found guilty in their respective corruption cases. And of course, the city announced that Staten Island is getting the world's tallest Ferris wheel.
In case you missed any of it, Commercial Observer went back and took a close look at how 2015 unfolded.
JUMP TO MONTH: January, February, March, April, May, June, July, August, September, October, November, December
---
January
Three-term Gov. Mario Cuomo dies as his son, Gov. Andrew Cuomo, is sworn in for a second term on New Year's Day.
Citigroup provides a $2.3 billion loan for a retail center at 1380-1358 Boylston Street in Boston, according to CrediFi.
VTS (formerly View the Space), a real estate asset management and leasing platform, announces a $3.3 million strategic investment from real estate private equity funds managed by Blackstone Group.
Shake Shack goes public on Jan. 30.
---
February
Chetrit Group sets a record home listing price of $150 million for a triplex penthouse at 550 Madison Avenue, the former U.S. headquarters of Sony Corp.

Regulators shut down Puerto Rico's Doral Bank, marking the largest bank failure since April 2010, when another Puerto Rican bank collapsed.
---
March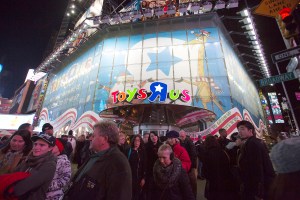 Robert Durst is arrested in Louisiana the day before the final episode of HBO's The Jinx: The Life and Deaths of Robert Durst, in which the former real estate scion is recorded saying, "killed them all, of course."
Toys "R" Us decides not to renew its lease for the giant toy retailer's 110,000-square-foot flagship store in the Times Square area.
RFR Realty fails to refinance Lever House.
---
April
Jeff Sutton and GGP close on the purchase of the Crown Building for $1.78 billion with a $1.25 billion mortgage.
Blackstone Group and Wells Fargo close on their joint purchase of General Electric's real estate debt and equity assets in a deal valued at roughly $23 billion, the two companies announce on April 10.
Patricia Goldstein, vice chairman and head of commercial real estate at Emigrant Bank, passes away after a bike accident.
---
May
The City Council approves plans for SL Green Realty Corp.'s 1 Vanderbilt, the 63-story, 1.6-million-square-foot office tower set to rise next to Grand Central Station on May 27. As part of the deal, SL Green will invest $220 million in public infrastructure improvements.
---
June
News Corp. and 21st Century Fox signed a non-binding, but detailed letter of intent that it will be moving to 2 WTC to anchor the Silverstein Properties' building.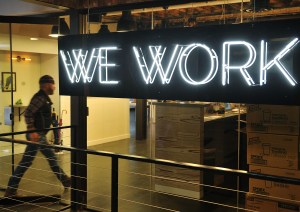 WeWork closes a Series E fundraising round that brings in $434 million in venture capital. The coworking giant is valued at $10 billion going into the fundraising round.
Jonathan Pollack leaves Deutsche Bank for Blackstone Group.
The Rent Guidelines Board, which regulates rent for more than 1 million New Yorkers, votes for a freeze on one-year leases for the first time in its 46-year history.
BACK TO TOP
---
July
Danny Meyer's Union Square Cafe signs a 15-year lease to move his Union Square mainstay to 235 Park Avenue South, The New York Times reports on July 22. His restaurant at 21 East 16th Street is slated to close this December.
The New York State Health Department on July 31 names the five organizations that will be allowed to grow and sell marijuana for medical use in the state, including in New York City.
China's economy takes a major turn for the worse.
---
August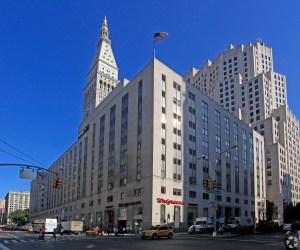 Greta Guggenheim leaves Ladder Capital, which she co-founded, for TPG Capital's newly formed real estate finance arm.
Macy's announces it has sold off part of its building in Downtown Brooklyn for $170 million and will disburse another $100 million to Macy's over the next three years to renovate its retail space.
SL Green Realty Corp. buys the 29-story office property at 11 Madison Avenue for $2.29 billion on Aug. 18, marking the largest single-building real estate transaction in New York City history.
---
September
Cushman & Wakefield and DTZ are officially one on Sept. 2.
New York City's 469th subway station opened on Sept. 13, extending the 7 line to 34th Street-Hudson Yards.
Rob Speyer assumes complete control of Tishman Speyer after splitting the chief executive officer role with his father, Jerry Speyer, for the last seven years.
Forest City Enterprises announces the consolidation of its real estate holdings in a massive organizational shift that will eventually see the company become a REIT.
---
October
Julien Studley, the founder of what is today Savills Studley, dies on Oct. 12.
Blackstone Group & Ivanhoé Cambridge sign a contract with CWCapital Asset Management to buy Stuyvesant Town-Peter Cooper Village for $5.3 billion.
Walgreens will acquire Rite Aid for $17.2 billion, officials announce on Oct. 27.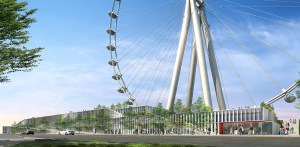 World's tallest Ferris wheel, New York Wheel, gets City Council green light.
SL Green Realty Corp. signs a contract to sell its stake in the Lipstick Building to Shanghai Municipal Investment USA and Ceruzzi Properties for $453 million.
Bank of China and Deutsche Bank wrap up negotiations to lead a $1.5 billion Hudson Yards retail construction loan on behalf of Related Companies and Oxford Properties Group.
New York Community Bank announces it will acquire and merge with Astoria Bank.
---
November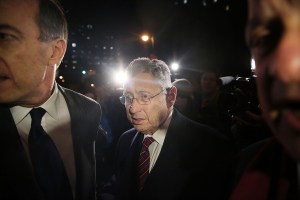 Joseph Chetrit, the developer of the most expensive New York City apartment ever listed, settles a lawsuit claiming he helped launder money stolen from Kazakhstan by pouring it into two ritzy condominium projects.
The corruption trial of former New York State Senate Majority Leader Dean Skelos and his son Adam begins.
Sheldon Silver is found guilty on all counts in his corruption trial.
---
December
Dean Skelos the former State Senate Majority Leader, and his son Adam, are found guilty on all counts.
1 Vanderbilt
,
11 Madison Avenue
,
21 East 16th Street
,
21st Century Fox
,
235 Park Avenue South
,
550 Madison Avenue
,
Andrew Cuomo
,
Astoria Bank
,
Bank of China
,
Blackstone Group
,
Ceruzzi Properties
,
Chetrit Group
,
Citigroup
,
CrediFi
,
Crown Building
,
Cushman & Wakefield
,
CWCapital Asset Management
,
Danny Meyer
,
Dean Skelos
,
Deutsche Bank
,
Doral Bank
,
DTZ
,
Emigrant Bank
,
Forest City Enterp
,
General Electric
,
GGP
,
Greta Guggenheim
,
Ivanhoe Cambridge
,
Jeff Sutton
,
Jerry Speyer
,
Jonathan Pollack
,
Julien Studley
,
Ladder Capital
,
lever house
,
Lipstick Building
,
Macy's
,
Mario Cuomo
,
New York Community Bank
,
New York State Health Department
,
News Corp.
,
Oxford Properties Group
,
Patricia Goldstein
,
Related Companies
,
Rent Guidelines Board
,
RFR Realty
,
Rob Speyer
,
Robert Durst
,
Savills Studley
,
Shake Shack
,
Shanghai Municipal Investment USA
,
Sheldon Silver
,
Silverstein Properties
,
SL Green Realty Corp.
,
Sony Corp.
,
Stuyvesant Town-Peter Cooper Village
,
Tishman Speyer
,
Toys R Us
,
TPG Capital
,
Trump Organization
,
Union Square Cafe
,
VTS
,
Wells Fargo
,
WeWork