Will a Number of High-Profile Departures Harm Times Square's Office Market? Not a Chance!
---
---
Last year, when Condé Nast started moving into 22 floors at 1 World Trade Center it was a huge coup for Downtown Manhattan.
This spring, when Brookfield Property Partners announced that the law firm Skadden, Arps, Slate, Meagher & Flom was taking more than half a million square feet at Manhattan West, it became the anchor tenant of the $2.1 billion property.
What do these deals have in common?
Both tenants are ditching many hundreds of thousands of square feet of office space in the Times Square area.
These are not isolated deals, either. There have been large-scale vacancies on the edges of the Crossroads of the World by companies like international law firm White & Case and the U.S. General Services Administration. While the amount of 25,000-square-foot or greater office spaces in the Midtown West neighborhood that is immediately available through a direct lease is less than last year at this time, over 2 million square feet of vacant space remains, according to data from the Times Square Alliance.
But these departures don't seem to have landlords or brokers too worried. In fact, they touted to Commercial Observer how the moves pave the way for building owners to upgrade their properties.
"It gives landlords opportunities to reposition their properties to compete with new construction," said Tom Bow, the senior vice president of leasing for Durst Organization, which owns several Times Square area buildings where several massive tenants are moving out.
In January 2017, White & Case will relocate from 460,000 square feet in Durst's 1155 Avenue of the Americas between West 44th and West 45th Streets to over 440,000 square feet at Rockefeller Group's McGraw-Hill Building at 1221 Avenue of the Americas between West 48th and West 49th Streets.
"We can do a lot more with a little less space at 1221," a spokeswoman for White & Case said. "The floor plan at 1155 is a little constricting. Being able to build from scratch on floors that are much larger at 1221 allows for a tremendous amount of flexibility in what we are trying to accomplish in terms of creating an innovative and collaborative space. So while the initial square footage will be a little less, we have room to do more than we can at 1155, including grow the office."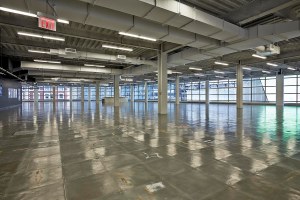 The law firm has been at 1155 Avenue of the Americas since the building opened in 1984, but its departure is perceived as a positive.
"This gives [the Durst Organization] an opportunity to create an amazing product in a terrific location," said Kenneth Salzman, an office tenant broker at Lee & Associates NYC. He also noted that while the law firm is moving to a different submarket, in reality, it's only four blocks away. "I wouldn't consider that earth-shattering," he said.
Durst has already commenced a $90 million repositioning of the 41-story asset. That will include complete lobby and plaza renovations and reorienting the Avenue of the Americas entrance to just off the corner of West 44th Street, so it faces south toward Bryant Park. In addition, the tinted windows will be replaced with clear ones, floor-to-ceiling windows will be installed at the corners of the building, and a 9,000-square-foot glass pavilion will be added at the top of the building with access to a 7,000-square-foot outdoor space.
"We are looking at repositioning it as a boutique office building," Mr. Bow said. The building is 750,000 square feet with floor plates of 16,000 to 17,000 square feet.
Durst also has to fill the entire 4 Times Square building, also known as the "Condé Nast Building," which is the same building Skadden, Arps, Slate, Meagher & Flom is departing for Hudson Yards in 2020.
"Condé Nast's space was every minute of 16 years old and highly compartmentalized," Mr. Bow said. "There is no more than 2,000 to 3,000 square feet of open space per floor."
Because the floors were "next to impossible to show," Mr. Bow said the team built out two marketing floors, the 55,000-square-foot sixth floor and the 38,000-square-foot 21st floor, for show space. And it will be spending between $80 million and $100 million to renovate the building with a new lobby, elevator cabs and destination dispatch system, bathrooms on all floors, and cooling and heating plants. Condé Nast's Frank Gehry-designed cafeteria on the fourth floor will be turned into a building food court. It will represent "the cornerstone of our amenity package," Mr. Bow said. Of the entire 45,000-square-foot floor, about 25,000 square feet will function as a conference center. Another upgrade includes activating and providing access to 20,000 square feet of outdoor space.
The company seeks to bring 4 Times Square up to the quality of its 1 Bryant Park, Mr. Bow said, and to "make it competitive with new construction."
At 4 Times Square, Mr. Bow said the firm has seen "very strong activity." He added: "We are hoping we are at lease with one or two tenants by the end of this year. These tenants would probably be for 20 percent of the space."
At the end of last year, GSA vacated Durst's 1133 Avenue of the Americas where it leased 300,000 square feet on floors two through 10. The National Basketball Players Association took two of those floors—five and six—for 61,309 square feet. Durst retained GSA as a tenant at One World Trade Center. Its new 273,004-square-foot lease, with a base rent in the $50s per square foot, started this month on floors 50 to 55.
The 300,000 square feet occupied by GSA was in pre-lease with Amazon, but the pending deal "went south, literally and figuratively," Mr. Bow said. At the end of last year, the online retailer signed a 17-year lease to take all the office space at Vornado Realty Trust's 7 West 34th Street. "We have rebounded and signed a lease with NBPA" for 47,000 square feet on nearly two floors. The space includes a full-sized basketball court. Mr. Bow said Durst has two more leases out with "good, solid tenants" for the remainder of the space. The asking rent is $75 per square foot. Dutch bank ING, which is at 1325 Avenue of the Americas, is rumored to be one of those tenants, with a lease pending signature for 100,000 square feet.
Though not as large and adjacent to Times Square, SAP-affiliated Sybase is leaving a 30,000-square-foot footprint on the entire 32nd floor at the Grace Building at 1114 Avenue of the Americas, which is owned by Brookfield Property Partners and The Swig Company. The company took 115,000 square feet at 10 Hudson Yards, in a lease commencing 2016.
He said the perks of the building are its name, the great views facing north and south, Bryant Park across the street, a new lobby and new elevators, column-free floor plates, and two top tablecloth restaurants as tenants. As for the area as a whole, Times Square's biggest draw, according to everyone CO talked to for this story, is that it acts as a subway hub.
"We're already marketing that space," said Jerry Larkin, an executive vice president and director of leasing for Brookfield Property Partners. "We're not going to have any trouble getting rid of it."
Tim Tompkins, the president of the Times Square Alliance, noted that while there may be a few notable tenant moves, all told the Class A occupancy rate in his BID area is 93 percent. It has hovered around that number since the third quarter of 2013. And that figure is better than the vacancy rates in Midtown and Downtown.
Times Square has been drawing more tech and media tenants since 2013, Mr. Tompkins said, which is great news for the area. And it's not as if all of Times Square's biggest tenants are planning a great exodus.
"I look at occupancy numbers and what are the trends," Mr. Tompkins said. "If Condé and Skadden left and Morgan Stanley and Viacom [departed, as had been speculated about], I'd be nervous."
The current and imminent relocations are not a harbinger of a weakening market.
"None of these moves is negative against Times Square," Mr. Salzman said. "These are sophisticated owners that have very large swaths of space that have the resources to put tremendous infrastructure improvements into their properties."
And it's not like the spaces belonging to the departing tenants are actually available now.
Alexander M. Chudnoff, a vice chairman at JLL, noted that it's really only Condé Nast's space that is ready for the taking. "Everything else has a delayed vacancy," he said.
Landlords in the Times Square market have no need to worry, Mr. Chudnoff said, because "any tenant of size in the marketplace, [meaning] 200,000 square feet or greater, is very focused on that market because there is very good activity. There is good optionality and there are great assets."
Times Square building owners could face vacancy issues in a few years, however, should a glut of inventory materialize along Avenue of the Americas. Mr. Chudnoff said there could be sizable leases rolling in 2018 and 2019 along Avenue of the Americas, from West 42nd to West 55th Streets, and that that area is "directly competitive with Times Square."
1 World Trade Center
,
1114 Avenue Of The Americas
,
1133 Avenue of the Americas
,
1155 avenue of the americas
,
4 Times Square
,
7 West 34th Street
,
Alexander Chudnoff
,
Brookfield Property Partners
,
Bryant Park
,
Conde Nast
,
Durst Organization
,
General Services Administration
,
Jerry Larkin
,
JLL
,
Kenneth Salzman
,
Lee & Associates NYC
,
McGraw-Hill Building
,
Rockefeller Group
,
Skadden Arps Slate Meagher & Flom
,
The Swig Company
,
Times Square Alliance
,
Tom Bow
,
Vornado Realty Trust
,
W.R. Grace Building
,
White & Case