SOM's T.J. Gottesdiener Put a New Stamp on Downtown Manhattan
---
---
During T.J. Gottesdiener's 35-year tenure at Skidmore, Owings & Merrill, where he is a partner, he has traveled the world, working on the designs of various large-scale domestic and international projects, such as the 607-foot-tall AIA Tower in Hong Kong and the $3 billion mixed-use Tokyo Midtown complex in Japan.
But the most notable project is one that towers above all of the rest—figuratively and literally.
Mr. Gottesdiener, who manages the firm's New York office, worked with the team that redesigned the 1,776-foot tall 1 World Trade Center, which opened last year, and the encompassing site.
The revitalization of the WTC site contributed to the revival of Downtown Manhattan, and Mr. Gottesdiener discussed with Commercial Observer the process of redesigning 1 WTC, which started with a major problem.
Commercial Observer: When did SOM start redesigning the World Trade Center?
Mr. Gottesdiener: It started before 9/11, when Silverstein Properties purchased the Trade Center and we were asked to look at repositioning all the buildings in the plaza, freshening them up and [seeing] what ideas we could generate to try to improve it. And we worked on that for a few weeks when the attack happened on the towers.
What was the team's focus before the attack?
Well, there were quite a few things. First and foremost was the public space. The lobby of the towers and the plaza were very cold, very barren—not warm and inviting places. We were looking at ideas to intercede into that, so to speak: what could we do to change the plaza to make it a more inviting public space, and take out some of that barrenness? What could we do to warm up the lobby? We were also trying to find out what we could do with the retail, as well, and see how we could make the path of circulation more seamless and less convoluted.
How did 9/11 affect you and your colleagues personally?
We lost a young architect [Arkady Zaltsman]. He was working for a project on Aon Insurance [which had offices in the South Tower] and he got up that morning and went to a meeting, and it was very tragic. It was very sad to see a young man, who was from the Soviet Union, come here and lose his life. All he wanted to do was work at SOM. It was difficult. He had a wife and a daughter.
The resiliency that our staff showed at that time, all clamoring to get back to work, all clamoring to help in some way and be part of the effort—we had engineers who drove from Chicago to come and assist the team in evaluating buildings—it was a very proud moment for the staff at SOM.
So the team also had to throw away its plans, as well. How did people at SOM take that?
The tragedy really was overriding over anything. It was more shock than anything else for the longest time and frankly, we didn't know what was going to happen next. Larry [Silverstein] called us up and he said a couple things. He said, first off, "7 World Trade Center was not encumbered by the deal with the Port [Authority of New York & New Jersey] and the insurance." It was a standard, standalone building and he wanted to get started rebuilding that. The other thing is he asked us to start talking to him about ideas that we might have for replanning the whole site.
How did the boxy design for 7 WTC come about?
Larry's first thought was "let's rebuild it exactly as it was." And we convinced him you can't do that. There were a lot of things that were wrong with 7 World Trade. There were a lot of things that were wrong with the whole planning of the Trade Center that we thought could be done better, could be fixed and could be much more of the New York fabric.
What was wrong with 7 WTC specifically?
First and foremost, it was of the '70s era of architecture and planning where it was a big, big development and people thought, "We'll make everything homogeneous, and everybody will love it and they'll come into it." And we all learned that's exactly the opposite. People liked the smaller scale and character of the streets.
Also, the grade was made flat so when you walked in from Greenwich Street to West Street, lo and behold, you were faced with a close to 25-foot drop. And that was very disconcerting. You didn't have a feel of the character of the streets and livelihood of the city and we had thought it would be very important to bring all of that back. Let the grade slope naturally, let the streets come through naturally, and have the buildings sit on their own footprints instead of just making up something.
So what were your initial plans for 7 WTC?
Obviously, we rushed ahead with 7 World Trade and that was quite an undertaking in itself because of existing foundations and because of a couple things. One of the most important things we did was convince Larry to reduce his floor area ratio. He could have had a bigger building if he just recreated what had been there, but what we were suggesting was the right plan, because we allowed the street to come through and the park to be built. We also rushed ahead with that because at the bottom of that building is a [Con Ed] substation and Con Ed needed to get it back into place and get things running, get Lower Manhattan powered up again because up until this point the city was patched from other substations.  
The master plan that was finally selected by [Daniel] Libeskind, interestingly enough had a lot of the same aspects that most of the plans had. That was a memorial for those who had died, connect the rest of the development to the street grid and allow the grade to slope naturally, so all the things that we were thinking about at the beginning. The one thing we differed on is that we thought the largest building should not be built where 1 World Trade Center is. We thought it should be built closer to Church Street. And we thought that for two reasons: one, because it was closer to the bustling activity that exists today and existed then on the streets, and secondly it was on terra firma. It was on hard ground. 1 WTC, as you probably know, is built over the active PATH railroad line, and it's a huge undertaking and that complicated the costs, complicated the time and complicated the security to get that built. Having said that, it's just a matter of preference. I think it worked out fine… We couldn't be more pleased.
What was the idea behind the architecture of 1 WTC?
We knew we had a big task ahead of us. This was not another office building. This was a symbol for a lot of people, us included. New Yorkers, victims, families, the world—it was a very emotionally charged project. We stood shoulder to shoulder with the memorial and that had a very different, a very important message to deliver and remembrance to be thought about. And we knew we were building something completely opposite. We wanted it to be energetic, uplifting, forward-thinking and progressive. And we thought it was important that those two things be side by side: you remember but you move forward. We wanted the building to portray all of those positive, energetic attitudes. It was strong, it was tall, it was proud. And we thought in order to accomplish that it also ought to be light and glassy, not somber and heavy. It was all those thoughts and emotional charges that went into thinking about the design of the building.
There were many criticisms of the design of 1 WTC. What was the reaction of your team?
I don't know if you have any children, but this is like a child and when the teacher at school doesn't like your child, it hurts a little bit. But, like any parent, we love this child and we have had a lot of reviews and some have been less than kind and some have been harsh. But I think a lot of them have been very positive. But I'll tell you what—irrespective of all that [when] I've been standing down in the memorial, or walking in the street, or even in an airplane coming into LaGuardia [Airport], sitting next to somebody and you hear people talk about the tower—[I hear] the conversation about how powerful it is, how symbolic it is, and how it fits in, how it's the right response.
You mentioned that SOM wanted to design 1 WTC in a way that was kind of progressive with all glass; was there ever any thought of using the same materials [steel and concrete] as the old towers?  
There is no question we turned over every stone. I don't know if we saved them, but we must have 100 or 200 models that we did in the development stages of the towers. We looked at all kinds of options: metal and glass, stone and other materials, but in the end we came back to glass. If you remember, the windows of the original towers were only about two and a half feet wide. They were very, very narrow. And you never got the panoramic views that you can now achieve by standing in the building. The other advantage we have is we have basically floor-to-ceiling glass on the floors so not only do you get these phenomenal views, but the floors are bathed in sunlight, which allows people to work without turning on their light, and the energy consumption that we saved now as a result of this solution is just astounding for a building of this scale.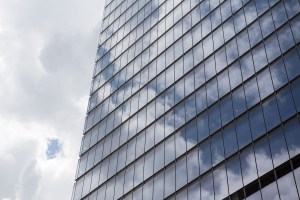 CO reported recently many architects feel that all-glass buildings aren't New York City and are boring. What do you think?
I don't agree. Before Art Deco buildings all the buildings were Victorian-looking or Roman Revival, and then Art Deco buildings came out and everybody was aghast: "How terrible, this isn't New York City." Now, we're looking back and saying the opposite. If New York City is one thing, it's always moving forward, it always progresses. And to try and copy and recreate something that was done 50 years ago or 75 years ago is a period piece.
Was there any thought about including a residential component at the World Trade Center?
We did raise the question and we were quickly told that the governance of the Port Authority, who owns the land, prohibited anything other than commercial development. So that quickly put an end to that.
What do you think about Santiago Calatrava's design of the PATH terminal?
I'm anxious for it to [completely] open. I'm anxious to see the activity that it will draw on the retail concourse. I think that will be a big benefit to that part of town. Brookfield Property Partners has done a fabulous job over at Brookfield Place. They've revamped their whole retail, and it's a big draw; it's a great food market over there. I think what will happen now in the retail underneath the train station will also add to that energy.
What do the architects at SOM think about the designs of the other WTC buildings that were done by other firms?
When [Minoru] Yamasaki originally planned the World Trade Center [in the 1970s], he also designed every single building. And we told Larry from the beginning after 7 World Trade that we should have multiple architects doing multiple buildings and he has taken up that challenge and he has hired a lot of different architects. And I think it's fantastic that we are getting a variety of architecture and that's really what New York is about.
What is Downtown missing in your opinion?
I'm actually looking forward to more development that will happen on the east side of Broadway. I think that's the part that needs some attention. I do think that the east side of Broadway and whether it's on the piers and seeing that development happening or 1 Chase Manhattan Plaza, also called 28 Liberty, which was purchased by Fosun Group. They have a plan for retail to put in there. I think that's what it's missing. We need a little bit more of that boutique New York retail.