Quiksilver Renews Lease at 530 Seventh Avenue
---
---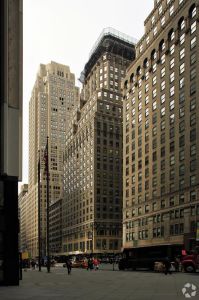 Quiksilver has renewed its lease at 530 Seventh Avenue, Commercial Observer has learned.
The popular snowboard and surf apparel company renewed its 3,600-square-foot lease on the 12th floor of the building between West 38th and West 39th Streets, according to the landlord, Savitt Partners.
The asking rent in the building is $58 per square foot, according to a spokeswoman, who declined to provide the length of lease.
Over the last few months, the  450,000-square-foot 530 Seventh Avenue has garnered several new or renewing tenants.
Jacobson Group, the U.K.-based parent company of men's footwear maker Gola, increased its foothold at 530 Seventh Avenue with a 1,800-square-foot showroom on the 14th floor. And Trixxi Clothing Company has expanded into a 1,700-square-foot space after using it on a short-term basis. It gives the Los Angeles-based clothing-maker a total of 5,100 square feet in the building, according to Savitt.
Bob Savitt of Savitt represented the landlord in-house. Brian Neugeboren and Nicole Goetz, also of Savitt, represented Quiksilver and Trixxi, a spokeswoman said. None were available for comment. Brett Zelner of Lee & Associates represented Jacobson Group. Mr. Zelner did not immediately respond to a request for comment.
Romeo & Juliet Couture, a contemporary clothing designer, announced in April it would move to a 4,800-square-foot space at the building in a five-year lease, CO previously reported. Savitt announced a month prior that it had signed three new or renewed leases at the building.