116 Nassau Draws Trio of Tenants to Big Chunk of Building
---
---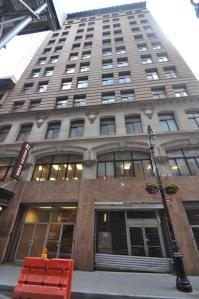 Three companies have leased almost 26,500 square feet of office space at 116 Nassau Street, Commercial Observer has learned.
Commercial real estate investment firm Park Row South Nassau Street LLC inked a deal last week for 11,365 square feet on the eighth floor in the 12-story building—moving from 1 Beekman Street, according to Coldwell Banker Commercial Alliance, the landlord's representative in the lease. The New York City Gay and Lesbian Anti Violence Project recently signed a lease for 9,000 square feet on the third floor at the property, relocating from Midtown, and TAP Electrical Contracting Service inked a deal for 6,134 square feet on the ninth floor.
The leases range from eight to 10 years, according to Gregory Gang, an executive managing director at CBC Alliance. Asking prices averaged $35 per square foot.
Mr. Gang represented the landlord, Abacus Federal Savings Bank, along with Catherine O'Toole and David Danick of CBC Alliance. John Kourtis of NY Citi Group Realty represented Park Row South; Carri Lyon of Cushman & Wakefield represented the New York City Gay and Lesbian Anti Violence Project; and Elliot Zelinger and Jesse Topal of Savitt Partners represented TAP Electrical Contracting Service.
Mr. Kourtis did not return requests for comment.
The new tenants were drawn by the uniqueness of the 141,000-square-foot building, which allows for natural lighting, along with an open floor plan, Mr. Gang said. With more activity headed downtown, Mr. Gang added, tenants have been drawn to the 105-year-old building's proximity to the Fulton Street station.
"This is tremendous," Mr. Gang said of the deals. "Economically, it's a very competitive building to a tenant. It's hard not to look at 116 [Nassau Street] as an alternative" to other options downtown.
TAP Electrical Contracting Service, which has several field offices throughout the city, is currently under contract with the MTA to repair the Fulton Street substation, which was damaged by Hurricane Sandy, Mr. Zelinger said. Part of that deal required them to be within three blocks of the repair site.
Ms. Lyon's tenant has spent the last 17 years at 240 West 35th Street between Seventh and Eighth Avenues. But when with its lease running out, Ms. Lyon said it opted to head downtown with cheaper rents and access to mass transit. The nonprofit is slated to move in next month, she added, after some minor modifications are done to the space.
"They [the landlord and the broker] just really gave us a compelling deal," Ms. Lyon said. "The area can't be beat. It's very convenient."