Bank Leumi Signs 58,548-SF Lease at 350 Madison
---
---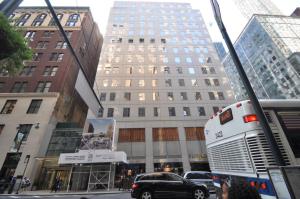 Bank Leumi USA, the largest subsidiary of Israeli bank The Leumi Group, signed a long-term lease earlier this month for 58,548 square feet at 350 Madison Avenue as The New York Post reported. Asking rents in the building range from $60 per square foot  in the base to $85 per square foot  in the penthouse.
Occupying the entirety of floors three, four and six, the Israel-based financial services firm will be the building's largest tenant.
"We're pleased with the continued leasing momentum at 350 Madison Avenue," said Alexander Chudnoff of JLL, in a statement. Mr. Chudnoff and JLL's Mitchell Konsker are the exclusive leasing agents for the property, which was 60-percent vacant when RFR Realty acquired it two years ago.
The campaign to fully lease the 400,000-square-foot building is ongoing, said an RFR official who did not disclose how long the three floor were vacant nor who previous occupied. Last year RFR renovated the two-story lobby, installed art in public spaces, and upgraded amenities such the coffee bar. "The energy and excitement around the repositioning of this historic asset has been outstanding and has been illustrated by the quality of the tenants leasing space within the building," added Mr. Chudnoff.
"It was truly a collaborative effort in securing this opportunity for the Bank—with absolute principal to principal involvement," said Mr. Konsker in a statement.
RFR was represented in-house by Oliver Katcher in addition to Mr. Chudnoff, Mr. Konsker, and JLL's Dan Turkewitz,  Diana Biasotti and Matt Polhemus.
Bank Leumi was represented by CBRE's Brian Gell, Joan Meixner and Brett Shannon. They were not immediately available for comment.