Citi Habitats Takes Space at 130 East 59th Street
---
---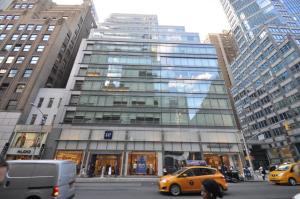 Citi Habitats, one of New York City's largest residential real estate firms, has signed a 10-year lease at 130 East 59th Street between Park and Lexington Avenues.
First reported by Crain's New York Business, the company will take 9,343 square feet on a portion of the building's 12th floor.
Crain's reported that asking rents in the building range from $60 to $65 per square foot.
Newmark Grubb Knight Frank's Chris Mongeluzo represented Citi Habitats in the transaction. CBRE Group's Edward Goldman represented the landlord, UJA-Fed Properties. Neither firm immediately responded to a request for comment.
Other tenants in the building include Augusta Columbia Capital, Swanke Hayden Connell Architects, Banana Republic and Trevi Retail. The lease was signed within the past two weeks.
According to Gary Malin, the president of Citi Habitats, the rebranded company is embarking on a new phase that will eschew storefronts for tech-like office spaces.
"We took a cue from the technology world," said Mr. Malin. "We will have a lot of collaborative open spaces." The Upper East Side office will also include conference rooms, a pantry, private phone booths and high bench seating.
"You don't have to be tied to your desk," he said of the new work space. "It will be a more open environment and will make people feel proud of where they're working."
He said the company plans to move following renovations, which will likely be late April.
Mr. Malin also mentioned he was drawn to the building for its convenient location, as well as the layout's openness.
"I saw about 15 or 20 spaces and I really just liked the light [and] the air [here]. You have a view of the 59th Street Bridge and had great access to the subways," he said.