Video Game Developer Signs at 1 WTC
---
---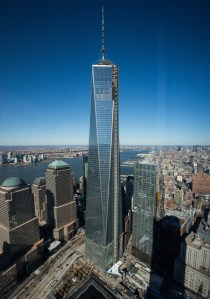 In the 12th lease to be signed at 1 World Trade Center, High 5 Games, a digital game creator, has signed a 87,663-square-foot deal spanning the entire 58th and 59th floors of the office tower, according to a press release about the deal.
The game developer is relocating to larger digs from 770 Broadway in the second quarter of 2015. Its offices are being designed by Gensler and built by The Durst Organization. Durst and the Port Authority of New York & New Jersey own the building.
CBRE's Jessica Berkey, Laurence Briody, Christopher Mansfield, Scott Sloves and Sacha Zarba represented High 5 Games in the transaction. Eric Engelhardt of Durst; Cushman & Wakefield's Tara Stacom, Alan Stein, James Searl and Justin Royce; and Jodi Pulice of JRT Realty all represented the landlord.
"I am proud to make High 5 Games one of the first tenants at WTC. Internally, we're already calling our new home the World Game Center, a pivotal location for commerce, trade and now gaming," said Tony Singer, the founder and chief executive officer at High 5 Games, in a prepared statement.
The Wall Street Journal first reported the deal, which brings the 3-million-square-foot building to more than 61 percent leased.
Ten days ago, Condé Nast started moving from its long-time digs in Times Square to 1 WTC.
Other firms taking space in the building include Westfield Corp., Cushman & Wakefield, Servcorp and advertising agency KiDS Creative. High 5 Games' new space carried an asking rent of $69 per square foot, representatives for Durst said.