Savanna Selling Twitter's East Coast HQ in Chelsea for $335M [Updated]
---
---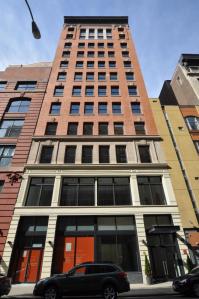 The public New York REIT, formerly American Realty Capital New York Recovery REIT, has agreed to purchase Twitter's East Coast headquarters in Chelsea from Savanna for $335 million, according to releases issued by New York REIT and Savanna. The contract was signed on Tuesday, according to the president of New York REIT, and he expects it to close within the next 30 days.
As first reported by Commercial Observer, following a $29.4 million gut renovation, Savanna put 245-249 West 17th Street on the market, hiring Eastdil Secured to sell the 12-story office tower and adjacent six-story mixed-used building.
Michael A. Happel, the president of New York REIT, told Commercial Observer that it wanted the asset because it's a brand new in a great location with fine tenants.
"We are thrilled to have reached an agreement to acquire the headquarters of Twitter," Mr. Happel said in a prepared statement. "This flagship property located in one of Manhattan's most desirable sub-markets, has been fully renovated and is distinguished by two new lobbies, brand new state-of-the-art building systems, windows, elevators and a stunning rooftop terrace that overlooks the Hudson River."
The average rent in the buildings, which share pass-through connections on their first six floors, is $70.38 per square foot, according to marketing materials from Eastdil. Twitter leased a total of 214,765 square feet at both properties for its East Coast headquarters. Additionally, Room & Board, a modern furniture retailer, took 60,062 square feet at 249 West 17th Street, while Flywheel Sports, an upscale indoor cycling studio, leased 3,656 square feet at 245 West 17th Street. The trio occupies 99 percent of the 282,000-square-foot property. The remaining 2,800 square feet on the ground floor will be available for a lease by a retail tenant. The REIT hasn't decided on the leasing brokerage for the property.
"We are very proud of our redevelopment and leasing efforts at 245 and 249 West 17th Street," said Christopher Schlank, managing partner of Savanna. "After acquiring two aging, vacant buildings, Savanna worked hard to deliver a Class A, fully occupied product to the market. We believe that [the buyer] is acquiring two outstanding properties in an area where rents continue to grow substantially."
Eastdil's Adam Spies and Douglas Harmon marketed the building along with Eastern Consolidated's Brian Ezratty. New York REIT did not use a broker in the deal.
Update: This story was updated to include comments from the REIT's president as well as to correct the square footage.