Banco de la Nación Argentina Renews Lease at 230 Park
---
---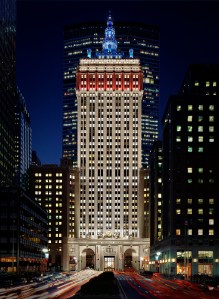 The New York branch of Banco de la Nación Argentina has renewed its 23,407-square-foot office lease on the third floor at 230 Park Avenue.
Banco de la Nación Argentina represented itself in the renewal negotiations and the landlord, Monday Properties, and its investment partner Invesco, were represented in-house by Jordan Berger, Monday Properties announced.
The bank has been a tenant in the 34-story former Helmsley Building since 2004 and has a dedicated private entrance in the East Helmsley Walkway of the building, which is between 45th and 46th Streets.
The state-owned bank provides an array of financial services for personal and business customers and uses the New York branch for the execution of financial transactions between Argentina-based businesses and their American partners.
"We are delighted that Banco de la Nación Argentina has chosen to extend its long-term tenancy at 230 Park Avenue, its New York City home office," Anthony Westreich, Chief Executive Officer of Monday Properties, said in a prepared statement. "They are a highly-valued tenant of ours and we wish them many more years of continued business success in the U.S."
Asking rent for the space was in the high $60s per square foot, Monday Properties said, declining to indicate the length of the lease.
Other tenants in the building include real estate investment manager Clarion Partners, publishing and information company Reed Elsevier, amusement park corporation Six Flags, international law firm McKenna Long & Aldridge and pharmaceutical giant Novartis.
A few months ago, Urban Space, the food hall manager behind Mad. Sq. Eats, Broadway Bites and Dekalb Market, signed a long-term lease for 10,000 square feet of retail space in the building.