Mt. Sinai Takes Massive Space at 150 East 42nd Street as Ownership Preps to Sell [Updated]
---
---
Mount Sinai Health System has signed a lease for 450,000 square feet of office space at the Socony-Mobil Building at 150 East 42nd Street as ownership markets the 42-story tower for $900 million. 
The news comes after the hospital group struck a deal in September of last year to merge with Continuum Health Partners.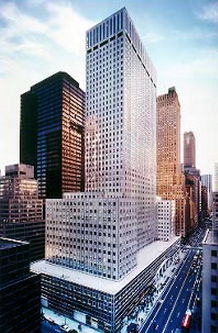 "This agreement is a first step that allows us to consolidate several key departments, including finance, human resources, information technology, legal and other corporate services into modern, state-of-the-art offices," the hospital's chief financial officer, Donald Scanlon, said in a prepared statement. 
The 1.7 million-square-foot office building occupies an entire city block across the street from the Chrysler Building and one block east of Grand Central Terminal. 
"This property is strategically located at the geographic center of the Mount Sinai health system, offering easy access for our staff to major mass transit hubs including Grand Central Terminal."   
The hospital group will occupy floors two through five, as well as the ninth and 10th floors.
Japanese investment firm Hiro Real Estate Co. is concurrently marketing the ground lease at the tower for $900 million, Bloomberg reported, also stated that "Mount Sinai Hospital" was close to completing a renewal of its roughly 500,000 square feet at the building.
A Mount Sinai spokesperson was unable to clarify whether or not that pending lease renewal was related to the new lease.
Cushman & Wakefield, which represented Mount Sinai Medical Center in the deal, and CBRE Group, which represented the tower's owners, also declined comment.  
Ann Inc.'s Loft clothing chain, CVS Caremark Corp. and Starbucks Corp. are among the tenants that occupy the steel-clad tower's 50,000 square feet of retail space at its base. Wells Fargo & Co. occupies roughly 500,000 square feet of its own space in the tower, Bloomberg reported. 
Update: This article was updated to reflect a statement issued by Mount Sinai regarding the lease.