Solil Management Inks 27,500-SF Sublease at 1185 Avenue of the Americas
---
---
Solil Management subleased roughly 27,500 square feet of SL Green's 1185 Avenue of the Americas. The company, which manages the late developer Sol Goldman's estate, will sublease the entire 10th floor space from oil giant Hess.
Norman Bobrow and David Badner of Norman Bobrow & Company of the eponymous brokerage represented a tenant that was looking for more space than at its home of 24 years at 640 Fifth Avenue. Amy Fox and Stuart Romanoff of Cushman & Wakefield represented the sub-landlord.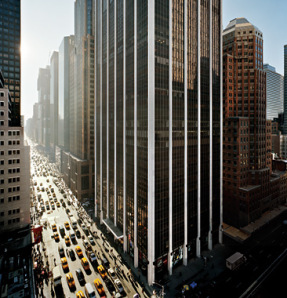 "She wanted an A-class building at a C rental, but not every tenant has to pay full price," Mr. Bobrow said of Jane Goldman–Mr. Goldman's daughter and the head of Solil–in The Wall Street Journal. He said the sublease, which began on November 1, came with 15 months of free rent. Asking rents at 1185 AoA are $70 per square foot.
Prior to landing this property, Mr. Bobrow looked at two other Midtown buildings. Solil is growing as the next generation of Goldmans comes of working age. Their paterfamilias, who died in 1987, at one point owned the Chrystler Building and the Stanhope Hotel. The Journal reported that none of Solil's current assets were spacious enough to accommodate the growing company.
Hess still occupies six floors in the building and has 14 years left on its lease.