New York City HHC Takes 220K at 55 Water Street
---
---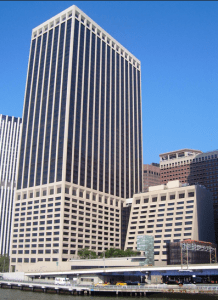 New York City Health and Hospitals Corp. has inked a 220,000-square-foot deal in the Financial District.
Operating all of the public hospitals and clinics in New York City, HHC will be moving its headquarters off of the fifth floor of 346 Broadway to  55 Water Street. The new office will take three of the massive floor plates of 55 Water Street, spanning across the 24th, 25th, and 26th floor to comprise its 220,000-square-foot office.
"It's one of the largest deals completed Downtown recently," said Brad Gerla, an executive vice president of CBRE (CBRE). "[HHC] was looking for a new headquarters for their New York operations and we targeted them as a tenant that would sit well in our building. We're happy that they are making us their home."
Bob Ballard of Cushman & Wakefield represented the tenant. Mr. Gerla worked alongside Mary Ann Tighe, Howard Fiddle, and Evan Haskell in representing the landlord, New Water Street Corp. The team  recently brokered a transaction with Liberty Mutual, which took a 130,000-square-foot space a few months ago.
"Most of our leases are large-space users with long term leases," said Harry Bridgwood, vice president and manager of New Water Street Corp. "We don't roll over on a short-term basis."
New York City HHC's lease will span 20 years, exemplifying the building's commitment to long-term tenants. The company will join an expansive list of tenants who call the 3.8-million-square foot building home, including Standard & Poors which occupies a 1-million-square-foot space as its headquarters.
New Water Street Corp. is also committed to the long-term viability of the building. Mr. Bridgwood added that they are moving through the city process of permitting to construct a full barrier system around the building, protecting the tenants from future storm surges.