Condé Nast Bulks Up Downtown Presence, Signs For 80,000 Square Feet At 222 Broadway
---
---
[Update: This story had been corrected to reflect that Condé Nast is still in the final stages of discussions regarding this lease]
Condé Nast is in final negotiations to sign an 80,000-square-foot lease at 222 Broadway, building on the publishing giant's footprint in Lower Manhattan as it prepares to move to 1 World Trade Center.
CBRE New York C.E.O. Mary Ann Tighe and Vice Chairman Gregory Tosko represented the tenant. David Berkey represented the landlord, L&L Holdings, in-house.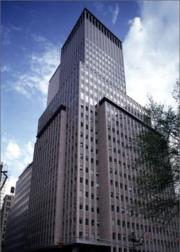 The 10-year deal at the 32-story, 750,000-square-foot building on Broadway between Fulton and Ann Streets had asking rents in the high $40 per square foot range, according to Crain's. That's substantially lower than the $60 per square foot figure at the WTC site.
L&L won another publishing tenant in January when HarperCollins inked a deal for 200,000 square feet at 195 Broadway, which the landlord also own. Also in January, the media company Rock Shrimp Productions leased 10,000 square feet at 115 Broadway, joining a cluster of media firms migrating to Lower Manhattan in part to avoid higher rents in Midtown and Midtown South.
Representatives from CBRE and L&L Holdings could not be reached for comment.