Welcome to the Big Leagues: David Bistricer and the Sony Building
---
---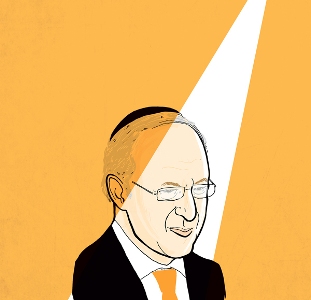 When Aaron Jungreis sought a buyer for the Bossert Hotel at 98 Montague Street in Brooklyn Heights last year, a long list of obstacles stacked up.
The off-market deal meant potential buyers had limited access to the site. Complicated zoning meant the Board of Standards and Appeals would be thrown into the mix. And competition was fierce.
"It was a very complicated transaction, and there were just so many bumps in the road," the president of Rosewood Realty Group said.
But Mr. Jungreis said the road opened up for a smooth ride when he identified Joseph Chetrit of Chetrit Group and David Bistricer of Clipper Equities as potential buyers. He would ultimately represent the "creative and easygoing" business partners as they scooped up the property for $81 million.
"He was just very easy to work with on everything," Mr. Jungreis said about Mr. Bistricer. "There were a lot of moving parts, and you had to go hard on the deal. He never once lost his cool, always was calm, and just the way he handled it was remarkable."
While the media-shy Mr. Chetrit continues to hide behind the shadows cast by his towering deals, declining to comment for this article, he and Mr. Bistricer's $1.1 billion purchase of the Sony Building at 560 Madison Avenue brought Mr. Bistricer out from the shadows and into an exclusive interview with The Commercial Observer last week, in which he cautiously accepted his new role among the city's real estate elite.
"When you buy buildings of this nature, it comes with a certain spotlight—that's to be understood," said Mr. Bistricer, who returned phone calls faster than anyone else contacted for this story—a surprise, given his business partner's reputation. "The reason I called you is simple: the free press is an important function of the democratic world. If you asked me if I would rather you not call me, I'd probably say yes. But you do what you have to do."
Mr. Bistricer outlined the deals that are building his legacy, sought to set the record straight concerning what he said were erroneous media reports about behind-the-scenes negotiations for the Sony Building, and vehemently defended the controversial Flatbush Gardens project in Brooklyn, which critics, including Public Advocate Bill de Blasio, have incessantly berated him about.
The Sony Building purchase pitted Mr. Bistricer and Mr. Chetrit against industry heavyweights like Joseph Sitt and Harry Macklowe. They won a competitive bid by slapping down a jaw-dropping $600 million letter of credit to seal the deal. "I'm sure it had to do with price and the confidence from the seller that we would be able to close," he said about winning the deal. However, he added, "We weren't the only ones at that level. There were very credible real estate developers at that same level. But we had a little bit of a different angle to it and different plans, so it's not just the price but other factors involved."
The duo plans to turn the tower into residential condominiums and a hotel, and to retrofit the retail space. He acknowledged that Joe Sitt and Harry Macklowe had been in the running and that the competition was fierce, but Mr. Bistricer denied that SL Green (SLG) would become a major stakeholder in the deal, responding to reports in Crain's claiming that Mr. Chetrit was in talks with SL Green to obtain up to $900 million of financing.
"It's so out of what the truth is," he said, though he declined to elaborate, citing the ongoing negotiations. "It makes amazing reading. But it's just not correct … they [SL Green] are not making loans to own the building."
Mr. Bistricer, a 25-year industry veteran, was born in Belgium but raised in New York City; he made his way into the industry when he joined his father's business, Clipper Equities, which was founded in 1951.
He came on the scene in Brooklyn with a number of residential conversion projects, establishing a stronghold in the borough with the successful hotel-to-condo conversion of the roughly 500,000-square-foot 365 Bridge Street in Downtown Brooklyn, funneling roughly $100 million into the renovations at the property several years ago.
"It was the beginning of the renaissance of Downtown Brooklyn," he said. "We were one of the first down there that recognized the change that was going to come."
While he prides himself on his Brooklyn acquisitions, for which he is perhaps best known, his endeavors now stretch into the office and hotel space, confirming his long-held reputation among many industry insiders as an astute and determined yet cool-headed businessman.
"He's a very, very smart guy and operator in a complicated arena," said Peter Hauspurg, chairman and CEO of Eastern Consolidated. "Now he has moved into the big leagues."
But Mr. Bistricer certainly has his critics. Lawsuits and delays landed him on Public Advocate Bill de Blasio's list of the city's "worst landlords" in 2010 for alleged shortcomings at his buildings, particularly the 59-building affordable housing complex Flatbush Gardens, for which Mr. Bistricer paid $140 million in 2005.
As recently as this past summer, seven tenants at the complex filed a lawsuit in Brooklyn Housing Court against Mr. Bistricer for alleged failure to make repairs. But he maintains that the project was purchased because he believed upgrading the affordable housing there was "the right thing to do," and he asserted that his company had resolved more than 10,000 outstanding violations at the property.
"I think the turnaround is quite amazing," he said. "We aren't just concentrating on violations, we are concentrating also on infrastructure—boilers, burners, roofs—and about half the units on that project have been renovated."
"The criticism is definitely unwarranted," he went on. "I think some people had an agenda when they were criticizing us, including Mr. de Blasio. We met with him, we showed him what we were doing—it was a work in progress. But he had his agenda with what he was doing."
Asked to elaborate, he stated, "I'm not interested in starting a campaign here—that's not me."
Mr. de Blasio declined comment for this article, but his spokesperson confirmed that Mr. Bistricer's last building came off the list in September 2011.
Mr. Bistricer also found himself in the spotlight during his repeated attempts to purchase the massive Starrett City affordable housing complex in Brooklyn with a $1.3 billion bid in 2007.
He was ultimately unable to jump through the hoops created by the city and the state, including an injunction put in place by then-Attorney General Andrew Cuomo. But that didn't lessen his image, at least among industry insiders who have followed him throughout his career.
"I remember in the '90s, he tortured some banks pretty good," said one company executive who spoke only on condition of anonymity. "He fought them off in foreclosure, bought some loans and litigated pretty extensively. He's just very tough, and I think we saw that again when he was trying to take over that project [Starrett City]."
Now that Mr. Bistricer is off Mr. de Blasio's list, like it or not, he finds himself on a list that even the most cynical of real estate insiders would secretly envy, as he sits alongside some of the most lauded real estate tycoons in the city.
In addition to the undertaking at the Sony Building, Mr. Bistricer and Mr. Chetrit plan to transform the Bossert into a boutique luxury hotel with about 300 rooms, after paying the $81 million for it last year.
"There aren't many buildings like it," he said. "We're not doing anything to the outside, because obviously it's a landmark in very good shape … the architecture is just amazing."
The project got the go-ahead for the hotel conversion last month, when the Board of Standards & Appeals approved their request for a variance to change the Certificate of Occupancy for hotel use.
"They had to be very creative," Mr. Jungreis of Rosewood Realty Group said. "It wasn't a due diligence deal, where you have 90 days to get the approval. You had to basically go hard and get the approvals after. And the fact that he did that, to me, was incredible."
Among the other projects the business partners have lined up is the $25 million pickup last year of a development parcel at 77 Commercial Street in Williamsburg, which can accommodate 270,000 square feet of development. The developers will raze the existing commercial structure and replace it with a residential building, Mr. Bistricer said.
While unwilling to get into the gritty details about his relationship with Mr. Chetrit, Mr. Bisticer said the two met roughly seven years ago though mutual friends, calling him a "very good partner."
"It started with business, and as the business develops, you become friends too," he said.
But will he talk?
"I doubt it. I doubt it," Mr. Bistricer said, laughing, but then rushed to defend Mr. Chetrit, like any good friend would.
"He's very busy, and maybe he feels he can't control the process of the press and what the press is going to write—this and that. It's not a surprise. A lot of people don't want to talk to the press."
77 Commercial Street
,
98 Montague Street
,
Aaron Jungreis
,
Andrew Cuomo
,
Bossert Hotel
,
Clipper Equities
,
David Bistricer
,
Flatbush Gardens
,
Harry Macklowe
,
Joseph Chetrit
,
Joseph Sitt
,
New York City Board of Standards and Appeals
,
Peter Hauspurg
,
Public Advocate Bill de Blasio
,
Rosewood Realty Group
,
Sony Building
,
Chetrit Group
,
Eastern Consolidated
,
SL Green