EmblemHealth Neighborhood Care Comes to Harlem
---
---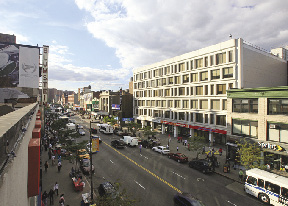 Cogswell Realty celebrated the addition of EmblemHealth Neighborhood Care to its building in Harlem with a ribbon-cutting ceremony in late January, The Commercial Observer has learned.
EmblemHealth will take 34,000 square foot split between 2,000 feet on the ground floor and 32,000 square feet on the second floor of the 170,000-square-foot building at 215 West 125th Street. The building, owned by Cogswell Realty, had undergone a $9 million capital investment program that updated the lobby, overhauled the mechanical and life safety systems, and upgraded tenant conditions.
"EmblemHealth chose this Class-A building because of its central location and access to mass transit," said Anthony Stapleton, a partner at Cogswell and a building representative. "We are excited that EmblemHealth selected 215 West 125th Street to open its first state-of-the-art Neighborhood Care location for the citizens of Harlem."
"With EmblemHealth's 34,000-square-foot lease, 215 West 125th Street adds another member to its roster of tenants that provide valuable services to the community," Mr. Stapleton added. "EmblemHealth is the ideal fit for our building and for Harlem."
The care facility will join several other tenants in the centrally located building like Columbia University, the New York Department of Workers Compensation and Labor, and Community Board 10.
Mr. Stapleton represented both the landlord and the tenant in the transaction. The asking rent remained undisclosed but the lease was set for 20 years.
"We know that one of the biggest obstacles to better health is lack of information," said Dan Shur, the director of strategic planning for EmblemHealth, in a prepared statement. "EmblemHealth Neighborhood Care is our solution to removing the barriers and providing access to information and resources that will allow people to lead healthier lives."