Jacques Torres Leases 39,500-Square-Foot Chocolate Factory at Sunset Park's Brooklyn Army Terminal
---
---
Sweets maker Jacques Torres signed a 10-year lease for a 39,500-square-foot chocolate factory at 140 58th Street, inside the Brooklyn Army Terminal.
It will be a return to Brooklyn for the chocolatier, which opened its first workshop in 2000 in Dumbo, presaging that neighborhood's transformation into the Kings Count version of Soho and the borough's addiction for all things handmade by armies of artisans.
Roberto Camacho of Buchbinder & Warren Realty Group LLC represented the tenant. Sharone Levy and Guy Solomonov of Greiner-Maltz Company Of New York, Inc. represented the landlord. Asking rents were $6 per square foot.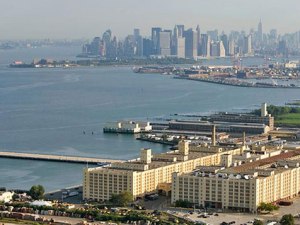 Other tenants in the Brooklyn Army Terminal–a 97-acre complex including two immense eight-story buildings totaling 4.1 million square feet–include the sustainable furniture line Urban Green, street art collective Chashama driving shoe specialist Marc Joseph NY, Inc.
Jacques Torres has permanent retail-only locations in Rockefeller Center, the Upper West Side, and the Meatpacking District. There are currently "workshops"–smaller factories where visitors can see the cocoa magic happen through glass windows–in Dumbo and Soho.
Messrs. Camacho, Levy and Solomonov could not be reached for comment.