One New York Plaza Retail Concourse to Be Rebuilt After Post-Sandy Flooding
---
---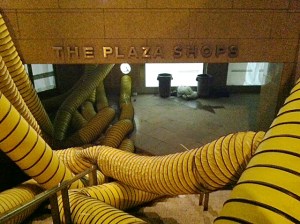 Brookfield Office Properties was forced to gut the 31,000-square-foot, sub-level retail concourse at One New York Plaza after severe flooding brought on by Hurricane Sandy destroyed it, and now the commercial real estate owner plans to rebuild the space and bring new tenants in, The Commercial Observer has learned.
The estimated 23-million-gallons of water that flooded the lower levels of the building were removed within a week of the storm's touchdown on the southern tip of Manhattan.
But as of Monday night, multiple giant yellow heating ducts resembling something from an alien horror flick continued to pump warm air into the building's retail center — The Plaza Shops — amid the rumbling of temporary generators.
"All of the water was removed within six days, and now those yellow ducts are feeding warm air to completely dry the space out," Brookfield Office Properties spokesperson Matt Cherry told The Commercial Observer.  "Obviously the retail was on the concourse level, which was hit hardest by the storm.  We basically demolished the space, so the status of that right now isn't certain."
The 31,000-square-foot area that once housed restaurants and shopping will be rebuilt, though a timeframe has not been established for the reconstruction and reintroduction of several new tenants, Mr. Cherry said.
"A lot of those retailers were on very short term leases, in some cases month-to-month, so even before the storm we were undergoing a retail positioning… in that sense the storm didn't really disrupt the long-term plans," he said.
The full list of former tenants, only some of which may ever return to the building, includes:  Mr. Soup, Gateway Newsstands, Salvatore's Men's Barbershop, Chase Manhattan ATM, Vivo Food, Subway, The Battery Conservancy, Dunkin Donuts and Argent Executive Polish.
The Plaza Shops were completely submerged by water after Sandy, evidenced by photographs taken just after the storm, which showed several feet of water had risen past the midway mark on the upper staircase of the two that lead to the entrance.
On the west side of the building, the yellow heating ducts are currently connected to holes cut out of The Plaza Shops' façade, visible from the sidewalk and located down the two flights of stairs.
One New York Plaza reopened its doors to office tenants on Nov. 17, and all office tenants, except for Morgan Stanley – scheduled to move back in today (Dec. 5) – have resumed normal operations in the building.
It wasn't immediately clear why Morgan Stanley, the building's largest tenant, had not moved back in, but Mr. Cherry suggested it was due to the sheer size of the company and the fact that they had dispatched employees to other offices in the wake of the storm.
Brookfield Office Properties anticipates full coverage of losses, with no financial impact on the company.
"We expect to recoup all damages," Mr. Cherry said.
1 New York Plaza
,
Argent Executive Polish
,
brookfield office properties
,
Chase Manhattan ATM
,
Dunkin Donuts
,
Gateway Newsstands
,
Hurricane Sandy
,
matt cherry
,
Morgan Stanley
,
Mr. Soup
,
Salvatore's Men's Barbershop
,
subway
,
The Battery Conservancy
,
the plaza shops
,
Vivo Food