Avison Young Hires Newmark's Michael Leff
---
---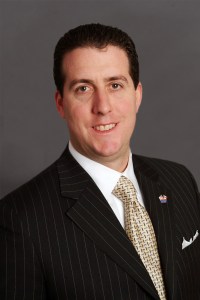 Canada-based real estate firm, Avison Young, continues its poaching expedition, announcing today that Michael A. Leff has been named principal and will operate, effective immediately, from the company's New York office. Mr. Leff, formerly a senior managing director with Newmark (NMRK) Grubb Knight Frank, will shoulder a number of responsibilities, including site selection, lease negotiation, strategic planning and tenant representation.
Avison opened its first Manhattan headquarters this past summer and has lured a number of professionals away from other firms, including Grub & Ellis's Michael Gottlieb, Vincent Carrega, Neil Helman, Jason Meister and Charles Kingsley. Arthur Mirante, formerly of Cushman & Wakfefield, joined with Avison this past spring.
Last year Greg Kraut left CBRE (CBRE) to join the Canadian firm. Mr. Kraut said the company's mission is to hand pick people who are top in their fields. Other firms may be concerned to hear that Avison intends to do more hiring and new personnel will be announced within the next two months. In addition, the firm will likely open a Long Island office within the next few months and another one to serve both Westchester and Connecticut, Mr. Kraut added.
Prior to joining Newmark, Mr. Leff served as corporate managing director at Studley, where he represented several high profile companies, including Polo Ralph Lauren, Accenture and Pillsbury Winthrop Shaw Pittman.
Mr. Leff made the leap to real estate from owning his own business—a high end automotive firm called Evolution Motorsports & Imagine Motorsports. "I had a couple of close friends that were in (real estate) that kept talking about getting into it," he said. With his experience in sales and a strong head for numbers – he holds a Master's degree in accounting from C.W. Post and a Bachelor's degree in economics from Syracuse University – Mr. Leff felt it might be the right move.
Some of his successes include placing Polo Ralph Lauren into a 194,000-square-foot space at 650 Madison. He was also bestowed with SL Green's award for the most significant deal in 2005 for securing a 186,000-square-foot lease at 625 Madison Avenue for Polo.
625 madison
,
650 madison
,
650 Madison Avenue
,
Accenture
,
carrega
,
gottlib
,
Grubb & Ellis
,
helman
,
karsten
,
kingsley
,
kraut
,
leff
,
meister
,
Michael Gottlieb
,
michael leff
,
mirante
,
pillsbury
,
polo
,
Ralph Lauren
,
strauss
,
Studley
,
winthrop shaw pittman
,
Avison Young
,
CBRE
,
Cushman & Wakefield
,
Newmark