The Storm Chaser: Alexander Chudnoff on Post-Sandy NYC Recovery Efforts
---
---
Alexander Chudnoff, a commercial leasing broker who takes pride in strengthening relationships with clients through "impeccable service," was especially busy in the aftermath of Hurricane Sandy.
The Jones Lang LaSalle executive managing director was dividing his time last week between volunteer efforts in the Rockaways, where he provided hot pizza and coffee to storm victims, and getting on the phone to make sure his Downtown Manhattan clients could stay open. Though it was a difficult time, the activity of making connections was just what attracted Mr. Chudnoff to the business in the first place.
"I love to make calls. I love to canvass," he said. "I like to develop the relationship."
In some cases, the storm required short-term arrangements, such as lining up space with other clients or in Jones Lang's own offices, he said. In others, clients were able to proceed with minimal disruption, as when Dentsu Holdings USA returned to work at 32 Avenue of the Americas when Rudin Management opened the building the Monday after the storm.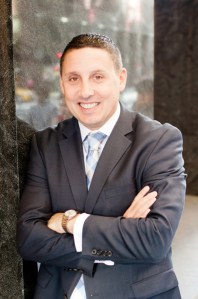 At 42, Mr. Chudnoff has helped broker some of the biggest, most complex transactions in the New York market, including the relocation of Cantor Fitzgerald LP and Fred Alger Management Inc. after their offices were destroyed in the 2001 terrorist attacks on the World Trade Center. Working with colleague Mitchell Konsker when the two brokers were with Cushman & Wakefield, Mr. Chudnoff helped shepherd Cantor through a series of moves, eventually consolidating its headquarters into 225,000 square feet at 110 East 59th Street and 40,000 square feet next door at 499 Park Avenue.
Another major client has been Li & Fung USA, which occupied a modest 12,000 square feet of New York space when he and Mr. Konsker first started working for the global supply chain manager about 12 years ago. Since then, they've completed deals for Li & Fung's U.S. unit on 1.1 million square feet of New York office space, including about 600,000 square feet in the Empire State Building.
"What distinguishes Alex to me is he has very down-to-earth roots; he works very hard," said Anthony Malkin, president of Malkin Holdings, who has worked with the Chudnoff-Konsker team on a number of transactions over the past decade. "There's no question that the leasing by LF USA made a huge difference for the Empire State Building."
Mr. Chudnoff has also advised hedge funds and private equity firms including Highbridge Capital Management, Third Point LLC, Atticus Capital LLC and Capital Z Partners. He's represented landlords including Vornado Realty Trust, SL Green Real Estate and Stellar Management. Working for RFR Holdings, he signed up Wachovia Bank NA (now Wells Fargo & Co.) to a 225,000-square-foot lease at 375 Park Avenue, better known as the Seagram Building.
110 East 59th Street
,
32 Avenue of the Americas
,
499 Park Avenue
,
Alexander Chudnoff
,
Atticus Capital
,
Bank NA
,
Bloomberg News
,
Cantor Fitzgerald
,
Capital Z
,
Cushman & Wakefield
,
Dentsu Holdings USA
,
Edward S. Gordon Company
,
Elihu Rose
,
Empire State Building
,
Fred Alger Management
,
Highbridge
,
Hurricane Sandy
,
Jones Lang LaSalle
,
Li & Fung
,
Marvin Chudnoff
,
Matthew Astrachan
,
Mitchell Konsker
,
Mitti Liebersohn
,
Old Dominion University
,
Paul Glickman
,
Rudin Management Company
,
SL Green Realty Corp.
,
Stellar Management
,
Third Point LLC
,
Vornado Realty Trust
,
Wachovia
,
Wells Fargo
,
William Rudin