Citibank Offers More Space for Sublease in Midtown
---
---
Citibank is cutting loose more space in Midtown.
After deciding to give up 230,000 square feet at 666 Fifth Avenue, the bank is offering two floors for sublease at 909 Third Avenue totaling over 60,000 square feet.
Citibank is making the 1.3 million-square-foot building's entire 18th and 19th floors available.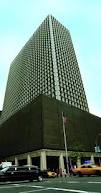 The space is the latest in a smattering of subleases that have been turned over by large financial institutions and other big tenants in the city in recent months.
Société Générale, a large French financial company, leased over 500,000 square feet at 245 Park Avenue in late 2010 but decided to sublease at least 70,000 square feet of it earlier this year. Nomura meanwhile decided to exercise options in a jumbo 900,000-square-foot deal it signed last summer at Worldwide Plaza to give back at least 160,000 square feet of that space.
In April, the publishing company McGraw-Hill tossed a little over 200,000 square feet onto the sublease market at 2 Penn Plaza.
Citibank's sublease offering appears to show that there was a flip side to its decision to renew nearly 500,000 square feet in late May at 601 Lexington Avenue, the office tower across the street from its world headquarters at 399 Park Avenue. In past years, Citibank had also shopped the space at 601 Lexington Avenue for sublease. The bank ultimately decided to keep its offices in the landmark slant-roofed tower but with the caveat apparently that it would shed space elsewhere.
Both 909 Third Avenue and 666 Fifth Avenue are owned by the large office REIT Vornado (666 Fifth Avenue is also partially owned by Jared Kushner, owner of The Commercial Observer). Vornado is buffered from the departures. At 909 Third Avenue, whether or not it subleases the space, Citibank will continue to pay rent for the floors. At 666 Fifth Avenue, the bank is not scheduled to depart until the fall of 2014.
A leasing team from Newmark Grubb Knight Frank is handling the sublease offering at 909 Third Avenue for Citibank.
2 Penn Plaza
,
245 Park Avenue
,
601 Lexington Avenue
,
909 Third Avenue
,
Citibank
,
McGraw-Hill
,
Newmark Knight Frank
,
Nomura
,
Société Générale
,
Vornado Realty Trust
,
Worldwide Plaza