Viacom Signs One Of City's Largest Ever Leasing Deals
---
---
Viacom renewed and expanded its office lease at 1515 Broadway in a deal that totals 1.6 million square feet and stretches until 2031.
The Commercial Observer exclusively broke news of the transaction, which the building's landlord SL Green is billing as one of the largest leases ever completed in the city, on Tuesday, though we initially reported the lease at 1.3 million square feet, what Viacom currently occupies at the property.
The 300,000-square-feet of expansion space will be added after 2020, SL Green said in a statement, and will make Viacom into the 1.6 million-square-foot-building's sole occupant.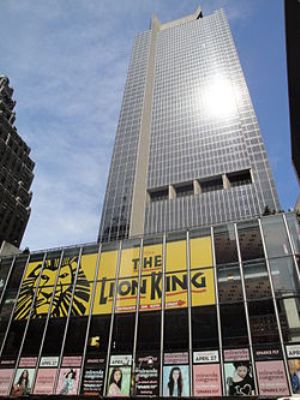 According to knowledgeable sources, it's not clear if Viacom plans to use that room to expand organically or if it will use it primarily to consolidate other facilities under the same roof. The company, which is one of the largest mass media corporations in the world, also has about 300,000 square feet of office space nearby at 1540 Broadway for several divisions, including the television network BET and IT functions. That lease expires in the early 2020s, giving the company the opportunity to potentially bring those offices into 1515 Broadway.
Viacom also occupies several hundred thousand square feet downtown in Hudson Square where it has several entertainment groups and networks, including Spike TV, TV Land and Comedy Central. Sources say the company is planning to keep those facilities separate to 1515 Broadway.
Marc Holliday, SL Green's chief executive said in a prepared statement that 1515 Broadway's location at the heart of Times Square, the city's busiest tourist and entertainment district, made "the perfect home for a high-profile company such as Viacom."
While other large media companies such as Time Inc. have been rumored to be considering outsourcing at least portions of their operations to less expensive areas such as New Jersey, Viacom's president and chief executive office Philippe Dauman asserted the importance of remaming in Manhattan.
"New York City is the undisputed media capital of the world, and a vibrant source of inspiration for Viacom's innovative and creative employees," Mr. Dauman said in a statement. "We have had a great partnership with SL Green and have been proud to help lead the revitalization of the Times Square neighborhood for two decades. We could not be more pleased to extend our commitment to New York City and Times Square well into the future."
Viacom in past months was considered a candidate to anchor several large developments around the city, including the World Trade Center site and the West Side rail yards. The deal to remain at 1515 Broadway appears to offer advantages for both landlord and tenant, giving Viacom what was likely an economical deal while simultaneously cynching up one of the largest liabilities in SL Green's portfolio. With the leasing market in a sudden slowdown in the city, the large block of vacancy that Viacom could have left behind at 1515 Broadway would likely have been a daunting task to fill.
Perhaps not uncoincidentally, the deal comes on the day of SL Green's earnings call with analysts and investors, giving it the opportunity to publicly hail the transaction.
SL Green announced that it had also just closed on a $775 refinancing deal for the tower, replacing the previous $447 million loan. It said that the proceeds from the new and bigger loan would fund the transaction, perhaps paying brokerage fees and renovations that will allow Viacom to update its space, as well as for "general corporate purposes."