Tech Hub Draws Enterpoid to 56 W. 22nd
---
---
Mobile platform developer Enterproid Inc. has signed on for 10,000 square feet of space at 56 West 22nd Street, the Flatiron district building perhaps best known as the home to pastry aficionados' dream New York Cakes & Baking Supply.
According to Perry Mesmer, an executive managing director in the New York office of Colliers International, Enterproid will move into the space sometime in the next few weeks. Mesmer represented landlord Fifty Six Realty Corp. in the lease, while associate Adam Maxson and managing director Douglas Regal, from ABS Partners Real Estate, represented Enterproid.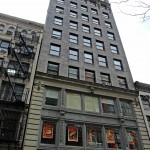 "They're definitely attracted to the tech hub, not to mention the value and the qualities of space," Mr. Maxson said. He declined to give the rent the tech company will pay for the space but said that the asking rent was $34 a square foot. In addition to its location in an area heavily populated by other tech companies, Mr. Maxson said that Enterproid was also drawn to the building's features, which include wood floors, exposed ceilings and "great light."
Mr. Mesmer said that the space in the building being taken by Enterproid—the ninth and tenth floors—"was previously occupied by two tenants in a related industry," who outgrew it and moved on. As a result, he said, the spaces "were almost plug and play." He also cited the building's location, specifically its proximity to Google's building, as a draw.
The building is 100 percent occupied, with a tenant base that includes the aforementioned baking supply store, architecture firm Tamarkin Co., Go Robot! And PR firm Bullfrog & Baum.