(Clear)Rock Stars Doug Winshall and Steve Grant
---
---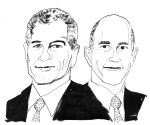 ClearRock Properties was launched in 2009 as a real estate investment, development and operating company. As managing principals, Doug Winshall, 50 (left), and Steve Grant, 47, have already hit the ground running with a series of large property acquisitions in Boston and Connecticut. In a recent interview, however, the pair said that several property buys in Manhattan are only months away, and even more are yet to come.
The Observer: ClearRock Properties launched in 2009. Why did you choose to launch an investment and development firm during a down market?
Mr. Winshall: That's exactly what we saw as the opportunity. We always talked about doing something like ClearRock—something on our own, something more entrepreneurial. But it had never been the right time personally or professionally.
And in late 2009 we were sitting down chatting. The peak in 2007 had passed and it seemed like there was going to be new opportunities in the future, and we were both at a point in our professional and personal lives where hanging out our own shingle and starting something from scratch seemed right, and so we did.
ClearRock's focus is the Northeast, but tell me what your strategy for New York City is. What kind of deals are you working on and what do you have planned?
Mr. Grant: We're focused on the Northeast—Boston, Washington and the New York metro areas. In Boston, we've closed on a deal in Cambridge. In the New York metro area, we've closed on two deals—one in North Haven, Conn., and one in Stamford, Conn.
We've also been doing some advisory work in the city with some larger capital sources. And we will be focusing on doing more operating partner-type activities in New York City.
You first partnered in 1997 to establish and lead Trizec Properties' New York office, where you amassed a portfolio of more than eight million square feet. Do you foresee ClearRock Properties' portfolio growing to that size anytime soon?
Mr. Winshall: It's a different kind of a goal. Trizec was a public REIT. There was actually a lot of capital at the ready, and, in fact, what fueled our growth binge—at least in New York—was the sale of a $2.5 billion mall portfolio and a reinvestment into offices across the country, including a lot of properties in New York City at a good time.
We're self-funding ClearRock. This is our own thing. So I think to have aspirations to get to eight million feet is a bit unlikely.
Mr. Grant: At Trizec we got to over eight million square feet in two years. At ClearRock, we may have aspirations to get there, but certainly not within two years. What is analogous is that at Trizec we thought that it was a very good time to be acquiring assets, from a market perspective—that pricing was good.
And that's one of the reasons why we acquired so much in such a short period of time while there. That turned out to be a very successful portfolio. And we think that the time in the market is similar now in many ways, and we think there are a lot of things to buy.
Are you closing in on any property acquisitions in Manhattan or the other four boroughs?
Mr. Winshall: We don't have anything that's imminent, but we actually have, right at the moment, offers in on a couple of Manhattan things and a few other Manhattan things in the pipeline. We've been looking equally in the urban areas as well as the suburbs, so the likelihood of us doing something in Manhattan in the next six months or so is pretty good. But you never know for sure until you actually close.
Mr. Grant: We're hopeful that we'll be announcing something by the end of summer with our involvement in a midtown trophy asset.
Considering the sluggish economy, what do you see as the biggest obstacles and advantages as a newly formed real estate investment and development group?
Mr. Winshall: The biggest obstacle is our lack of human resources—we're a small company. We've built a pipeline as such that we're getting a look at a good number of deals, and we just don't have the time or resources to chase all of them down. I wish we had more of that.
Mr. Grant: Maybe the prime obstacle has just been the sluggishness in the market. Having a lot of product to look at, we see that starting to change, but that has been an obstacle so far.
But I'd also say that one of the advantages is that a whole lot of what we think are very good deals and very good properties don't have the same number of people looking at them, and we think there are still exceptional opportunities in the market that aren't being paid as much attention to.
How did you choose the name ClearRock?
Mr. Grant: When we were looking to come up with a name we were given guidance by some that you should name your company after your street or yourself. And the street that I live on is Broadway, so that didn't seem like a good idea; it was already taken. And we didn't want to build an entity that was based around last names.
We were more interested in creating a platform that would go on for a very long time. And 'Rock' really fits into that, for obvious reasons. As for 'Clear,' it's very important to us that we're transparent with our partners and investors; and, too, some of this was established while the Madoff stuff was going on. And it struck us that one of the things that is so different about us is that we're transparent.
And as Doug has said so many times before, we hope people will mistake us for BlackRock.
jsederstrom@observer.com