Jones Lang LaSalle Leaves Mort for Steve Roth's New 'Green' Haven
---
---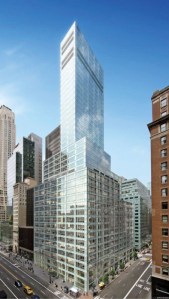 330 Madison Avenue
Even the experts don't have an easy time finding new office space.
After a lengthy search, one of the city's largest commercial brokerages is trading spaces in midtown. Jones Lang LaSalle is taking two floors in Vornado's 330 Madison Avenue, occupying 82,000 square feet in the base of the recently renovated tower, according to Real Estate Weekly. Vornado, run by kingpin Steve Roth, has spent upward of $100 million transforming the aging glass box into a cutting-edge, LEED-rated "green" office building.
Jones Lang LaSalle is leaving one of Mort Zuckerman's trophies, the Boston Properties-owned Citigroup Center, which has been re-branded as 601 Lexington. Real Estate Weekly calls the move yet another victory for Roth:
In 2008, Cushman & Wakefield, another large leasing and real estate services company, relocated its global headquarters from 51 West 52nd Street into about 175,000 square feet at 1290 Avenue of the Americas. Vornado, one of the city's biggest landlords, also owns 1290, making two of the city's largest brokerage companies its tenants, a fact that sources say the company will wear as a feather in its cap because brokerage companies are considered smart and sophisticated tenants and especially savvy choosers of space.
The weekly also surmises that this is an expansion for Jones Lang LaSalle, which has been ascending in the city in recent years under local CEO Peter Riguardi. One of its new neighbors is not doing so well, however. SAC Capital also just inked a deal for the 21st and 35th floors in the tower. The firm, and its notorious founder Steven A. Cohen, are currently embroiled in the major insider trading scandal.