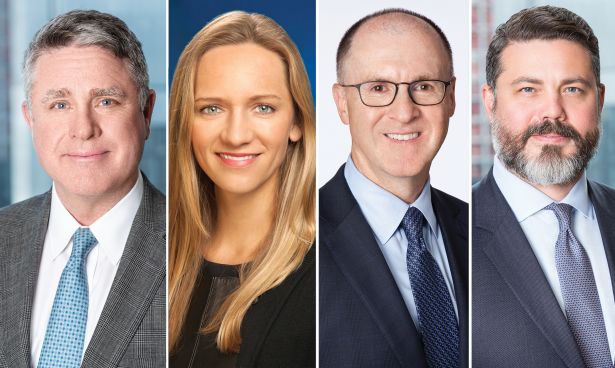 #4
Francis Gilhool, Kristin Khanna, Larry Kravetz and Steven Caldwell
Managing Director and Head of CRE Warehouse Lending; Head of Acquisition Facility Lending; Managing Director and Head of CMBS Finance; Managing Director and Head of Originations at Barclays
Last year's rank: 12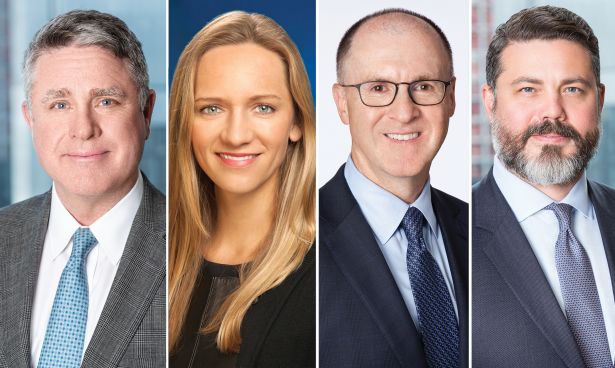 "Fluent in Finance" was Barclays' slogan almost 20 years ago, and it's safe to say that aptitude hasn't changed. The bank executed record activity in all areas of its business this past year, providing $22.6 billion of financing and tripling its $7.7 billion in closings the previous year. Blimey! 
Barclays brought multiple capabilities to bear, closing $9.1 billion in conduit and single-asset, single-borrower (SASB) commercial mortgage-backed securities (CMBS) transactions, $3.4 billion in syndicated balance sheet loans, $1.5 billion in acquisition facilities and $8.6 billion in warehouse financing facilities.  
It was also a lead bank in some of the most noteworthy mergers and acquisitions (M&A) transactions, and a pioneer in leading the first data center M&A transaction in the commercial real estate space — Blackstone's $9.68 billion take-private of QTS — as well as the second take-private transaction, KKR and GIP's $14 billion acquisition of CyrusOne. 
As for other notable deals? Where to start. 
There was the $1.1 billion refinancing of a portfolio of five Class A office properties and three studio facilities in Hollywood, Calif., for Blackstone Property Partners and Hudson Pacific Properties; the $380 million STWD 2021-LIH CMBS deal, which was the first 100 percent low-income housing tax credit (LIHTC) for affordable housing SASB with 100 percent environmental, social and governance bond designations; and the $740 million financing for Blackstone Real Estate Income Trust's acquisition of a portfolio of 13 Class A multifamily properties across seven states, to name a few. 
"There aren't a lot of groups who could step up last December for a $740 million balance sheet loan," Larry Kravetz said of the latter deal, which closed in only three weeks. "We execute when we say we're going to."
"What we were seeing in the second half of 2021, as far as balance sheet lending opportunities went, tended to be construction or transitional multifamily opportunities," Kristin Khanna said. "This was one of the first opportunities we saw to lend at scale on a stabilized multifamily pool."
Multifamily comprises the bulk of Barclays' lending book (46 percent), followed by office (22 percent) and industrial (17 percent). The firm doesn't shy away from retail, however, providing its clients in the space with some much-needed liquidity. Case in point, the $600 million refinancing of The Florida Mall in Orlando, Fla., for Simon Property Group and Nuveen Real Estate — the largest mall SASB transaction post-COVID-19. 
"There's significant relative value in the way mall deals are executing compared to multifamily and industrial, which are priced much tighter," Steven Caldwell said. "There's certainly a 'have and have-nots' discussion in terms of credit profiles, but we felt like this asset was going to have strong investor demand, and that certainly was the case." 
Barclays has been busy building out its secondary trading and CMBS financing business, and it's all part of a master plan. "What we're trying to do, successfully, is to have every aspect of our franchise drive the origination business in order to meet our clients' financing needs as they continue to expand their platforms," Kravetz said.
As such, "we're in the process of a decent amount of lead left transactions," Francis Gilhool said. "That really is the last piece of the puzzle that's proving out the strength of our business and its sustainability."
Today, the Barclays team is approximately 30 percent minority and female. The team has a number of female leaders in the group, including Khanna. —C.C.