Champion Real Estate Refis Student Housing Near Cal State Fullerton
Santa Monica-based firm secured $40.5 million for 121-unit, 427-bed student housing
---
---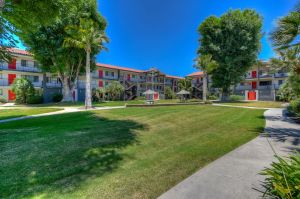 Champion Real Estate secured refinancing for a part of its growing student housing portfolio in a time when money isn't so easy to come by.
RGA Reinsurance Company provided the long-term, fixed-rate $40.5 million loan for University Village Fullerton, a 121-unit, 427-bed asset near California State University-Fullerton near the Los Angeles-Orange County border.
Champion acquired the property at 2000 Oxford Avenue for $44.4 million in April 2021 when it consisted of 290 beds in 100 units. The firm spent $3.5 million renovating existing units and an additional $7 million constructing 21 new units.
"At University Village Fullerton we were able to use our developer DNA to create significant value, which was critical to secure accretive refinance options in light of continued disruption to capital markets" Parker Champion, chief operating officer at Champion Real Estate, said in a statement.
The average national rent for student housing increased 4.7 percent year-over-year in 2022, and the economic slowdown has affected the development pipeline, according to Yardi Matrix's first-quarter market report. In 2022, national student housing sales totaled $5 billion, slightly lower than in 2021. Santa Monica-based Champion acquired more than 1,500 student housing beds nationally at four different universities in 2022. 
Gregory Cornfield can be reached at gcornfield@commercialobserver.com.