Beer and Wine Producer Signs Massive Southern California Prelease With Blackstone's Link Logistics
Constellation Brands signed for 1.4 million square feet in the Inland Empire
---
---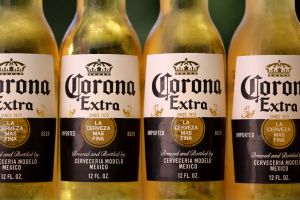 Southern California's Inland Empire is drunk with warehouse demand.
Blackstone (BX)'s Link Logistics has signed beverage producer Constellation Brands to a massive prelease deal at a large under-construction industrial project in Riverside County. The Victor, N.Y.-based Fortune 500 company that produces Corona beer, Robert Mondavi wine and Casa Noble tequila will occupy 1.4 million square feet at the Space Center development, which is expected to be complete in the fourth quarter of this year.
According to Colliers, it was the first quarter's largest industrial lease deal — either new or renewal — in the Inland Empire, which is consistently one of the most active and in-demand markets in the nation. Neither Link Logistics nor Constellation Brands immediately returned requests for comments.
The Space Center will feature 1.94 million square feet of space at 3413 Manitou Court in Jurupa Valley, near other large warehouses leased to companies that include Nestle, Amazon, Walmart, FedEx, Costco, Sam's Club and Home Depot, off the intersection of the Interstate 15 freeway and State Route 60.
Last year in Southern California, TA Realty paid $92 million for a 253,670-square-foot property in the City of Industry that's fully leased to Classic Beverage Company, which distributes beers, ciders and dozens of other popular brands. And a 158,800-square-foot cold-storage warehouse leased to Anheuser-Busch about 12 miles from Classic Beverage Company sold for $85 million.
New warehouse supply in the Inland Empire surpassed net absorption in the first quarter for the fifth consecutive time, pushing vacancy to 1.9 percent and availability to 5 percent, according to Colliers. The jump in vacancy and availability was due to the large amount of new supply added to the market.
Of the 8.9 million square feet of newly finished projects, 47 percent was leased prior to completion. Total leasing activity amounted to 5.8 million square feet for the first three months of the year. Asking rents also hit a new high at $1.63 per square foot, a 28 percent jump from 12 months ago.
Link Logistics has 154 properties with approximately 29.3 million square feet of space in the Inland Empire, according to its website. It has approximately 545 million square feet nationwide.
Gregory Cornfield can be reached at gcornfield@commercialobserver.com.