The Bronx May Finally Get a Waterfront Greenway
---
---
Bronxites may soon have their own version of Manhattan's popular Hudson River Greenway bike and pedestrian paths, Mayor Eric Adams announced Wednesday.
The new seven-mile-long Harlem River Greenway would link Randall's Island to Van Cortlandt Park, and create a dedicated bike link to the larger Empire State Trail network. It would run along the west side of the Bronx from the Robert F. Kennedy Bridge (formerly the Triborough) at the southern tip to Van Cortlandt, which is at the very northern edge of the borough near Yonkers. 
The Bronx has very few protected bike lanes, and traveling north-south or east-west in the borough can be difficult and dangerous on a bike. The construction of the Major Deegan Expressway in the 1930s also cut off Bronxites' access to the Harlem River waterfront.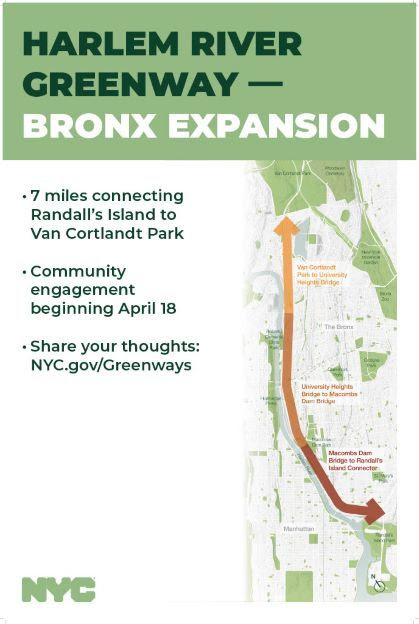 "This administration continues to deliver for all five boroughs, and expanding the Harlem River Greenway to the Bronx is a huge win for equity and justice," said Adams. "Our administration is leading the way in undoing the devastation caused by highways like the Cross-Bronx Expressway, the BQE, and now the Deegan — reversing the devastation left by others in communities of color."
The bike link will start with "markings, signs and limited concrete work on city streets," according to a press release from City Hall, while the city Transportation Department (DOT) plans larger street improvements. The U.S. Department of Transportation also awarded the city $7.25 million last year to fund the greenway expansion. 
The DOT is kicking off the public engagement process for the greenway planning next month, starting with a meeting on the northernmost section from Van Cortlandt Park to the University Heights Bridge. 
Rebecca Baird-Remba can be reached at rbairdremba@commercialobserver.com