Manhattan Office Lease Lengths Creeping Back Up
---
---
The 10-year office lease might not be dead, yet.
The average office lease term length in Manhattan is up to 103 months, or nearly nine years, from its pandemic low, according to a report by Avison Young.
Some landlords gave up on the traditional 10-year office lease, but with lease lengths creeping back up to 103 months in June, Craig Leibowitz, director of innovation and insight advisory at Avison Young, is cautiously optimistic it could signal a rebound on the downtrodden Manhattan office market. 
"The economy's reopening," Leibowitz told Commercial Observer. "Psychologically, people are ready to return to work. Schools reopening and things of that nature enables, or has enabled, tenants that have operated with more conviction to sign longer-term leases at more favorable economic and non-economic terms." 
The average lease length rebounded from a low of 96.8 months, or eight years, in January. While 103 months is still a far cry from the 123-month, or more than 10-year, lease length average peak that the market saw at the end of 2018, tenants are feeling more confident about making long-term and expensive commitments as the city recovers from the pandemic, Leibowitz said.
Leibowitz said he also noticed a trend towards higher-quality office properties that are perceived as safer because they have more air filtration. Those companies that are signing long-term leases are seeking out newer, renovated or higher-quality properties, he added.
Pandemic-inspired uncertainty in the market pushed companies to take on short-term leases, according to Avison Young's brief report, which found that lease term lengths decreased by 18.9 percent from 2018 to January 2021. 
"Through the pandemic, companies simply were not in a position to make a long-term commitment," Leibowitz said. "It's an extremely expensive decision." 
The pandemic and coworking were expected to kill the decade standard for office leases, but those predictions haven't panned out, either. But, even with average office lease length creeping back up, Leibowitz said it would be a while before a full recovery to 2018 highs.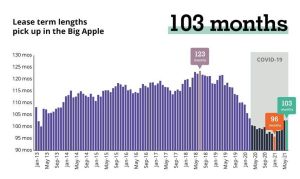 With New York having a high unemployment rate of 11.4 percent in April, compared to 4 percent in April 2019, Leibowitz expected a recovery to take some time. While he added that the employment rate is not entirely reflective of office leasing, he said it was emblematic of the city at large.
"It's going to take quite a long time to get back to a state of affairs where the labor market is incredibly constrained," said Leibowitz. "I, for one, don't see us getting there anytime soon."