Staten Island Labor Organizers Taking on Amazon File Charges
Organizers say they were fenced off from the bus stop they use, and an employee alleges gender discrimination
---
---
Outside of Amazon's Staten Island facility, where Chris Smalls, a union organizer and former Amazon employee, and Derrick Palmer, an Amazon warehouse worker at JFK8, speak to workers about forming a union, the view of the warehouse is obscured by a chain-link fence. The fence is a recent addition to the property, one that Smalls believes was constructed to force union organizers to relocate. 
In response, Palmer filed charges against the tech giant with the National Labor Relations Board (NLRB) on May 11. Another current Amazon employee, who filed charges on May 21 and wishes to remain anonymous, said they were interrogated about their union leanings by a person working for the company. 
Despite the construction of the fence and after months of organizing — during which Smalls said he was surveilled, had the fire department called on him, and saw emails from Amazon discouraging employees from unionizing — Smalls and the unnamed employee say they are only a month or two away from holding a vote.
"The way we're trending now, if all goes well, we're looking to file hopefully at the end of June or early July," Smalls told Commercial Observer. "Obviously, our main goal is [to unionize at Amazon Fulfillment Center] JFK8, the biggest building here, but we also have three other small buildings that we can file for as well. They want to unionize, too."
The charges filed with the NLRB further allege that Amazon sent texts and emails to employees, discouraging them from joining the union and prohibiting them from discussing wages, hours or other terms of their employment. Amazon sent out at least two emails, one on May 14 and another on May 17, telling employees that union organizers who approach them do not represent Amazon, and questioned the Amazon Labor Union's (ALU) experience and cost.
Employers are barred from prohibiting employees from talking about a union, polling employees on union support, spying on union activities, and threatening employees with consequences if they choose to support or engage with a union under the National Labor Relations Act, which guarantees employees the right to unionization. 
Amazon did not respond to multiple requests for comment on these Staten Island allegations. The company previously told VICE that its landlord, Matrix Global Logistics, built the fence.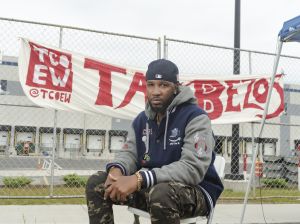 The unnamed employee, who filed charges alleging that a person working for Amazon interrogated them on whether or not they supported a union, told CO that the interrogator introduced himself as an "auditor" for Amazon and asked the employee if they supported a union, then criticized Smalls and the union organizers, calling them "thugs." The Amazon Labor Union has called these remarks racist and disgusting on Twitter.
"I just wish that [Jeff Bezos] would respect his employees enough to let us have the vote regardless of how it turns out," the employee said. "I think that especially after last year, dealing with the COVID crisis and the fact that we've been slammed with work for over a year now — we deserve to have the right to vote on the union."
The unnamed employee told CO that they have routinely seen managers micromanage female employees far more than male employees, and threaten to write up or fire female employees for taking too long in the bathroom. They have also noticed that women do not advance to higher positions, are not offered training and classes, and that managers tend to target minority women.
The employee says they now support Smalls or any effort at a union in Staten Island. During the height of the pandemic, the employee said they would see employees crying, fearful they would get their kids sick, and watched news reports of body bags being stockpiled into semi-trucks during their break. They would see masks, gloves and cleaning supplies pass them on the conveyor belt, while they were not provided with a mask to wear. 
"I hope the ALU is able to get it done here and I hope that sets off a tidal wave across the country," the employee said. "To see that HR and the managers were being given masks at the factory [and] workers weren't — it made me realize that we weren't just replaceable. We were expendable. At that point, we were just numbers. We weren't people."
Outside the factory floor where the employee works, and near the 5th Street bus stop, Smalls' organizing has been interrupted by the New York City Fire Department, though the person who called the FDNY on the organizers asked to remain anonymous, VICE reported.
Smalls believes that Amazon called the fire department, and both he and Palmer believe that the tech giant put up the fence — which previously sported a "Beware of Dog" sign — to hamper their efforts. The sign was later taken down around May 13, Smalls said. While he occasionally brings his puppy, a miniature Pinscher, to the property, he said that Amazon was attempting to intimidate workers with the sign.
Smalls and Palmer have been fighting the e-commerce giant since the pandemic began, when Smalls was fired after organizing a walkout protest against the company's lack of physical distancing and COVID-19 protections. (Amazon argued that it fired Smalls because he violated an order to quarantine after he was exposed to a worker who tested positive for COVID-19). Palmer, ironically, faced disciplinary action for violating Amazon's physical-distancing rules, because he was protesting for the company to enforce those rules.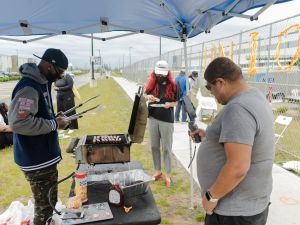 The ALU itself is new — the union is not affiliated with a larger organization. Smalls says that the union's independence is an advantage because it is worker-led and trusted among Amazon employees.
"We're independent. We're not an established union with a ton of money," Smalls said. "But that's the beauty of it, because we're explaining to the workers that the stronger we are, the stronger the workers are."
Staten Island is not the only place where Amazon workers want to unionize. The Retail, Wholesale and Department Store Union (RWDSU), which is fighting to represent Amazon fulfillment center workers at BHM1 in Bessemer, Ala., filed objections with the NLRB in April to Amazon's conduct during their union election, alleging that the e-commerce giant threatened, intimidated, and confused workers ahead of the vote. 
While employees in the Bessemer warehouse voted in April against unionizing, with only 738 in favor of the 3,215 ballots cast, the election results could be set aside if the NLRB finds that Amazon illegally interfered with the vote, CO previously reported.
The RWDSU alleged that Amazon threatened workers through mandatory meetings and emails, saying that unionization would lead to a loss of business at the facility, which could lead to layoffs or a shutdown, and that Amazon changed the timing of a traffic light outside of its warehouse, reportedly to prevent pro-union workers from canvassing while workers were stopped at the light. 
The union also alleged that Amazon tried to make it appear that the corporation controlled the election process by placing a ballot collection box in the Amazon parking lot, and pressuring workers to use the Amazon-installed box, which was located within the range of Amazon-owned surveillance cameras. Amazon installed the box, despite the fact the NLRB denied Amazon's request for a warehouse-based drop box.
"The fact is that less than 16 percent of employees at BHM1 voted to join a union," an Amazon spokesperson previously told CO. "Rather than accepting these employees' choice, the union seems determined to continue misrepresenting the facts in order to drive its own agenda. We look forward to the next steps in the legal process."
The RWDSU has attempted to unionize the Staten Island warehouse, too. In 2018, the union announced its intention to unionize workers to address safety concerns, lengthy unpaid security checks, unreasonable hourly quotas and insufficient breaks, as reported The Verge, but that union hasn't materialized. 
Unlike Alabama, New York is a union-friendly state — one of the reasons why Palmer and Smalls believe they'll have more success than organizers in Bessemer. New York has the second-highest union membership rate in the United States, at 22 percent of its public and private workforce, double the national rate of 10.8 percent and second only to Hawaii. 
"New York is one of the strongest states for labor unions and politically quite friendly to them," said Joshua Freeman, professor emeritus of history at the City University of New York. "Unions have been a powerful force in New York state for 150 years and they have shaped a lot of the political culture."
New York was home to the nation's first Labor Day in 1882, launched by New York's Central Labor Union, to underscore their efforts to secure better pay, hours and working conditions. Unions' popularity grew in the 1950s and `60s, when about a quarter of New York's workforce was represented by a union. In 2020, there were 1.7 million workers represented by a union in New York.
Retail-sector unions have a particularly strong history of unionization in New York.
"We've had other mega-retailers, like A&P for example, back in the earlier parts of the 20th century, and some of them were unionized, so it's not totally unprecedented," Freeman told CO. "On the other hand, Amazon is an absolutely giant, extraordinarily powerful corporation. In this century, companies like Walmart and Amazon have been extremely successful in resisting unionization. So, it's a tough road for those who want to unionize."
But the pandemic has proved — to use an overused term — an unprecedented time for collective bargaining and union organizing. Thousands of frontline employees at FedEx, Target, Amazon, Instacart, Walmart and Whole Foods staged strikes on May 1 of last year, demanding masks and gloves, hand sanitizer, hazard pay and paid sick leave. And around 500 Walmart workers protested the company's coronavirus protections for employees by calling off work in early May of last year.
It's still unclear what the long-lasting impacts of this Amazon union drive will have on New York City, or what impacts of the pandemic will linger. 
"New York is a progressive state, but again, we shouldn't jump to conclusions about how this will play out," Freeman said. "Amazon will make all kinds of threats, whether it's public or private. 'We're going to move out, we're not going to invest in your city, we're gonna do this, we're gonna sue you' — and we don't know yet how political leaders will react to it."