US Industrial Construction Expected to Hit 5-Year High in 2021
---
---
The pandemic has proved to be more of a gold mine than silver lining for industrial construction, which is set to increase 24 percent from 2020 data and reach a five-year high, according to commercial real estate listing company CommercialSearch. 
Increased demand for online shopping is driving the construction of 342 million square feet of industrial space nationwide across 1,040 properties. 
Unsurprisingly, Amazon (AMZN) distribution centers are dominating eight out of 10 of the largest U.S. industrial projects. After a 2020 leasing, outfitting and opening rampage, CommercialSearch's report said the e-commerce behemoth is constructing and leasing 28.3 million square feet of industrial space.
Everything's bigger in Texas, and industrial real estate is no exception. The Dallas-Fort Worth metroplex is leading the nation in industrial property growth, accounting for 8 percent of all industrial space projected to be delivered in 2021 nationwide. 
The Lone Star State also hosts one of the largest increases in industrial space in the country, with a 511 percent increase in Austin from 1.7 million square feet in 2020 to a predicted 10.4 million this year. But Houston, hit hard by a recent collapse in oil prices, has only 10.3 million square feet of construction planned for 2021, a 41 percent decrease from 2020.
Phoenix, Chicago, California's Inland Empire and Denver hold second through fifth place for 2021 industrial property deliveries by square feet, marking millions of square feet in growth in the South, Midwest and West. The Northeast is also seeing a huge boom in industrial space as well.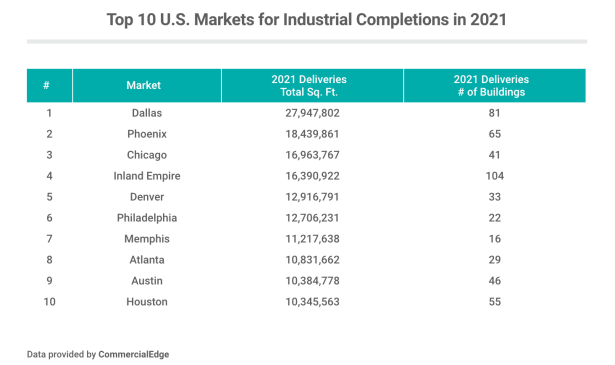 The largest project in 2021, Amazon's Project Rodeo in Colorado Springs, Colo., is for a whopping 4 million square feet — far greater than the largest facility of 2020, at 2.8 million square feet. In fact, nine of 10 of the largest projects represent more square footage than the biggest facility of last year. 
"Construction on industrial projects is booming, because we've seen consistently that despite periods of economic uncertainty or even crisis, industrial properties tend to remain stable," Michael Edwards, a CRE analyst at Oxford Companies, told CommercialSearch. "This means consistent cash flow and reliable investment growth. Industrial may not be the sexiest part of the real estate industry, but it might be the steadiest right now."