Remote Work Expected to Decrease Office Density and Demand
---
---
The era of tightly packed offices could be gone as office spaces are expected to be less dense in the coming years as remote work seems here to stay, CoStar Group predicted.
CoStar suspects that a hybrid, part-home, part-office work model might prove the most efficient and productive for employees. Plus, both workers and employers prefer the flexibility. That's expected to drive down demand for office, and lead to less workplace featuring flexible and collaborative space.
The Washington D.C.-based company predicted that office demand would depend on three factors: sustained remote working, changes to office density and employment growth in office-using jobs. CoStar calculated how a decrease in office density and an increase in remote work could lead to a slightly lower demand for office space.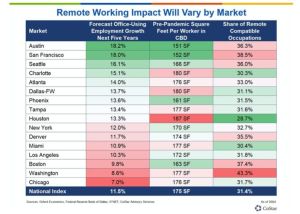 For example, a 34 percent increase in remote working and a 20 percent increase in square footage allotted per employee could decrease office demand by 12 percent. But an increase in remote working by only 26 percent and a 20 percent square footage increase per worker would only reduce demand by about 1 percent. 
Despite expected lower overall demand, higher-quality Class A office properties will continue to gain market share. CoStar predicts this trend could put middle- and lower-quality properties and locations at risk. Considering the scarcity of quality properties and locations, high-end office properties could see higher premiums. 
CoStar also examined locations expected to have a higher remote workforce. It predicts the Austin, Texas; San Francisco; Seattle; Charlotte, N.C.; and Atlanta markets will see an increase in office-based work, while Chicago, Washington, Boston, Los Angeles, and Miami will see far less growth. An increase in office-using sectors is the single most important factor in determining future office demand, areas with better prospects are likely to see more demand for office space, according to CoStar. New York's only expected to see a 12 percent growth in the next five years.
The commercial property group also analyzed jobs in those areas to determine which city had the most remote-friendly jobs. Washington, San Francisco and Boston were at the top of the list, with places like Houston, Miami and Atlanta having more in-person jobs.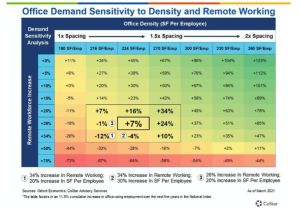 Regardless of location, the coronavirus pandemic and remote work has had a profound impact on office employees. Companies including Salesforce, Twitter and Spotify announced plans to let its employees work from home permanently. 
JPMorgan Chase, the largest private tenant in Manhattan, expects major changes to its commercial real estate footprint, with CEO James Dimon saying it will "significantly reduce our need for real estate." The bank is already looking to dump about 800,000 square feet on New York City's crowded sublet market.