Durst Organization Nabs $1.1B Refinance on 2 Manhattan Office Towers
Bank of America, Citigroup and Wells Fargo co-originated the debt package
---
---
The Durst Organization has secured about $1.1 billion in debt to refinance its Midtown Manhattan office properties at 1133 Avenue of the Americas and 114 West 47th Street, according to analysis from Fitch Ratings.
The 10-year, fixed-rate and interest-only, commercial mortgage-backed securities (CMBS) loan was originated by Bank of America, Citigroup and Wells Fargo, and is secured by Durst's fee simple interests in the two office towers — one of which has caught headlines in the last several months, due to a more than five-year-long legal dispute between the landlord and Amazon over a scuttled lease agreement at the property, as Commercial Observer has previously reported. 
The non-recourse loan officially retires about $800 million of existing debt previously provided by Citi (a $600 million credit facility) and Ladder Capital (a $200 million balance sheet loan) on 114 West 47th Street and 1133 Avenue of the Americas, respectively, and it also covered closing costs, according city mortgage records and information from Fitch. Douglas Durst's firm also recouped about $283.5 million in equity in the transaction. With that, the company has approximately $555 million of equity left in the assets, based on a March 2021 appraised value of around 1.65 billion, according to a Newmark appraisal outlined by Fitch. The loan is in line to be securitized in the DOLP 2021-NYC single-asset, single-borrower (SASB) CMBS deal.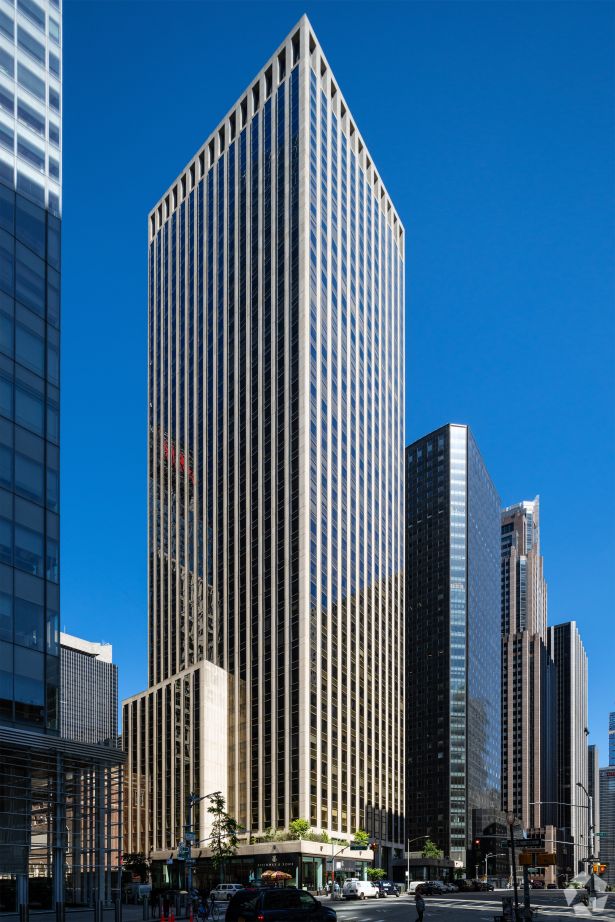 The two properties are high-profile office properties situated in a very dense section of Midtown Manhattan, nearby Bryant Park and surrounded by some of the borough's key public transportation hubs. 
The 26-story property at 114 West 47th Street was built in 1989 and spans nearly 660,000 square feet; 1133 Avenue of the Americas first opened in 1970, rises 47 stories, and comprises almost 1.1 million square feet of office and retail space. As of February, the pair is nearly 95 percent leased out to 45 tenants, more than half of whom are investment-grade or credit-worthy, according to Fitch. 
Historical occupancy figures at the two properties are robust. In the last two decades, the combined average occupancy at the two buildings is around 95 percent. Amid different waves of tenant rollover since 2012, Durst has deployed about $69.3 million into 1133 Avenue of the Americas and $23.3 million into 114 West 47th Street for upgrades and other improvements.
There's been a slew of new issuance activity on the SAAB front year-to-date, as 25 deals totaling more than $14.2 billion have closed, or are near a close, according to data from Trepp. Eight of those deals, worth more than $3.5 billion, consists entirely of office exposure.
1133 Avenue of the Americas
,
114 West 47th Street
,
Amazon
,
Bank of America
,
Bryant Park
,
Citigroup
,
CMBS
,
Douglas Durst
,
Durst Organization
,
Ladder Capital
,
Ladder Capital Corp.
,
The Durst Organization
,
Trepp
,
Wells Fargo