Midtown's Office Market Showing Signs of Recovery
More companies are kicking the tires in America's premier commercial district. Its landlords could use the interest.
---
---
New York City Mayor Bill de Blasio said during a March 11 press conference that the city was on track to bring its employees back to the office in May.
The mayor was reiterating a statement he made in his State of the City address in January, this time with data showing rising vaccination figures and lower COVID case counts to back it up.
"Remember, 80 percent of our workforce is on the job right now, because most of them do frontline work, but the 20 percent that work in office settings, in particular, they'll be coming back in May," de Blasio said. "We'll be working closely with the unions. We'll be focusing on health and safety. But, absolutely, we're going to get that done."
The remark anticipated not only a practical milestone in New York's march toward post-COVID normalcy — the City of New York leases more than 22 million square feet of office space in the five boroughs — but also a symbolic one.
The pandemic emptied offices throughout New York. Fewer than 10 percent of Manhattan's office-using employees were going into the office on any given workday by October, according to a survey from the business group Partnership for New York City.
In no other area did this emptiness seem more yawning than in Midtown, the city's — and the nation's — premier office district. It took on the feel of an empty monument after the tourists leave, echoing and with plenty of room to move. New data suggests that the worst might be over, though.
It would be quite the turnaround, given the general awfulness in the submarket these past many months.
The availability rate for Midtown office space hit a record high 16.2 percent in February, according to brokerage Colliers International. Leasing activity, which plunged throughout the pandemic, was down 22.7 percent annually in February as well. Absorption — the amount of office space that became available minus the space that was leased — stood at a negative 1.39 million square feet for the month. 
At the same time — and in no small part because of it — sublease space has been flooding the Midtown market. The volume of available office space for sublease hit 9.8 million square feet at the end of 2020, the highest since late 2003, in the wake of the dot-com bust and 9/11, according to brokerage Savills.
March's leasing and occupancy numbers for Midtown are not expected to be much better than February's, analysts say. What's more, the smart money doesn't have Midtown or the wider Manhattan office market reaching any pre-COVID recovery levels until 2023 at the earliest.
The borough's office vacancy rate should be above 11 percent as late as 2025, according to a Moody's Analytics analysis from February. It was 8.2 percent in 2019.
Still, new data heralds a turnaround starting. Or, at least, getting started as private companies and all manner of institutions, including nonprofits, cultural hubs and the city itself, make plans for a return to the office in some form.
The average number of new tenant tours of Midtown office space was 64 percent higher year to date in 2021 through the first week of March, compared with the average from early July to late November 2020, according to VTS, a proptech firm that tracks new tenant demand for non-Class C space.
That average of 23 tours per week in Midtown is still well below pre-pandemic figures, but it's a noticeable pickup in what VTS describes as "new requirement velocity" compared with the fall, when the weekly average was 14.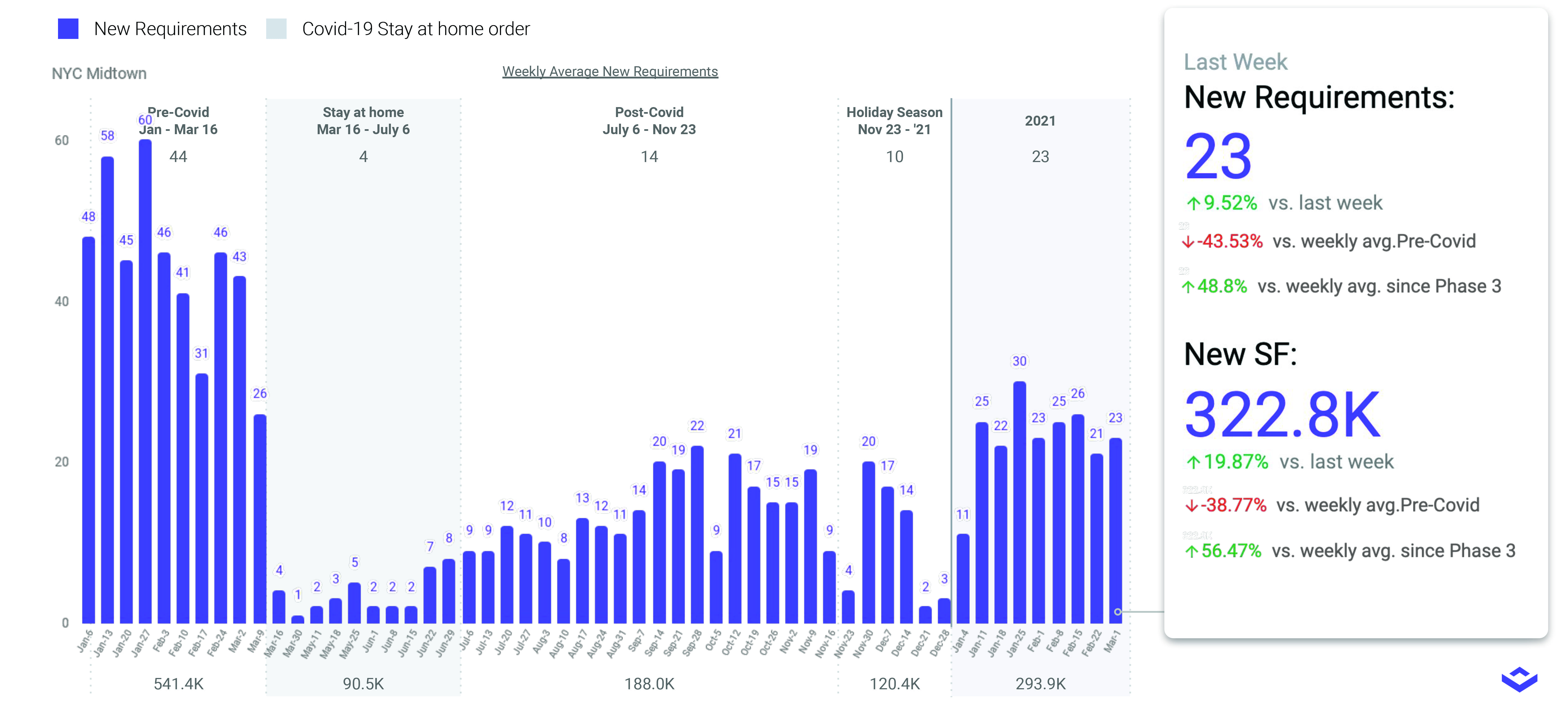 Midtown also appears to be ahead of Manhattan as a whole. The average number of new tenant tours year to date in Manhattan in 2021 through the first week of March was up 57 percent, compared with early July to late November.
What's more, Midtown is claiming the lion's share of tenants looking for larger footprints. Before COVID, the submarket claimed 29 percent of tours where the tenant was looking for at least 50,000 square feet. Downtown claimed the largest share at 49 percent, with Midtown South coming third at 22 percent.
Post-COVID, it's Midtown with a solid majority of the tours for 50,000 feet-plus: 58 percent vs. 24 percent in Midtown South and 19 percent in Downtown Manhattan. The submarket pre- and post-COVID accounted for around two-thirds of all Manhattan office tours, period, VTS found.
A lot of the newfound demand in 2021 is coming, too, from a traditional bulwark of the Midtown office submarket: finance. Finance industry tenants accounted for 46 percent of new tenant tours from Jan. 1 through the first week of March.
It's a further sign of the start of a recovery. At the dawn of the pandemic, banks were talking openly of shedding office space.
"Clearly, we've figured out how to operate with much less real estate," James Gorman, CEO of Midtown-based Morgan Stanley, told a Bloomberg Television audience in April 2020. "Can I see a future where part of every week, certainly part of every month, a lot of our employees will be at home? Absolutely."
That remark touched off shockwaves through the commercial real estate industry. Sustaining that shock was the decision this year by JPMorgan Chase, the country's largest bank by assets and the largest private occupier of New York City office space, to sublet 800,000 square feet at two addresses in Manhattan.
It remains to be seen what sorts of office-return models that big banks and other financial firms will permanently adopt post-COVID, though, and JPMorgan Chase, for its part, is still committed to building a new 2.5 million-square-foot hub at 270 Park Avenue by mid-decade. A spokesperson for Morgan Stanley said the bank plans to make "a full return to the Midtown office when it is safe to do so," though the company would allow "some flexibility for employees to work from home during some of the week. Those arrangements will vary widely based on the employee and job."
A good thing, too. Finance firms are for now fueling demand for Midtown space, and that could prove a further boon for the recovery, because financial firms have long paid — and been able to pay — top rents for top space.
Midtown could use that. By fall 2020, it was not unusual to find space subleasing for under $50 per square foot — this, in a district, where the average asking rent on direct space usually floated above $80 a foot pre-pandemic. The average asking for direct space in February, in fact, was $81.04 a foot, the lowest since June 2018, according to Colliers.
Meanwhile, the U.S. economy is expected to grow sharply in 2021 and 2022, generating and sustaining office-using jobs. And there is not so much new office construction compared with previous eras that those jobs couldn't fill the space.
But that's if workplace rhythms pick up where they left off. Companies might be kicking the tires in Midtown more than they were in fall 2020, but it's unclear when their workers will return in such numbers to really move the recovery along.
A survey between Feb. 24 and March 8 by the Partnership for New York City found that that 10 percent of workers were going into the office regularly — the same as in October, before news of effective COVID vaccines. Moreover, 45 percent of workers in the same survey said they didn't expect to return to the office until September — again, about the same as in October 2020 (albeit when employers anticipated the return would be in July 2021).
Finally, there is that single, biggest threat to Midtown or to any other top-shelf office district now: work from home and how long it might endure, and to what degree. The Partnership for New York City survey found that employers expect that some 56 percent of Manhattan's approximately 1 million office workers will toil remotely at least part time.
That suggests that prime tenants will have to make good on any notions of cutting space — or come out more strongly in favor of a full-time return, a la pre-COVID. For now, though, the number of tours of Midtown offices indicates a trickle of interest that might widen into enough of a flow to return the submarket more to that pre-COVID hum.
"I think we're going to be in this until the balance of 2022," Ryan Masiello, co-founder and chief strategy officer at VTS, said. "I think 2023 is when we'll start to get back to normalized levels.
"The question we're starting to answer is: What's the mindset of the tenant today? I do believe we're starting to see a real willingness and forward-thinking about getting teams back to the office. I think this is just good news for New York."