NY-Area Industrial Tenants Want Bigger Spaces Amid E-Commerce Boom
That's according to CBRE's Thomas Monahan. But can the market provide?
---
---
One exception to the general truth that the pandemic has been bad for almost all commercial property types — and murder on hotels and retail — has been warehousing and logistics, due to the boom in e-commerce. And the brokers who place retailers in warehouse space have had a ringside seat for this phenomenon.
CBRE (CBRE)'s Thomas Monahan, a vice chairman at the world's largest real estate services firm, said industrial space is all he does, repping tenants, prospective tenants and landlords. He said that while the desire for last-mile delivery staging has created a market for space inside or close to urban areas, it is really the entire warehouse market, including those in traditional areas like the New Jersey Turnpike exits south of New Brunswick, that is benefiting from the rise in e-commerce.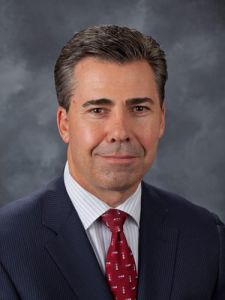 Consumers eschewing stores with doors for making purchases online had been a trend well-before the pandemic, but commercial real estate observers say the pandemic has sped it up.
Monahan offered insights from the get-go into the big changes seen in the industrial market in the New York area during a mid-February interview with Commercial Observer. His remarks have been edited for clarity and brevity.
Thomas Monahan: To make your life a little easier, I thought I could just give a couple of highlights of the market in New Jersey – the users, the types of tenants, and some of the trends and observations that we're witnessing right now.
In the New Jersey market, vacancy continues to compress, and we're at an unprecedented low. The Turnpike corridor submarket running from north to south, we're seeing even a further compression to a point where some submarkets are at 1 percent, some are at less than one-half of 1 percent. That's a very, very strong data point, with so much under construction, which has been ongoing the last couple of years.
A couple of other important takeaways: If you go back to January of 2020, we have some major measurable give-backs as a result of the pandemic; we had a few with the companies that didn't survive, but nothing measurable. We track the available sublease inventory, and, coming off Q2 of last year, which was part of the pandemic, we had a 31 percent decrease in available sublease space. And, we finished Q3, we had a 40 percent decrease in available sublease space, and then we finished the year with a 3 percent decrease in available sublease space. So, another big check for New Jersey.
We finished the year with 35 percent more leasing velocity overall. Tenants took over 23 million square feet in New Jersey, coming off 17 million square feet the prior year. So, we're seeing some really good data points.
In terms of some of the trends we are witnessing, on the occupier side, 10 years ago, the occupier — if they wanted a larger building as a regional site, 300,000 square feet or greater — they tended to favor South or even Central New Jersey, or some parts of Lehigh Valley [in Pennsylvania], because these facilities were once regional facilities. 
But now, we're seeing the inverse occur, with the need for those occupiers to want bigger buildings, closer to the population, closer to their distribution point, closer to available labor. And, with that very strong market in Northern New Jersey, it's put a big, big demand on new construction.
As occupiers are shifting, wanting newer product, bigger product, we're not necessarily talking about 1 million square feet. In Northern New Jersey, larger can be 100,000 square feet or greater, because most of the stock inventory in the Meadowlands, by way of example, are mostly 20,000- and 30,000-square-foot buildings. Those larger buildings don't exist, so it bodes well for new construction.
A couple of other trends that we're seeing: There isn't an occupier that is looking at new construction that doesn't want to be in the building sooner than it will be completed. Certainty of delivery — very, very important for occupiers. They need the larger space and that need is forcing tenants to cast wider nets on their requirements for the size of the primary market, in search of availability, in search of a price, and in search of meeting their demand for timing to occupy. You're seeing some of the secondary, and even some of the tertiary markets, support new construction just because of the lack of supply. 
We're usually solving for 500,000 square feet or greater, 25 trailers per 100,000 square feet. But we're now seeing the needs of the occupier grow well-beyond that. We're seeing them now have a greater parking need, and having to go out and search for supplemental parking. As you get into Northern New Jersey, parking has expanded as greatly as new construction has. We've seen a big spike in land just to park.
And, lastly, we're seeing 40-foot clear heights in the newer buildings. And that's within the first column of the building, not just in the center. Occupiers are getting very sophisticated with their use of a building. They need that clear height to operate efficiently; multiple means of ingress and egress. And, in a multi-tenant situation, each occupier must have the means to secure their common areas. That's very, very important.
They want to be very close to the consumer and that purchasing power; they want to be close to labor, proximity to the transportation hub. And we're seeing expansion into those secondary areas, Western New Jersey. And we're seeing a major allergic reaction from users, especially the larger ones, to locating a building bordering a residential development.
We're seeing a major adaptation, where you're taking the traditional warehouse, where you're storing freight and merchandise to more of a fulfillment center, as you get closer to the population. You're just moving that freight in and out of that building faster and into the consumer's hands. So, tenants want wider column spacing, greater speed areas.
Commercial Observer: What is driving some of these trends that you talk about?
You have a shift in the occupier needs. That occupier now wants to be closer to the population. We're relying now on e-commerce. We have demand from the consumer, who wants that product sooner. 
The two Northern New Jersey markets closest to New York City, the Meadowlands and the Hudson Waterfront markets, that is a combined total of 160 million square feet. Only about 7.4 percent of the Meadowlands market is 30-feet or greater ceiling heights, 1997 or newer. So, you have a good amount of functional obsolescence in these markets. Stock inventory sizes are 20,000, 30,000 and 50,000 square feet.
We're seeing the occupier wanting a bigger building, that includes more parking, better swing areas. And we're seeing a trend toward new construction.
I think it's a combination of the consumer wanting that product faster, the occupier adjusting, and the stock inventory not meeting that occupier demand, and, as such, new buildings are being constructed and being used pretty significantly.
Just look at purchasing habits five years ago versus today. What increase do you rely on, going online and shopping? Comparing pricing and delivery dates. And that's a key component for a lot of consumers, especially during a pandemic.   
We've become accustomed to receiving product almost on demand. And I think that will continue, consumers relying more on the internet.
Obviously there's a difference between a giant distributor and some of the smaller ones that are trying to stay up. Talk about the difference.
Without mentioning any names, they have a bunch of different models and the transportation companies have a few different models. They're adapting to having more freight, having more merchandise move out of their buildings. 
So, you have a combination of those regional distribution centers, where product is going from a point to a point outside of the immediate area, meaning other regions; and then, you have a model that an e-commerce company may run, where these larger facilities are now fulfillment centers, or smaller ones that are closer to the population because you have a high barrier to entry. Putting a large building closer to the population is very, very challenging.
There's been a lot of emphasis on the last mile the last couple of years. What does last-mile look like from your perspective, and that of your clients?
You're looking for demand and consumer purchasing power. If you take a heat map of population and you see those dark reds, that's where you want to put fulfillment centers, for that demand.
Going through the pandemic, what's interesting about our market, if someone were to ask me what the biggest threat is, normally I would say oversupply. We certainly don't have anything happening like that in Northern or Central New Jersey.
What we're seeing and keeping a very close eye on is, you have primary markets closer to that heat map population, but now you have some shifts in that population, especially in New York City, the open areas of New Jersey; we're seeing a little bit of a shift into the secondary markets. Folks are moving out of those urban areas and into the suburbs.
The question is whether that shift is permanent or temporary in nature. We're seeing a lot of very smart, intelligent landlords and developers now plot their next move. If the shift is permanent, we want to get ahead of it, and bring our brick-and-mortar structures closer to where that is occurring.
There are some that think it's a short-term shift, then there are some, like yours truly, who think it's a long-term shift.