Highway to Helm: RET Ventures Partner on His Road From Founder to VC
John Helm's route to venture capitalist/ski dad in Utah has taken him through stints in real estate, consulting and double-dipping in startups.
---
---
John Helm's first startup came to life in a dilapidated Victorian in San Francisco. The engineers worked in the nooks and crannies of the fifth-floor attic, and Helm's black Labrador, Coal, roamed the floors. Once, Coal wagged his tail so hard that he flicked a switch and shut down the electricity for the whole office. 
That's what it was like back then, in the nineties, when Helm — who was then the CFO of brokerage Marcus & Millichap — built one of the internet's first apartment listing services. He called it allapartments.com in order to capitalize on Yahoo's alphabetical directory and to get ahead of his main rival, the print publication Apartment Guide, which was available for free at every grocery store and pharmacy. 
That startup was his first foray into tech entrepreneurship and the turning point in a long and colorful career. Today, Helm is the founder of Real Estate Technology (RET) Ventures, an industry-backed venture fund, which invests in early-stage tech companies servicing the multifamily industry.
It's the first fund of its kind, since all the investors are owners or operators of multifamily housing and include some of the largest multifamily REITs in the country, like Essex Apartment Homes and UDR. Together, RET's investors own more than one million units, which provide its portfolio companies with direct access to a customer base and industry knowledge. 
RET has total discretion on how to invest the fund, but it's informed by the needs of its investors, said Mike Schall, CEO of Essex Property Trust, an anchor investor in the fund.
"We talk a lot. All of us — CTOs, CEOs — we talk about what our needs are, what the pain points are, we try to collaborate."
And the fund has proven so successful that there have been unconfirmed rumblings from sources about a second fund about to launch.
Schall has known Helm since the nineties, when they overlapped briefly at Marcus & Millichap. Both Essex and allapartments.com started under Marcus & Millichap's roof and were later spun off into independent companies.
"John was an incredibly focused, energetic and dynamic leader," Schall recalled of Helm. "He has not changed a bit since then."
RET raised its first fund of $110 million in 2018 and has invested in 13 companies in the two years since, including smart home platform SmartRent and furniture rental service Fernish. 
Helm, 58, lives in Park City, Utah, with his wife and two children, a 12-year-old daughter and a 14-year-old son. They're all avid skiers, and the family moved from the Bay Area in order to be closer to the slopes.
"I'm one of those dads standing on the racecourse every weekend in the winter," Helm said.
Helm's route from his childhood in Wisconsin to venture capitalist/ski dad in Utah has been a circuitous one. He's lived in Arizona and Australia, skied in Tahoe and Austria, cycled through stints in real estate and consulting, and sold two tech companies he founded to publicly traded companies. 
But it all started in Manitowoc, Wisconsin. 
Before the small hamlet became famous for "Making of a Murderer," it was better known for its eponymous crane company. Helm grew up on a farm there, while his father climbed the rungs at the Manitowoc Crane Company, starting off in heavy equipment, moving on to sales, and finally running the publicly traded company as its CEO. 
Originally, Helm planned to work in banking instead of following his dad into the crane business, but he changed his mind after a semester with the legendary real estate professor James Graaskamp at the University of Wisconsin in Madison.
"He told us more millionaires have been made in real estate in the United States than all other endeavors put together," Helm said. One day, Graaskamp announced that he would introduce the class to one such millionaire. They all craned their necks, expecting to see someone like Sam Zell, Chicago's richest real estate developer. Instead, in walked the janitor, still in his uniform. 
"I want you all to meet Fred," Graaskamp told the class. "Every year, Fred buys a couple houses and rents them to students. He now owns 115 houses, and he's worth X million dollars."
After that, Helm chucked a free ride to Northwestern University's MBA program and hopped on a plane to Phoenix, Arizona, the hottest real estate market in the country in the mid-eighties. He arrived just in time to see it all fall apart in the aftermath of the Savings & Loans crisis.
"Arizona became ground zero for the whole real estate blowup in that era," Helm said. "That's when a lot of big real estate fortunes were made."
It was a bit of the wild southwest in those years, with vacancy rates shooting up to 25 percent and landlords giving away two years free on five-year leases; prices were great for someone looking to buy as much real estate as they could get their hands on.
"That was my introduction to real estate," Helm said. "It was a baptism by fire." 
He took a break from real estate and spent several years as a consultant for McKinsey & Company, until he was hired away by his final client, George Marcus of Marcus & Millichap, to be the CFO of the brokerage. By then it was the mid-nineties and Helm was living in the Bay Area, where he'd wrangled a transfer just in time for the dot com boom.
"Some of the first businesses to go online were classifieds and yellow pages," said Helm. "Cars.com, autos.com, jobs.com … and the fourth largest category was apartments." 
In 1996, Marcus' partner, Bill Millichap, suggested they start an online directory for apartments, with Helm at the, well, helm. At first, the fledgling allapartments.com was conceived as an extra service for Marcus & Millichap's clients, who owned apartment buildings. The owners and operators could list their units for free and pay a flat fee of roughly $70 a month for special placement, said Helm. But the site was open to anyone, and the team cold-called apartment owners to offer them free listings. 
The site expanded quickly, and about a year after it launched, Helm was spending the majority of his time on it. With the blessing of his superiors, he began searching for venture funding in order to spin it out as an independent company.
In his first exposure to venture capital, Helm pitched the company to 12 or 13 investors, starting with Sequoia Partners, who turned him down. Eventually, he got backing from Kleiner Perkins, and "before I knew it, I was a tech entrepreneur," said Helm. 
Stephen Ripley, now an executive at co-living developer Starcity, was one of the first engineers at the startup after it spun out. He was fresh out of college and didn't have much contact with Helm, who was his boss' boss' boss, but he remembers the good old days in the Victorian. When it got cold, he said, the engineers up in the attic would dress in jackets, scarves, and fingerless gloves, so they could type. "It was scrappy," he said. 
Though Helm started off in entrepreneurship accidentally, his experience with allapartments.com would set him on a course for the rest of his career, thus far.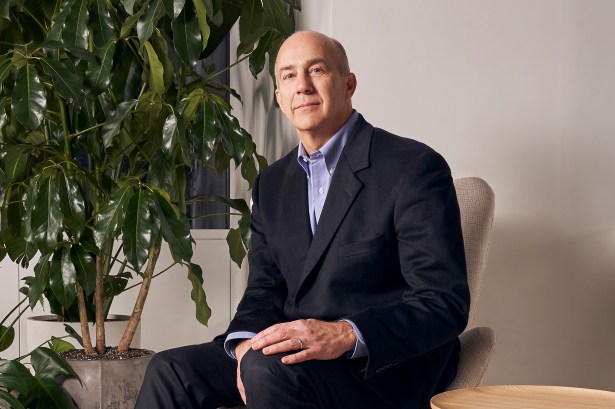 In the heyday of the internet boom and bust, allapartments.com changed names and hands several times. It was renamed SpringStreet, then merged with realtor.com, which merged again with Homestore, which went public and later changed its name to Move Inc. More than a decade later, in 2014, Move Inc. was purchased by Murdoch News Corporation for $950 million. 
Helm left Silicon Valley shortly after the merger with realtor.com in 1999. By the early aughts, following the dot com bust, the Bay Area was a "nuclear wasteland," he said. So, he did what any single, fortysomething survivor of the tech bubble would do. He moved to Tahoe with Coal to ski. "We were a bunch of tech refugees," he said. "We said, the market's bad, let's just go skiing for a while."
When the market came back, Helm repeated his earlier success with a new online real estate listing service called MyNewPlace.com. "I decided to go back," he said. "The space had matured, the prices had gone up a lot, and I knew a lot of the customers because I'd done my last company."
He began raising venture capital in 2004, and with the connections he already had, he quickly acquired some of biggest landlords in the country as clients, including UDR and Essex Apartment Homes. He reassembled some of the same team from the nineties, including his chief technology officer Ken Cluff, now at Pandora, and the engineer Ripley, who was hired to lead an offshore team of engineers in India. 
The new site made use of internet 2.0 technology, said Ripley, including the newly released Google Maps. Apartment hunters could view a map of listings, and search within custom geographic bounds, something their rival Craigslist didn't offer. 
The business model changed too, and instead of a flat subscription fee, most customers opted for the pay-per-performance model that was popular then, said Helm. It was an easy sell, since customers only had to pay for results, such as leads or leases. 
As the years passed, and Ripley moved up the ranks, he began to work more closely with Helm. Helm's management style is confident, direct and transparent, Ripley said. And despite his focus on pragmatism and fiscal responsibility, he also knows how to motivate people. "He's highly practical, but he's also good at reaching deeper into people's motivation than just money," Ripley said.
Helm grew MyNewPlace until 2011, when he sold it to RealPage, the property management software company. And just like the last time he sold a company he'd nurtured, he took off to ski — only this time, he wasn't alone. His wife and two children went with him. The family moved to Munich, Germany, and went to Austria every weekend to ski.
"We moved there to be on sabbatical, and to give the family the experience of living in a foreign culture," Helm said.
He didn't stay idle for long. Now crowned a "serial entrepreneur," Helm shifted to venture funding, and spent the next four years as a part-time venture partner with DN Capital, a London-based fund. He scouted 13 deals, two of which briefly became unicorns, including listing site Purple Bricks, which went public in the United Kingdom, and the German car marketplace Auto1. 
That, along with his connections that he'd made throughout his career in the apartment listing space, gave him the runway to come back to the U.S. and start his own venture fund. In 2017, Essex CEO Schall reached out to Helm for guidance on navigating the bewildering world of tech, which he knew he needed to start integrating into the Essex portfolio.
"We get all kinds of proposals from tech entrepreneurs and we don't have the capacity to vet them properly," Schall recalled writing to Helm. "I wanted to ask your opinion on how a smart person would approach this."
Helm wrote back that he would soon be returning from Germany to the Bay Area and they should meet up to discuss it. Helm was already planning to start something along the lines of RET, and the meeting with Schall was one of the prompts that clinched it. 
"They have needs on one side, opportunities on the other side," Schall said. "It makes RET an interesting proposition, because it solves two problems at once."  
Now, RET has over 20 investors on its roster, known as limited partners, and can count on a few to be willing to vet and pilot their portfolio companies. When RET was looking for a smart home operator, they put out a Request for Proposal, and more than 10 companies competed for the job, said Lucas Haldeman, the CEO of the winning company, SmartRent.
"All of the apartment owners felt like they really needed to figure out an enterprise smart home solution," he said, and the process of working through the proposals was a collaborative one. "It was the COOs and CTOs of the LPs who picked us."
RET, which focuses on early-stage companies, will invest between $1 and $2 million for seed rounds and roughly $5 million for A rounds, said Helm. Part of the strategy is picking winners early on, so they can stay with them for the long haul. With SmartRent, RET invested in a seed round and six months later, led a $5 million series A. Less than a year later, SmartRent closed on a $32 million Series B led by Bain Capital Ventures and RET participated in that as well. 
SmartRent's Haldeman, who was also an employee at allapartments.com, said that Helm is not a typical VC to his portfolio companies: "He's less like a VC, more like a head of sales and marketing," Haldeman said. "He's been a great advocate. It's not only important that he gave us capital, it's also important from the strategic side."
Michael Barlow, the founder and CEO of flexible furniture startup Fernish, another RET portfolio company, said he found Helm while looking for investors. He'd noticed that many of his customers lived in professionally managed buildings and thought it would be great to team up directly with institutional owners. "Turns out, John Helm is kind of the guy," Barlow said. "He's aggregated multifamily operators into a single fund." Barlow reached out and after a few months, RET invested. 
Barlow, like Helm's friends, colleagues and clients, describes Helm as tenacious, well connected and above all, direct. "He defines expectations upfront, so if you don't meet his goals, there's not a lot of drama," said Ripley. 
While RET, which was launched in 2017, was getting off the ground, Helm made another move. And once again, the reason was skiing. He landed in Utah, happily gaining back the time he spent each weekend carting his kids from San Francisco to the slopes and back. 
If he was a generalist VC, he would have had to stay in San Francisco, but not so in proptech. "For what I'm doing, I could be anywhere," Helm said. "I just need a good airport." 
Helm is settled in Park City for now and focused on growing RET — but if the past is any indicator, it wasn't his last move.