Cannabis REIT GreenAcreage Closes Industry's Largest Sale-Leaseback Deal in Illinois
---
---
Recently formed cannabis-focused, net-lease real estate investment trust, GreenAcreage Real Estate Corp., has acquired the largest cannabis cultivation facility in Illinois in a sale-leaseback agreement with major cannabis operator Cresco Labs. At $50 million, it's the largest deal of its kind ever closed for a cannabis property. 
As part of Cresco's ongoing efforts to strengthen its balance sheet and build up capital to expand in Illinois, the publicly traded medical cannabis company sold the asset to GreenAcreage and signed a 15-year, triple-net lease — with two extension options — to continue operating the site, which is currently undergoing an expansion. This is the fifth sale-leaseback Cresco has executed in the last couple months, according to information from a representative of the company.
Cresco Labs co-founder and CEO Charlie Bachtell said in a statement: "This agreement is representative of the comprehensive approach to capital planning that we anticipate will ensure our future success, while enabling us to grow our footprint both rapidly and responsibly." 
Alluding to the strength of the legal cannabis industry in Illinois — where adult-use cannabis will officially be legalized on January 1, 2020, driving annual sales projections up to $2 billion to $4 billion — Bachtell added that his company has "several opportunities right in front of us, including in our home market of Illinois … [which] represents one of the largest opportunities in U.S. cannabis, and we feel Cresco is uniquely situated to maintain and expand its leading market position in the state." 
"Access to capital is critical for cannabis industry operators to build scale and grow," said Katie Barthmaier, the CEO of GreenAcreage, which was formed this year to facilitate sale-leaseback and built-to-suit transactions for owners and operators of the legal cannabis industry. "We are excited to acquire this facility from Cresco, an industry and market leader, to fuel their continued success in Illinois."
Cresco is building out the indoor and greenhouse growing areas on the site — located in Lincoln, Ill. — to roughly 220,000 square feet, which will turn it into the largest cultivation and processing facility in the state, according to information from Cresco. The construction work is expected to finish by February 2020, according to information from GreenAcerage CIO Jeff Lefleur. 
Despite ongoing construction, Cresco announced Monday it had wrapped its first harvest at the expanded processing facility; the company is the only operator in the state with three cultivation properties.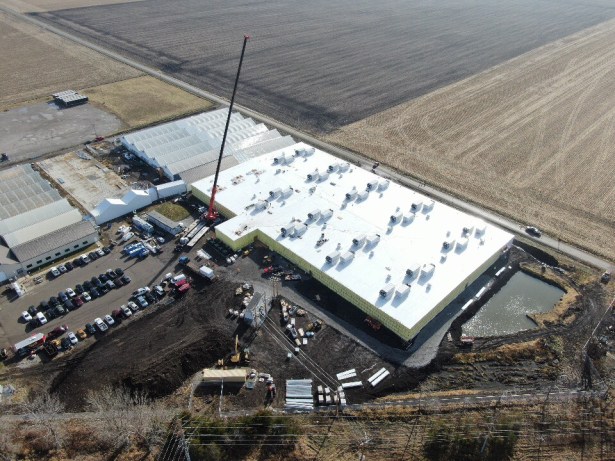 "The completed facility positions Cresco as the largest grower in [Illinois] at a time when demand is expected to surge from the soon-to-be recreational use starting in January," Lefleur said in a comment via email. "Many of their competitors will lack the growing capacity to take advantage of this window of opportunity."
This transaction is the largest of its kind to have happened in the legal cannabis space to date, surpassing a $43.5 million deal medical cannabis REIT Innovative Industrial Properties (IIP) — currently the first and only real estate company with a focus on the regulated cannabis sector in the U.S. that's on the New York Stock Exchange — struck with Trulieve Cannabis Corp. in July on a 150,000-square-foot industrial asset in Holyoke, Massachusetts. Trulieve sold it to IIP for $3.5 million, and then leased it back, aiming at making improvements to the building; IIP agreed to reimburse any capital expenditures of up to $40 million.