Shell Yeah: TF Cornerstone's Jeremy Shell on a Post-Amazon LIC and Beyond
---
---
Behind the iconic Pepsi-Cola sign in Long Island City, seven high-rises stand above the East River along Center Boulevard. Built by TF Cornerstone over a decade, the gleaming complex, with over 3,000 luxury apartments, is symbolic of the transformation of the neighborhood, as well as the company's role in it.
But TF Cornerstone's work in Long Island City is just getting started. This year, they broke ground on a 1,200-unit complex in Hunter's Point South, embarked on a minimum 1,500-unit plan for a parcel along Newtown Creek, and then there's the question mark hanging over the former Amazon (AMZN) site, the two parcels where the Bezos-headed giant had planned to build its headquarters before unceremoniously pulling out.
TF Cornerstone is one branch of the Elghanayan family real estate empire, headed by brothers Tom and Fred Elghanayan, and managed by Fred's daughter Zoe, Tom's son Jake, and his son-in-law Jeremy Shell. (It should be noted the other branch of the Elghanayan family heads Rockrose, another Queens mega-developer.)
Shell, who joined the family in 2004, and the family business in 2009, is head of acquisitions and finance. Over the last two years, he's overseen some of the company's large-scale projects in Brooklyn, Queens and Midtown — including a plan to tear down and redevelop the Grand Hyatt next to Grand Central Station — and was a key player in the Amazon drama.
The tech giant was set to build its headquarters on a collection of sites along the Hunter's Point waterfront, some of which are owned by plastic company Plaxall and some of which is city-owned land for which TF Cornerstone was awarded the development contract in 2017. So, when Bezos pulled out after fierce backlash, the fallout was particularly acute for the company. In the following months, TF Cornerstone went back to the drawing board. It's currently working with several other landowners in the area, along with the city and community groups, on a comprehensive plan for a 28-acre swath of land that includes the Amazon site.
Commercial Observer spoke with Shell about the aftermath of the Amazon pullout, the plans for the site, and the many other projects he's working on.
Commercial Observer: Your company has been in the market for a while. How does having a longer-term view affect the way you do business?
Jeremy Shell: Our philosophy, generally, is when we make a decision to go into a neighborhood or a market, we go in deep, and we plan long term. And we stay there through many cycles, and in fact, many, multiple generations. We get very involved in the community, we form deep relationships, and we listen to what they are looking for so that we can be responsive as we continue to develop in those markets.
Let's talk about Queens. How has it changed over the years since you started working with TF Cornerstone?
Our founding principals — Tom and Fred — were born and raised in Queens. We've been involved in Queens real estate for three decades, and we were among the earliest entrants into the [LIC] market. We took some major risks, and we had a vision for what the Long Island City market could become. We're very pleased with what has transpired since getting involved there in the early 2000s. And I think we are only further convinced that there's a great opportunity to continue on that success and Long Island City can complete its evolution into a true 24/7 mixed-use community.
So, you think commercial development is key to that market?
I think that it has all the ingredients that are needed for successful commercial development on the waterfront, and also in Court Square. It has a vibrant residential base and has a lot of great retail that's only improving, and [good proximity] to Manhattan and Brooklyn.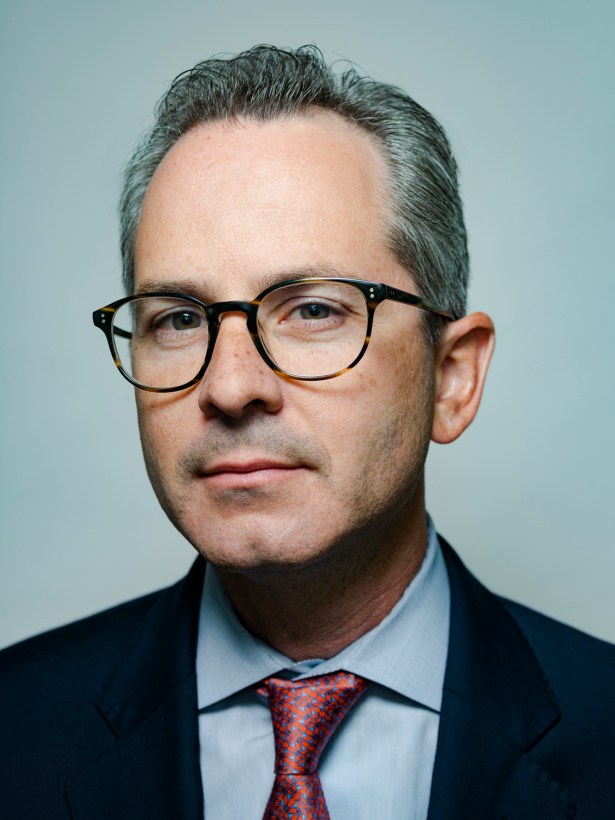 Do you think there's enough commercial development at the moment?
No. Frankly, I want to see more commercial development in Long Island City because I think it would present a nice balance to what currently exists, which is primarily residential developments.
You know, even before Amazon, when we were awarded the site, we were very bullish on the prospects for Long Island City to support office development.
Let's talk about Amazon.
I think there are a lot of lessons learned in Amazon. What we've taken away from that experience is that it's only bolstered our excitement and belief that Long Island City has a real future to be a 24/7 mixed-use community with quite a bit of commercial demand there.
As a developer that's been in the area for a long time, would you say that you were blindsided by the backlash from the community to the Amazon deal?
I would say there was a vocal minority of people who felt very strongly. But what I can tell you is that we are very in touch with our communities, and that we're doing some great work through relatively new initiatives that we have called Build Together, where we're working with our community, especially on Long Island City, by providing grants and working with various nonprofits.
What do you have planned for the Amazon site? You mentioned that you'll be working with the owners of a 28-acre swath of land that includes your sites and the Plaxall sites that were part of the Amazon deal, as well as sites that belong to L&L MAG and Simon Baron Development — who were not part of the Amazon process — on a single plan.
It's really different than the way people generally do developments and planning in New York City — and certainly [different from] the way it worked with Amazon last time around. Over the summer, the city gathered the developers who have all these contiguous parcels and put them in a room together, to see how we can unify.
We all came together and over the course of a few months, devised, listened to the city, and tried to come up with a set of high level principles and collectively come up with one inclusive and equitable plan for the waterfront. The idea was to create a comprehensive plan that can tie into the LIC fabric, because it's not only two parcels but 28 acres.
TFC, L&L Mag and Simon Baron, those three groups are signed on and doing outreach together. The fourth group, which is Plaxall, is still determining their level of involvement, but the comprehensive plan is being planned to include all four landowners' parcels.
And what's in this comprehensive plan?
A lot of my thinking is influenced by the experience we've had pre-Amazon, with Amazon, and now rethinking post-Amazon. What's abundantly clear is that there's enormous opportunity to attract innovation jobs, rethink the waterfront plan, open it up to the community, provide vital infrastructure. There's an opportunity to think beyond what we were planning and what Plaxall was planning, that flows much better.
We have a pretty good sense of what the community's asking for but we're not so foolish to think that we have all the answers. We intend to meet with all the key stakeholders. It's just the beginning. With that kind of engagement there's going to be something in this thing for everyone.
We've heard a lot of feedback on our original plan, which was mostly housing and some commercial. Some of the early priorities that we're hearing is the idea of including quality jobs at all levels, not just jobs for the upper class — people making $200,000 and above — but jobs and opportunities at all levels. And affordable housing. If there's going to be housing, there should be a fair mix of affordable housing.
Everyone recognizes that LIC has an abundance of housing. What hasn't been delivered is commercial office space and a diversity of commercial office spaces. These sites … afford developers an opportunity to create unique office space with large floor plates. We're going to be able to attract customers that can't find that kind of space in other parts of New York City, and companies that want to be located in and around those types of users.
We've all been encouraged to change our thinking on what's possible here with respect to the mix of uses, and have a strong focus on commercial, for what could become an innovation district.
How were you affected by the rent reform legislation that passed in June?
Many of our residential buildings [built under 421a] were affected by the new legislation. We don't have any pre-1974 buildings [which are rent-stabilized by default] so the impact is more limited. But there has been some significant impact on any residential real estate player, especially one that has our scale, so we didn't escape unscathed.
With rent reform and the Amazon deal falling through, that's two blows to the real estate industry this year. What do you think that means?
This is not only a blow to "big real estate," this is a blow to the city. I think only historians, and political scientists will write about looking backwards in the future and determine, just how big of an impact it will have on the city. But I think we have to look forward and we're bullish on New York City, we're bullish on the markets in which we develop and the communities in which we work.
While we might have learned a lot of lessons from Amazon, and it might be considered a big loss to most people, I think that, picking up the pieces and moving forward [we] will be successful as a result of the process.
You have another site right next to the Amazon site, at 5501 Second Street near Newtown Creek. What are your plans for that?
We closed on that site earlier this year. It's entitled for residential development, but we have put together what we think we think [is] a better way, one that addresses a lot of what the community is looking for. We are contemplating a rezoning of that site and engaging with the community along those lines. We have a plan that we can move forward with that does not require affordable housing, but we think there's a better plan.
The better plan includes affordable housing?
Affordable housing, more open space, recreation amenities, not just for the benefit of the buildings but for the community.
Let's take a break from Queens for a second. What's going on with the Grand Hyatt project next door to Grand Central?
Fortunately for us, we had some early wins after the Midtown East rezoning. We acquired Grand Central Terminal, and the air rights. We were able to transact with J.P. Morgan, sold them some air rights to facilitate the development of their new headquarters. And we also [picked] up the Grand Hyatt site.
We're very excited about what we're planning there — we're planning to bring back a Hyatt hotel at the base of a 2-million-square-foot commercial office building. This is going to be a process that will involve a lot of stakeholders, and we're actively working with them — including the MTA, the city and the state — and that's a process that will take a while. But we're really excited about advancing that with partners that we have on that, one of which we brought in earlier this year, RXR Realty; they'll be our co-developer on the project.
One of the big news items in the real estate world right now is the WeWork IPO, which has kind of spectacularly failed, in that WeWork may be valued at a third of what it started. At your rental development in Brooklyn, 33 Bond Street, you have a coworking space called HomeWork, and you recently took part in a funding round for the flex office space company Industrious. In terms of WeWork specifically, and coworking in general, what are your thoughts on how that space is evolving?
We're always paying attention to trends and trying to stay ahead of the curve. What we have at 33 Bonds Street, HomeWork, it's an amenity for our residents in our building. It's not open to the outside, but it provides a similar type of service where people can utilize that space, set up for various types of working experiences ranging from small office to group office, conference areas, and indoor and outdoor. We set that up because we're responding to the needs and wants of our community and our residents. With respect to Industrious, my brother-in-law Jake Elghanayan, who is one of the principals here, is leading that effort.
And back to Queens, as a large-scale developer who is transforming an entire neighborhood, does cycling infrastructure enter the conversation?
Connected, protected bike lanes are one of our top priorities for Long Island City, and I think, from what I hear, it's among the top priorities in the community. We've been thinking about this holistically and trying to be helpful to advance the conversation to develop or grow the network of protected bike lanes in Long Island City because between our project in the south, in Queens West, and Court Square, we believe we have an opportunity in Long Island City that probably doesn't exist anywhere else to create a continuous network of protected — underscore protected — bike lanes. We are very enthusiastic about that because I believe that that is one of the ingredients that will make this live-work-play community thrive if we can get this right.
I'm sure the bike advocates will be happy to hear of your focus on protected bike lanes.
You know what? I was driving up Central Park West this weekend with my son and noticed that somehow, they were — the city or whoever — successful in getting all the parking spaces removed and put in a protected bike lane all along Central Park West. I gave the phone to my son, I said, 'Videotape this as I'm driving.' Because I wanted to distribute this to people to understand how great that asset can be for the whole community to have a bike lane throughout the community so that everyone is connected, adults and children could bike through and feel, you know, that they're safe
33 Bond Street
,
5501 Second Street
,
Fred Elghanayan
,
Grand Hyatt
,
Jeremy Shell
,
Newtown Creek
,
Plaxall
,
Simon Baron
,
Tom Elghanayan
,
Amazon
,
L&L Holding Company
,
RXR Realty
,
TF Cornerstone