WeWork's Sarah Pontius on the Coworking Giant's Push Into Partnership Agreements
Sarah Pontius was recently tapped to lead WeWork's real estate partnership division—and with more coworking alternatives than ever before, she's got her work cut out for her
---
---
Coworking giant WeWork is facing competition from all sides.
For years, the 9-year-old company had rivals like Knotel, Industrious and Convene nipping at its heels, duplicating the idea of renting out space and giving shorter-term, more flexible deals to tenants that WeWork perfected—but recently, landlords and brokerages have started competing with WeWork directly. Tishman Speyer, for example, just opened its own coworking brand.
WeWork isn't sitting idly by. The company started a play last year to win over landlords not just by leasing space from them then renting it out, but instead by partnering with them and, in some cases, sharing the location's profits. In December 2018, it poached top CBRE producer Sarah Pontius to become the global head of a newly created real estate partnership division to lead the charge.
"The landlords have the capabilities to build the space and design the space," said Pontius. "But it's the management of the space, [the] day-to-day operations in the space, where we can bring in our expertise. Because of our economies of scale…it's better to team up than to compete."
The partnerships will differ in each case, Pontius said, but WeWork has been discussing agreements like revenue share where it'll split top-line gross revenues with landlords, profit sharing to divvy up net profits with owners, or simple operating agreements where WeWork will manage the property for a set fee.
"Landlords might be investing a little bit more funds, they may have a more active role in the space and we are being fully transparent with them on the revenue coming in," Pontius said. "Our goal really is to set up a system where they feel that they are part of our team."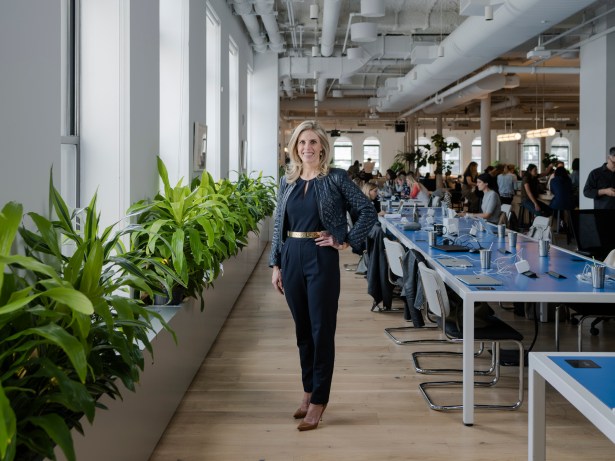 Partnership agreements are nothing new for WeWork. The company has more than 50, either in place or in the process of opening up around the world, and announced its first one in New York City last month with RXR Realty for 90,000 square feet at 75 Rockefeller Plaza. Under that deal, WeWork will share build-out costs and revenue with RXR.
The 75 Rockefeller Plaza deal was in the works before Pontius joined and her team hasn't signed any agreements yet, a WeWork spokesman said. Pontius—who will be targeting similar deals as well as ones that spread across larger portfolios—said she was close to finalizing five.
But, by focusing more on partnering with landlords, WeWork can help appease some owners who see them as more of a threat.
"A lot of landlords have the perception that WeWork in some sense is being competitive to their business," said Peter Hansen, a vice president in WeWork's real estate partnership division who joined the company from Boston Properties in February. "We're now complementary to their business. They are sharing in the upside of the operation."
"It's no longer an 'us versus them' in trying to capture the tenants," he added.
The effort to give owners more stake in WeWork's deals comes after reports of major landlords refusing to lease space to the company while others are simply starting their own flexible office space businesses.
Tishman Speyer launched its own coworking brand, Studio, throughout six markets last year including in its Rockefeller Center property at 600 Fifth Avenue. The landlord expanded Studio to its buildings in Los Angeles and Boston in May.
The Blackstone Group bought a $640 million majority stake in U.K.-based flexible office company The Office Group in 2017 and partnered with Industrious to bring coworking to its U.S. portfolio subsidy EQ Office in June 2018. Silverstein Properties also runs its own coworking brand, Silver Suites, in its 7 and 4 World Trade Center properties, The Real Deal reported.
Anthony Malkin, the CEO of Empire State Building owner Empire State Realty Trust, has been vocal about his refusal to sign any coworking companies in his portfolio and Douglas Durst killed a deal in September 2018 to lease nearly 200,000 square feet to WeWork at 1 World Trade Center, Crain's New York Business reported.
And it's not just landlords pushing back against WeWork. In October 2018, brokerage CBRE launched its own coworking arm, Hana, which opened its first location in Dallas, Texas, in February.
But owners and brokers getting into the field doesn't phase Pontius. She said WeWork has a "special sauce" in managing office space that can't be easily replicated or bought.
"When owners or someone would say, 'I would just do this myself,' it's sort of like, you can't buy style," said Pontius. "Anyone can design beautiful, creative space, but not anyone can bring this community and this culture."
Others outside of WeWork also aren't convinced landlords will be able to go toe-to-toe with the coworking company.
"WeWork's got a major organization that is 100 percent focused on this," said Robert Alexander, the chairman of the tri-state region for CBRE, who worked with Pontius on the One Vanderbilt leasing assignment. "With the exception of maybe a few giant, global landlords, most landlords are not going to be successful in trying to follow that business model."
And the partnership agreements will do more than just help WeWork stave off competitors. They can also help reduce the costs to open up new WeWorks, like in RXR's deal at 75 Rockefeller Plaza where they'll split the expenses.
The $47 billion company reportedly burned through billions in cash in recent years to fund its rapid expansion with its biggest expense being leasing and renovating offices, The Wall Street Journal reported. WeWork—which received a combined $6 billion investment from Japanese bank SoftBank Group that closed in January—had its revenue more than double to $1.82 billion last year but lost $1.93 billion, according to the WSJ.
WeWork recently announced it laid the groundwork for a public offering, which some experts believe is the only way for the company to keep its coiffers full and continue to fund its breakneck growth.
However, while partnership agreements can lower costs in opening up new WeWorks, setting them up can be a much longer and arduous process than a standard lease, Pontius said.
"Whether it's off the top revenue split, or it's a bottom-line profit split, there's just a lot that goes into that waterfall schedule of who's paying for what costs, the business plan, the pro forma and the performance thresholds," she said. "Everything that you would think about when you're looking at a traditional partnership deal is everything that we're taking into account here."
But if anybody is up for the challenge it's Sarah Pontius. According to Mary Ann Tighe, the CEO of CBRE's tri-state region, Pontuis' past experience working overseas and on the landlord side makes the 36-year-old perfectly suited to get the new division at WeWork up and running.
"I think it's very rare to have somebody as young as Sarah to have as broad real estate experience as she does," Tighe said. "The beauty of Sarah was that she was always able to understand the position of the owner of the building, the lenders on the building and the tenants. As a consequence of that, she was hugely helpful in shaping deals that everybody could buy into."
Pontius got her first taste of the real estate business in 2004 when she took an internship at Brookfield Property Partners. She's been hooked ever since.
"It's kind of humorous, given the size of Brookfield, but they didn't have internships," she said. "So I was the first intern in 2003—it was a much smaller company back then—and I just loved it. I knew after my junior year that I wanted to be in the real estate industry."
She joined Brookfield full time in 2004 right after she graduated from Union College with a bachelor's in economics. She worked on Brookfield's $9 billion purchase of Trizec Properties with Blackstone in 2006 and then relocated to London that same year to grow Brookfield's international portfolio.
"It was all very exciting for me—especially being so young, right out of school—being so involved in these deals," she said.
Pontius later spent time working in Australia for Brookfield and became a vice president of leasing before she left to join CBRE in 2014. She became one of the highest female producers in CBRE's New York City office, leasing 1.8 million square feet in 2018 along with an average deal size of 80,000 square feet, as Commercial Observer previously reported.
"She had an in-depth knowledge of what landlords need relative to certain aspects of the leasing programs," Alexander said. "It's very helpful to have that type of background."
And Pontius would also regularly go the extra mile to make sure a lease got signed. When a newly launched nonprofit, Mother Cabrini Health Foundation, needed to find space quickly last year, Pontius found nearly 14,000 square feet at 777 Third Avenue and made sure it was fully ready for move in.
"There was a portion of the space that was not furnished," said Tighe. "Sarah tracked down the furniture vendor to get the exact furniture [Cabrini] needed."
After nearly four years at CBRE, Pontius started to miss working on a more global scale. That's when WeWork came knocking, looking for her to work on partnership agreements all over the world. But what really drew her to the gig was the ability to blaze a new path in deal structures.
"What I find more exciting than anything else is everyone's coming to the table trying to figure out, how do we change something that has been decades and decades of the same structure?" she said. "[Before], when I say, 'This doesn't really work? Why are we doing this?' My responses would be, 'That's the way it looks.' You never get that here."
Pontius has been working to grow the division in recent months. She has brought on five people within WeWork to the team and hired seven people from brokerages and landlords. By the end of the year, Pontius plans to hire seven regional heads and add eight other staffers.
"She's actually one of the reasons why I came here," said Phuong Truong, who joined WeWork last month after spending four years at BlackRock. "There's just so much to be learned from her."
Troung said Pontius was one of the first people she met when she moved from Australia to New York in 2010 and she's always admired Pontius' myriad experience.
"She's got the global perspective and she's also got a very strong local perspective," Truong said. "I see her vision. She's building out her team and it's wonderful to be a part of that pretty much from conception."