Presented By: Cushman & Wakefield
The View From the Modern Retailer: Experience Counts
---
---
Creating a compelling "experience" in today's retail environment is a critical element to being successful. In 2001, if New Yorkers wanted to conjure up an image of experience-infused retail, one good way to witness it first-hand could be found at 1514 Broadway in Times Square, where a Toys "R" Us superstore once housed a 60-foot indoor Ferris wheel. The Ferris wheel hoisted its last rider by the end of 2015, but as readers know, the quest to provide consumers with a meaningful in-store experience has become significantly more important because of the steady growth of eCommerce.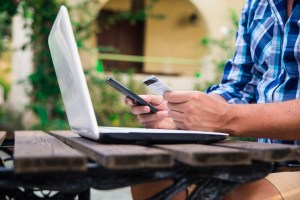 To help quantify the impact of online shopping on the retail sector as a whole, the U.S. Commerce Department recently estimated that last year's total eCommerce sales had clocked in at $513.6 billion, a 14.2 percent increase over 2017. eCommerce sales in 2018 represented 9.7 percent of total sales, a level nearly nine percent greater than the previous year.
Faced with this rising competitive pressure, one way brick-and-mortar proprietors have been seeking to stage a turnaround is by infusing their environments with an "experience" that elevates shopping into something so alluring that it can tug patrons away from their screens and into stores.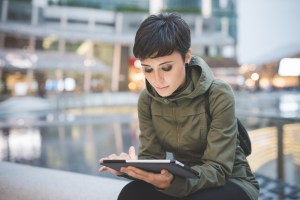 That being said, brick-and-mortar retailers have rapidly discovered that the best way to tackle the challenges posed by eCommerce is by accommodation—and by befriending eCommerce itself. A large number of brands have bought into a clicks-plus-bricks continuum known as omni-channel marketing. Under this approach, clicks versus bricks is no longer an "either-or" battle. Omni-channel marketing instead physically brings customers in—clutching their devices in their hands.
Here's how Silvia Jodlowski, a London-based analyst in Cushman & Wakefield (CWK)'s European Research and Insight team, frames technology as both boon and bane of contemporary retail:
"Until recently, retailers competed largely on quality, price and product availability," she says. "But new technology, combined with a personalized touch and a high-quality experience, now plays an essential part in retail success. In fact, while technology may be the primary cause of the current market turbulence, it is also allowing retailers to fight back."
So, who's doing it right?
Nike's 68,000-square-foot "House of Innovation 000," which opened last November on the corner of Fifth Avenue and 52nd Street, represents an advanced and multi-faceted example of "the hybrid experience" worthy of our attention.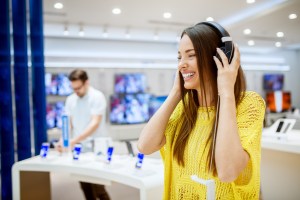 "The future of brick-and-mortar retail counts on engaging, personal shopping experiences that respond as quickly—and as personally—as its digital counterpart," Nike's store-opening announcement read. "The space must be able to communicate with its city through people and digital services, inviting a conversation that's synchronized to the customer."
Space limitations prohibit listing all the details of the House of Innovation's numerous features and amenities, many facilitated by a Nike App. This thumbnail checklist provides a hint: Shop the Look, Scan and Try, Nike Speed Shop, the Sneaker Bar, the Arena, the Nike Expert Studio, and Nike Instant Checkout. Shop The Look, for example, allows shoppers to "scan a code on an in-store mannequin, browse every item that the mannequin is dressed in, check to see if specific sizes are available in-store and then request for a store athlete to send the items to a fitting room."
Nike also leverages physical innovation to hyper-customize and localize its offerings. It enables entire floors to "shift at a moment's notice" in response to various external factors, trends and events. The tiles on "the Arena" can be "rearranged to host new spaces and configurations; as the selection evolves, the store layout can evolve too."
But just as the Toys "R" Us Ferris wheel required no digital entry ticket, more conventional events are also proving successful as web-free experiential tools aimed at boosting retail traffic.
The National Retail Federation's winter 2018-2019 ""Consumer View" report for the 2018-2019 winter season recently confirmed this when it reported that "consumers are interested in trying almost any type of retail event or experience, from early access to sales and store parties to product demonstrations and other events that aid them as they research and explore a purchase." The federation found that "82 percent of shoppers who attended a retail event in the last year say they are interested in similar events in the future."
The North Face Prototype in Brooklyn provides a good illustration of the retail-based event mindset—an experience-oriented approach not necessarily wedded to the Internet. The brand's lifestyle-centered retail space opened last November at 134 North Street in Williamsburg.
Aside from selling footwear and apparel, Footwear News reported, the store also hosts "events with art, music, speakers and more."
"At The North Face, we think of exploration as a state of mind," said the company in a corporate statement. "Through the new Prototype retail concept, we have an incredible opportunity to celebrate this mindset and create a cultural hub for our brand and unlock new experiences for explorers in New York City."
Williamsburg is also home to an unusually eye-opening retail experience at 152 Grand Street. That's where Supreme Store Brooklyn opened in October 2017, inheriting space previously devoted to the storage of delivery trucks. The streetwear brand installed an elevated, free-standing skate bowl in the back of the store. Dezeen reported that the skate bowl was "custom-built with Baltic birch plywood" and is "supported by a series of red poles around its perimeter, providing enough height for skateboarders to drop into the bowl and for fitting rooms to be housed underneath."
Bolstering Cushman & Wakefield's own in-house capacity to advise retail and other clients on maximizing the "experience" component of their marketing game plans, Phil Colicchio and Trip Schneck—co-founders and principals of Colicchio Consulting —joined the firm last December. Among their other valuable skill sets, Mr. Colicchio and Mr. Schneck bring national reputations as leaders in creating entertainment experiences for shopping center and mixed-use developers, sports and music venues, universities and hotel brands.
While eCommerce poses substantial competitive challenges to America's brick-and-mortar retailers, these same retailers deserve plenty of credit for addressing these challenges head-on. They're determined to stem the tide.
The traditional retail sector is rapidly learning to capitalize on the efficiencies and excitement delivered by ever-new manifestations of the retail "experience." The "experiences" may derive from new clicks-and-bricks amalgams—from stores programmed with events and cool attractions—or from the inclusion of a new fluidity and a new adaptability to their physical retail space.
The Ferris wheel may be gone, but American retailers' intuitive drive to create an "experience" for shoppers continues as strongly as ever. For bricks-and-mortar retailers aiming to retain and build market share in today's digital age, "experience" clearly counts.
Michael O'Neill is an Executive Managing Director, Retail Services at Cushman & Wakefield
1514 Broadway
,
152 Grand Street
,
Brooklyn
,
Colicchio Consulting
,
Dezeen
,
House of Innovation
,
Michael O'Neill
,
New york city
,
Nike
,
North Face
,
Omni-chaell
,
Phil Colicchio
,
Retail
,
Silvia Jodlowski
,
Sponsored
,
sponsored-link
,
Supreme Store
,
Times Square
,
Toys R Us
,
Trip Schneck
,
U.S. Commerce Department
,
Cushman & Wakefield